This post may contain affiliate links which won't change your price but will share some commission.
These delicious bliss balls are packed with Maunka honey and an antioxidant-rich cacao powder. They make a great afternoon snack and can also serve as a small dessert.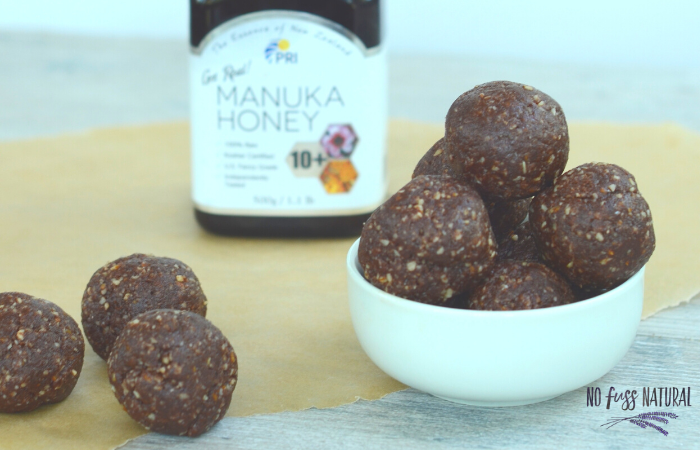 What are Bliss Balls?
Bliss balls (also called energy balls) are an un-baked treat that usually contains a number of health-supporting ingredients.
Of course you could make unhealthy, sugar-filled bliss balls, but for most, Bliss balls are a simple way to prepare and consume a nutritious snack (or after-meal treat).
Bliss balls and energy balls are usually made up of raw ingredients, such as nuts, dates, coconut, oats, as well as herbs, spices, or other nutrient-dense add-ins. Blend these ingredients in a food processor and roll into balls.
Store this convenient snack in the fridge to keep them fresh.
Why Include Manuka Honey in Bliss Balls?
If you've not heard of the benefits of Manuka or why it's different that other honey, check out this post: What is Manuka Honey? (I also covers how to be sure you are getting real Manuka honey. Honey has to meet some very specific standards and markers to be called Manuka honey.)
To give you a brief overview of the benefits of Manuka honey:
Manuka honey has unique properties not found in any other type of honey known as NPA (non -peroxide activity), which make it useful in supporting the body in various ways. Many consume it daily to promote general well-being and also utilize its antibacterial powers to dress minor wounds and burns. (Source)
Besides bringing amazing benefits to any Bliss Balls recipe, as well as elevating the flavor, Manuka honey also helps hold all the ingredients together. Truth be told, most honey will do that, but why not upgrade your snack when it's so easy to do so?
To learn more about the scientific definition (and composition) of New Zealand Manuka Honey, check out this graphic from the New Zealand Ministry for Primary Industries.
Many people opt for a teaspoon or more a day for general wellness support. But, perhaps you're not one to eat honey right out of the jar, or you'd like another option for consuming this golden goodness. This is where bliss balls come in!
Click here to learn more about the benefits and uses of Manuka Honey and how to identify the real thing.
Need help understanding Manuka honey ratings? See this post (it includes a handy manuka honey ratings chart!).
I love the Manuka honey from Pacific Resources International. It's high quality and each batch is independently tested. They even provide test reports for each batch of honey to customers upon request. Just ask, and they will send it over.
Chocolate Manuka Bliss Ball Ingredients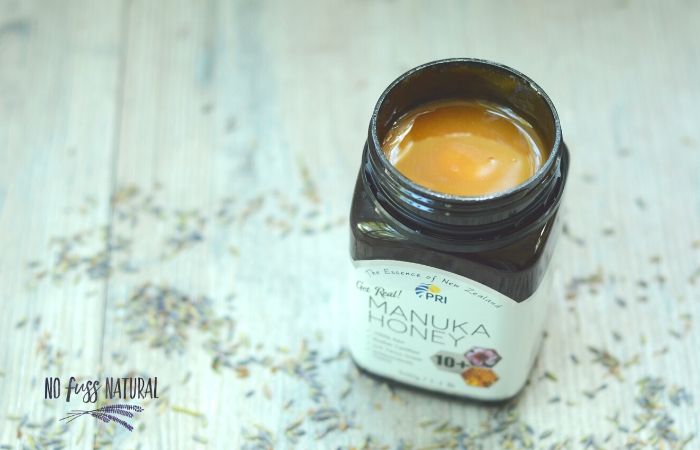 I've tried to make this bliss ball recipe pack a powerful health-promoting punch! To do so, I included a few nutrient dense ingredients that bring vitamins, minerals, antioxidants, and healthy fats.
Let's talk about each one briefly:
Almonds
Full of healthy fats, almonds are also high in protein, having about 9g per 1/3 cup (Murray, 2005). An excellent source of calcium, magnesium, potassium, iron, and zinc, you'll also find antioxidant flavonoids present in almonds.
Walnuts
Like almonds, walnuts include healthy fats and are a great source of Omega-3 fatty acids. Thought to be beneficial to brain health, walnuts have a little less protein than almonds, at only 5g per 1/3-cup serving (Murray, 2005).
Dates
Added for sweetness and to help hold everything together, dates also provide antioxidants and natural sweetness.
Manuka Honey
Manuka honey is packed full of nutrients, is useful for gut health, and contains antibacterial properties.
Coconut oil
A wonderful source of healthy fats, coconut oil also contains an incredible amount of lauric acid. Lauric acid is thought to be beneficial for heart health and also praised for its antimicrobial activity.
Cacao powder
Cacao powder brings antioxidants and flavor to these bliss balls. Cocoa powder will work as well. I personally love the fermented cacao powder from Wildly Organic. It's has a rich, dark chocolatey flavor plus the fermentation process also helps to reduce cacao's naturally occurring bitterness and the phytic acid present in all while increasing the cacao flavor and aroma.
How to Make Chocolate Manuka Bliss Balls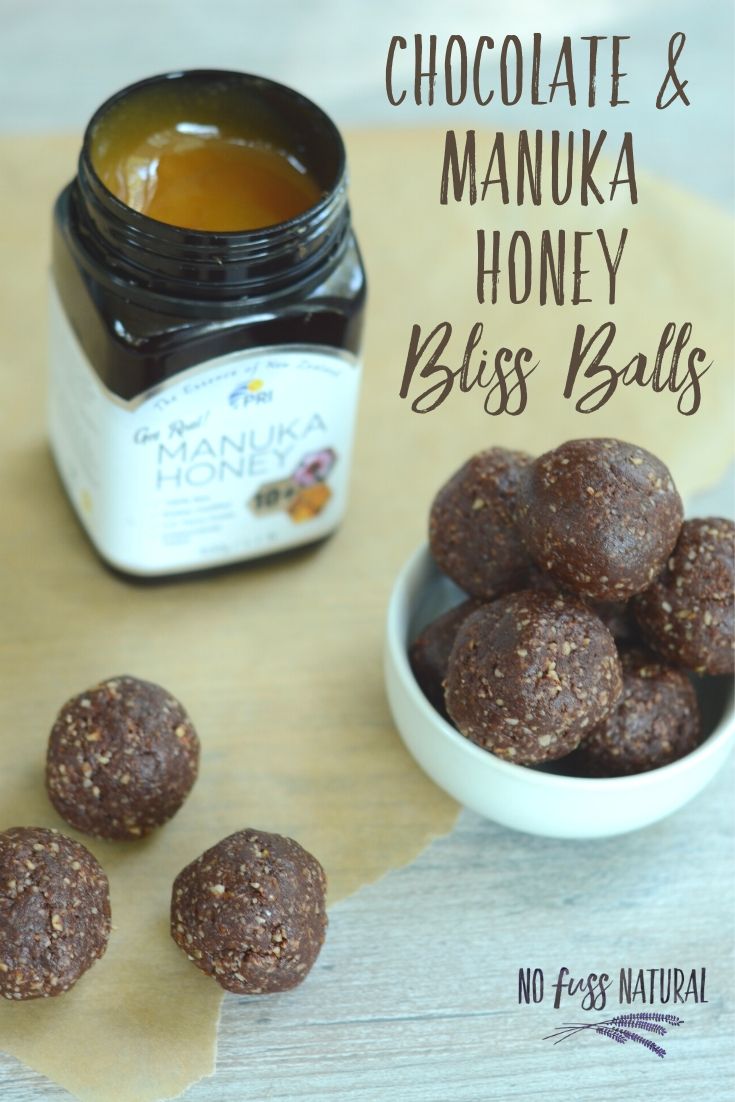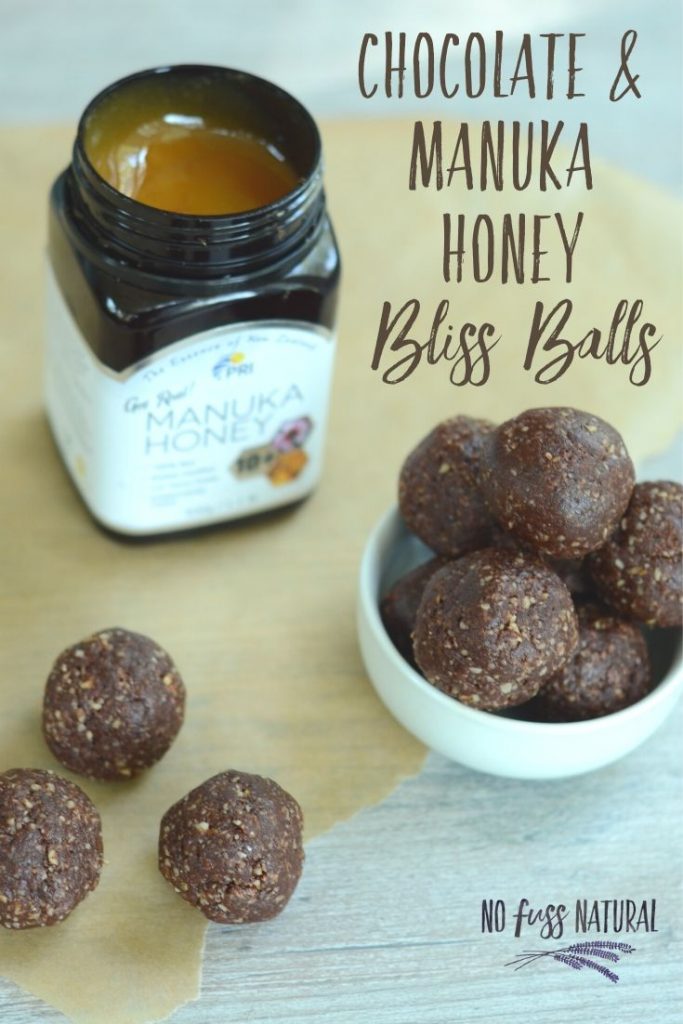 To make this Chocolate and Manuka Bliss ball recipe, you'll need a food processor. It makes the whole process extraordinary fast and results in the best texture and consistency.
I use almonds and walnuts in the recipe below, but substitute with other nuts as you see fit.
Chocolate Manuka Bliss Ball Recipe
Ingredients
1 cup almonds
½ cup walnuts
3 dates, pitted
3 T Manuka Honey
1 T coconut oil
⅛ cup cacao powder
Directions
To take these up a notch, first roast the almonds by placing on a cookie sheet and roasting in the oven at 350 degrees for 6-12 minutes (until fragrant and beginning to brown). Remove from oven and set aside to cool.
Soak dates in warm water for 10 minutes to soften. Once soaked, discard water.
Add walnuts and cooled roasted almonds to a food processor. Pulse until a fine meal forms.
Add dates and pulse until well combined and you can no longer see large chunks of dates.
Add cacao powder, coconut oil, and honey. Pulse until a "dough" forms.
Shape dough into balls and refrigerate.
References
Murray, M. T., Pizzorno, J. E., & Pizzorno, L. (2005). The encyclopedia of healing foods.New York, NY: Atria Books