This post may contain affiliate links which won't change your price but will share some commission.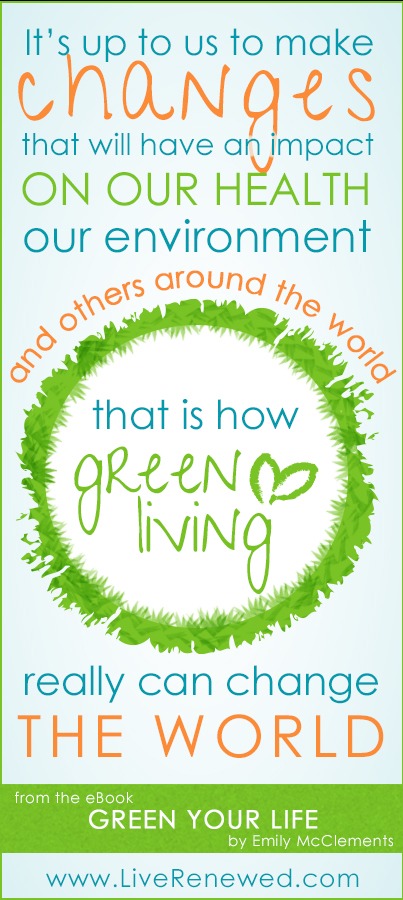 As a young adult, I trusted that companies had the consumers best interest at heart. I believed the products on store shelves were safe for myself, my family, and my world. After all, they had been tested and approved. Hadn't they?
Of course, you know I was naive and frankly, wrong, wrong, wrong!
As I began to seek ways to live more naturally, I felt overwhelmed, exasperated, and even infuriated.
At times I felt paralyzed. There was so much to change and figuring out how, was often difficult.
I'm sure many of you have felt the same way. Especially if you are trying to live frugally and can not buy all organic and natural products.
Thankfully, my friend, Emily, has come to the rescue with her awesome new eBook, Green Your Life.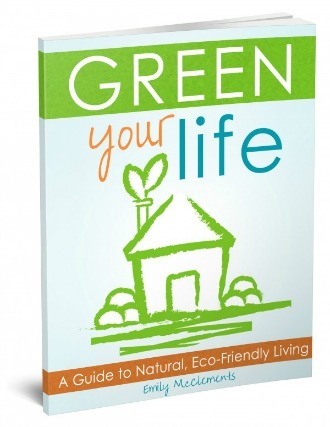 Many eBooks are short and limited in their scope, but not this one. The word I'd use to describe it is thorough. 
If you want to green your life, Emily will show you how.
This book is over 200 pages long and provides some great insight into the why of green living, as well as tons of practical tips and encouragement.
In Green Your Life you'll find clean and precise steps to follow. Nothing is vague or overly complicated. And every base is covered . . .
Want to now how to make natural cleaners? It's in there.
Want to know how to organize and store those cleaners? Emily's got you covered.
How about greening up your skin care routine?
Learning how to take care of you baby naturally?
Figuring out what to eat?
It's all inside.
Green Your Life has taken all of the research work off your hands. All you have to do is follow along and your life will get a green makeover.
(And an added bonus: the deodorant recipe in this book is the BEST and most effective I've ever used! That's true value, I assure you. I've tried many recipes, if you can't tell!).
Why would you want to green you life?
Everyone has their own reasons, but for me, green living means I can live more peacefully in my home. It means I'm doing what I can to give my family a healthy start and it also means I'm being a good steward of creation.
That's why I do it.
The Green Your Life Challenge
If you hurry, you can get in on Emily's Green Your Life Challenge which starts on Feb. 1st.
This group will be working through the eBook material together, and Emily will be sharing videos and emails each week to answer specific questions about each of topic. There will also be private Facebook group to provide community and support as you make green and natural changes around your home and with your family.
This is a free bonus to those who purchase the book by January 31.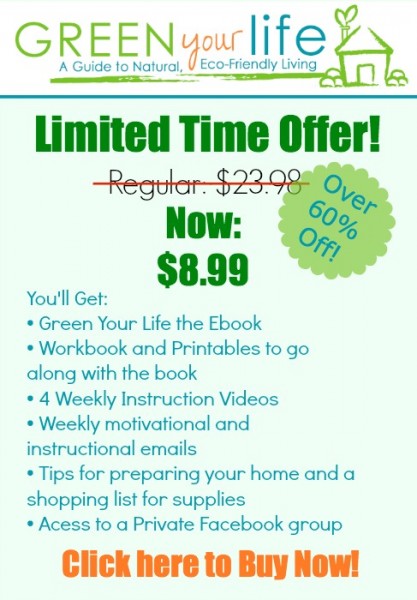 This post is part of a Blog Hop to celebrate the release of Green Your Life: A Guide to Natural, Eco-Friendly Living. Check out what other bloggers are saying about the great new book:
Jan. 8 – Ninth Street Notions
Jan. 9 – Red and Honey
Jan. 10 – Running Family
Jan. 12 – Five Little Homesteaders
Jan. 13 – My Blessings Homeschool
Jan. 14 – Vintage Kids | Modern World
Jan. 15 – The Humbled Homemaker
Jan. 17 – Accidentally Green
Jan. 20 – Home With Purpose
Jan. 21 – Intentionally Simple
Jan. 22 – Feed Me Mama
Jan. 23 – Saving by Making
Jan. 24 – More Than Mundane
Jan. 27 – My Humble Kitchen
Jan. 28 – Sorta Crunchy
Jan. 29 – Simply Rebekah
Jan. 30 – A Delightful Home
Jan. 31 – Gidget Goes Home
Find out more about Green Your Life here.