This post may contain affiliate links which won't change your price but will share some commission.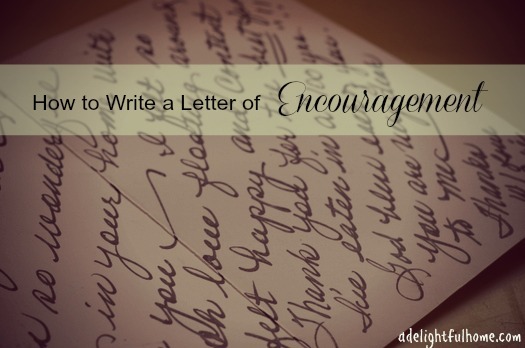 A few years ago I answered the phone to an earnest voice, "I got your card today," she said. "I really needed it. This week has been so tough."
I had no idea.
It surprised me that five minutes of my time could nourish a weary heart. It made such an impact that she wanted to call and tell me so (we had not spoken in the phone before now).
It truly is amazing what a few words can do.
Without a doubt, writing a heart-felt letter or note, is one of the greatest encouragement tools available to busy homemakers. Many undervalue this simple gift.
How to write a good card or letter
Write from the heart. A few thoughtful words mean so much more than your signature alone.
Even the simplest sentences will uplift those who read them.
If you are new to writing cards, try some of the following:
I'm thinking of you today.
Hope you are having a good day.
I said a prayer for you today.
I'm so glad to know you.
I thought of you this morning and wanted to send you some warm wishes.
Yes, these are simple. Even simple words carry with them the fact that you took the time to write them down, made the effort to choose the card, and get it to the mailbox. The gesture still says, "You are important."
To go a little deeper, share something specific about the recipient:
I appreciate that you . . .
Your good example has taught me . . .
You are doing an excellent job of . . .
(Here you can also add something that describes how they do this task well. For example: You are doing an excellent job teaching the children. I appreciate how patient you are and how you always greet them with a smile.)
Being specific is the key to writing a good card. Mentioning character qualities you admire, acts of service you appreciated, and commending someone for their efforts, are all ways to turn a piece of paper into a gift from the heart.
What are your best tips for writing notes of encouragement?
This is an excerpt from my chapter: Giving: Showing the Love of Christ through Simple, Intentional Generosity in the ebook The Heart of Simplicity. Use coupon code: GIVE to get 40% off. Buy here.