This post may contain affiliate links which won't change your price but will share some commission.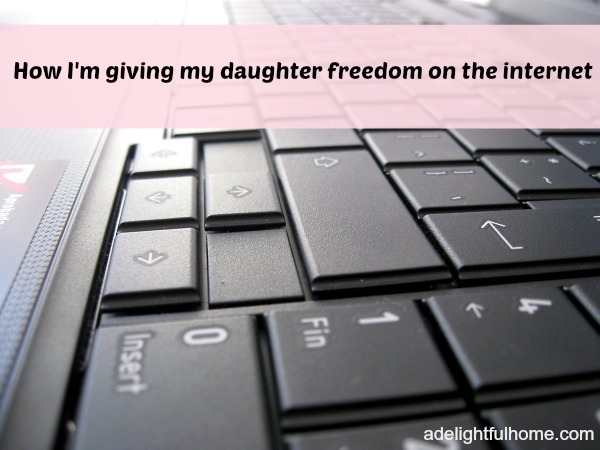 I have a love-hate relationship with the internet.
I love that it allows me to find information in just a few clicks, stay connected with family across the ocean, and shop for groceries form the comfort of my own home.
But there's also a scary side.
Internet stalking is real.
Internet bullying is on the rise.
Pornography is alive and well.
Did you know that 51% of young men said they first saw porn before the age of 13? (Source)
Allowing my kids to get online is somewhat terrifying. It's like throwing them in to the sea with sharks at their heals. One wrong click and the screen may be filled with images that can hurt an innocent (and not so innocent) mind.
Hiding from the internet doesn't seem to be the answer. At least not for us.
It's a helpful tool, and even a necessary one at times.
So what is a mother to do when her children begin to have use for the internet?
My oldest is twelve now and could really use it for researching assignments, as well as emailing her family and friends.
Do I just say no?
Do I only allow my kids to use it when I'm sitting next to them?
I've considered both of these options, but found neither to be completely satisfying.
If I say no, I feel I'm hindering them from learning to use one of the most common tools of our day and age.
If I sit next to them when they get online, I might not be fast enough to stop them from seeing something they should never see.
For now, my solution is to use an internet filtering and accountability system.
It's providing a way to give my daughter freedom on the internet.
I realize she will need to learn more about which sites to visit, how to search appropriately, and how to avoid dangers online, but for now, this keeps her safe while I'm teaching her.
I am thankful that she is able to do some research and visit a few favorite websites without fear of something dreadful flashing across the screen.
The filtering and accountability system we are currently using is called Covenant Eyes.
I have used an internet filter in the past, but find Covenant Eyes to be different. It is not just a filter, it is an accountability tool.
Covenant Eyes allows you to add an accountability partner. This partner will receive a report of all internet activity every week. 
So, for us, this means, I have a list of the websites my daughter has visited emailed to me.
I'm not being sneaking about it. She knows.
And I'm pretty sure it helps regulate what websites she visits.
This would also be an excellent tool for adults dealing with other internet addictions, such as pornography, social media, or even shopping.
Covenant Eyes has many other excellent features, such as:
ability to set time limits
block certain websites
only allow access to only websites you have pre-approved
available for mobile devices as well as computers
set different filtering levels for each family member
I love that Covenant Eyes is completely customizable. Setting different levels of filtering for each family member according to their age and maturity level means I don't have the frustration of all the websites I visit being blocked as well. Everyone has their own personal log in information.
I know how to search YouTube, but my daughter is still learning. So, for her it's blocked. For me it's available.
Even with a mature setting, the accountability tool allows all my activity to be shared with a trusted family member or friend (if I so choose).
The filter is good, but the accountability tool makes Covenant Eyesstand out above other filtering programs.
Accountability allows us to have conversations about the particular websites visited and to discuss search terms used. It also provides peace of mind; knowing what they have or have not been exposed to online is useful in training and discussion.
By approaching the internet in this way I have more love than hate for it. I'm not deluded into thinking it's a safe place, but I'm setting up safety rails for my family in order to protect and teach them as they grow and mature.
What do you think?
Do you use an internet filter? What do you think of the accountability tool?
Learn more about Covenant Eyes, download one of their free eBooks, or sign up for a one-month free trial here.
Note: There are a few affiliate links in this post. Thanks for your support of A Delightful Home.