This post may contain affiliate links which won't change your price but will share some commission.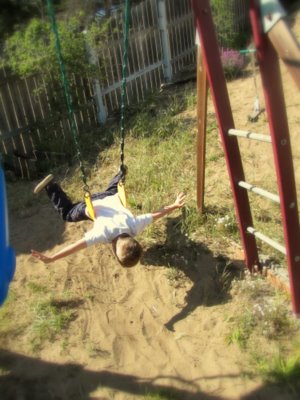 Here is my son "flying" on the swing after taking spring time pictures.
Sometimes I cannot believe I have a son.
As one who grew up with a sister, I knew very little about boys.
But I'm getting an education now.
Boys are so funny, sweet, and full of energy!
I'm glad God saw fit to bless this family with a son.
This week I've been praying through the scriptures at the direction of Brooke McGlothlin's book, Warrior Prayers.
Praying intentionally for my son is changing things. I can see it. I've prayed for my son before, but not in this way.
So far, the changes I am seeing are in me. My eyes are open to see his actions more clearly. My heart feels more attuned to him. I'm seeing him as a grown up man. And how that starts RIGHT NOW.
Brooke has been sharing some great thoughts on her blog each day. I encourage you to visit her.
I have been praying the words, but thanks to Momma Kristi's encouragement, I plan to take some time to write them out next week. It's a lovely way to preserve these prayers and memories. Also, writing seems to help get things into my heart and mind better than speaking does.
Thanks Brooke for your hard work and for setting a wonderful example to mothers everywhere!
I'm linking this post to the Warrior Prayers link-up and also to Home with the Boys, Boys in Motion link up (a fun place where moms link up pictures of their boys in action).