This post may contain affiliate links which won't change your price but will share some commission.
(I wish I'd been able to take my own picture, but my camera was among the messes described below!)
This afternoon I sat on a chair, acting as a barrier between my 18 month old and the floor. She stood next to me eating blueberries happily.
I looked at the table (covered in papers), the kitchen (with it's counters covered and sink full), the clock (which beckoned me to start dinner), and felt frustrated for a moment.
Why can't I get anything done?
I thought about this blog waiting to be updated.
I thought about dinner.
I thought about the messes.
Then looking at my girl munching blueberries, I remembered this time passes too quickly. Before long she will be able to sit without falling off a chair! And not long after, she will grow up and leave home. It goes that fast!
Sometimes the little things are the big things. Life is made up of everyday moments. Moments that flit by if we are not paying attention.
I have to keep reminding myself of these things because I'm not smart enough to remember them and I'm distracted enough to think that checking everything off my list means success. But it doesn't always mean success. You and I both know that's true.
True success is loving and nurturing the ones God has given me.
Sometimes we just need to sit and watch the little one eat blueberries (and make sure she doesn't fall on the floor!).
Because Children Won't Wait.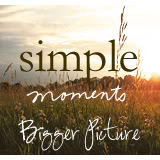 I'm joining the girls at Bigger Picture Blogs today, "capturing a glimpse of the bigger picture through a simple moment" (as stated by my friend, Hyacynth on her blog). The link up is at Alita Jewel's Treasures if you'd like to participate or read some other bigger picture moments.