This post may contain affiliate links which won't change your price but will share some commission.
You've likely heard about Gua Sha as it is increasing in popularity at great speed. But what is Gua Sha? And can it really help promote smooth and shape the face? Let's talk about it.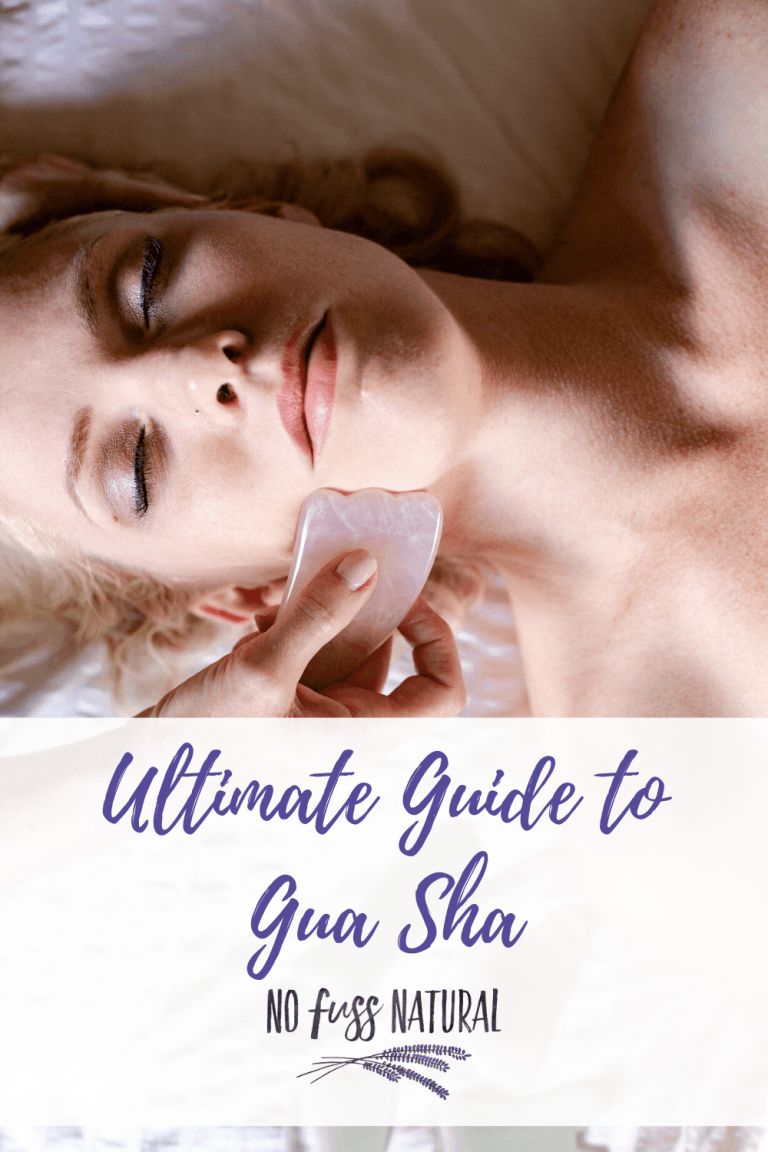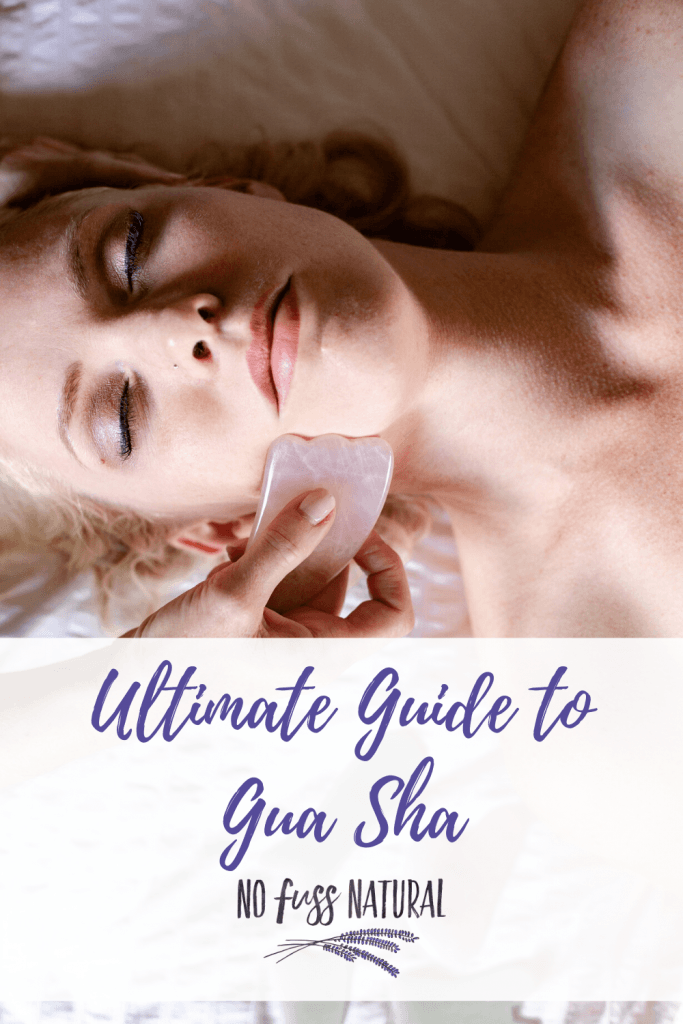 What is Gua sha?
Gua Sha (pronounced, "gwa sha") is an ancient beauty ritual in which a special tool is scraped across the skin. Gua Sha can be performed on the body or the face. Gua sha for the body is a little more intense. Facial Gua Sha uses gentle, sweeping motions and shoudl be done with much care (since the skin of the face is so delicate).
Facial Gua Sha is thought to help sculpt the face, with some suggesting it is better than botox!
Benefits of Facial Gua Sha
Many gua sha proponents suggest that it helps to increase circulation and lymphatic drainage. It is said to aid in reducing inflammation and puffiness in the face and help smooth fine lines and wrinkles.
The technique is not just a beauty treatment, but also a relaxation ritual. It's almost like a facial massage. It's a good time to stop and take a breathe.
Facial Gua Sha benefits may include:
detoxification support
depuffing
softening fine lines and wrinkles
sculpting facial muscles
brightening skin tone
releasing tension
improving the overall health of the skin
improving overall sense of wellbeing
Facial Gua Sha Tools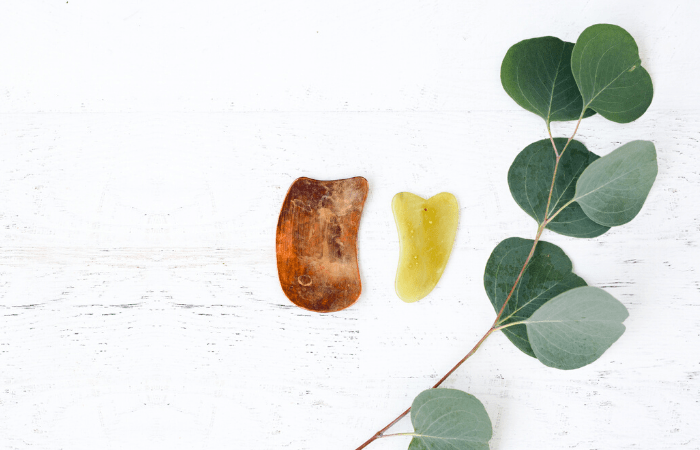 To perform Gua Sha, you need a specialized tool, usually called a Gua Sha Stone, to scrape across the skin. Gua Sha stones are usually made of gem stones and come in a variety of shapes, sizes and colors.
Some Gua Sha stones have a bumpy or jagged edge, which is often used to help in decreasing the appearance fo fine lines and wrinkles.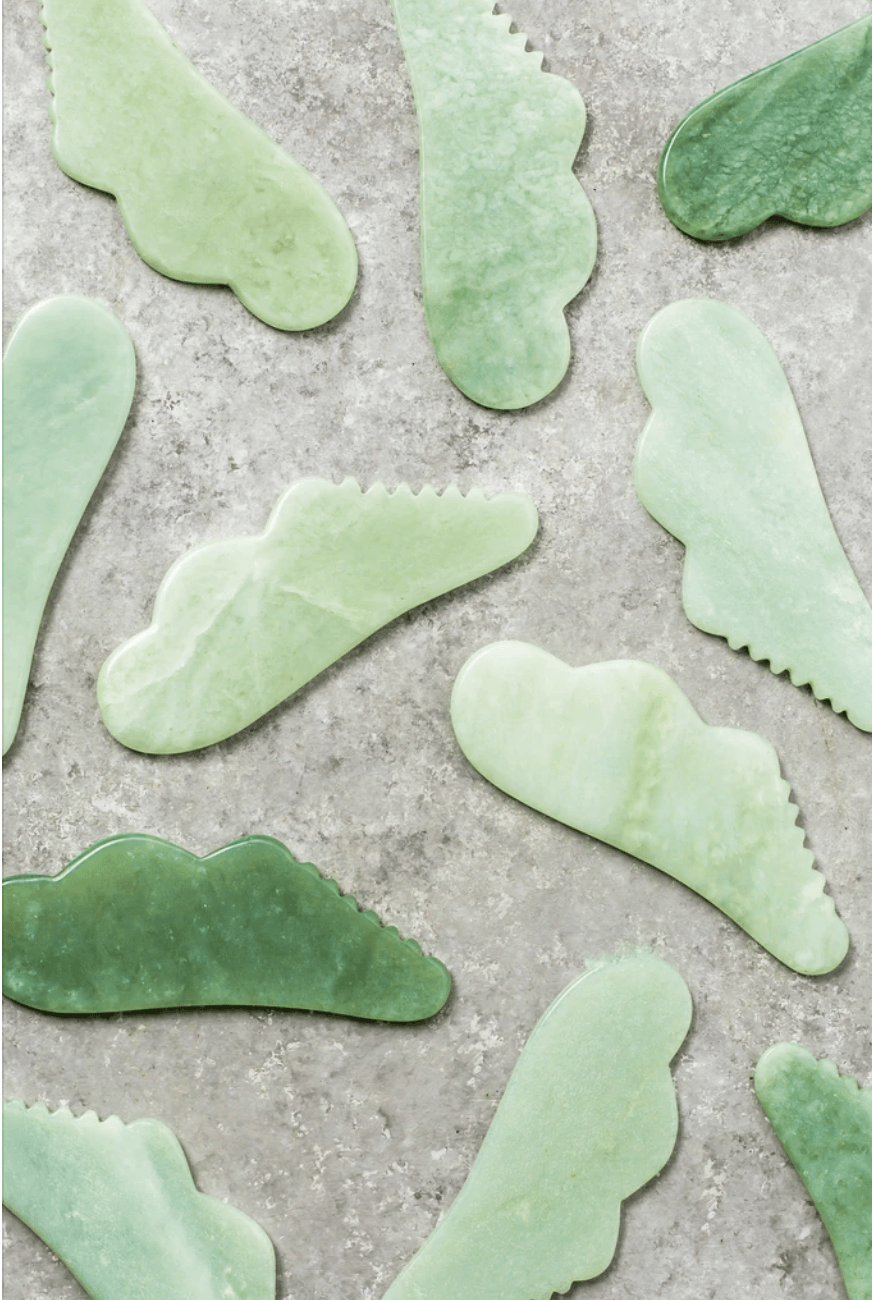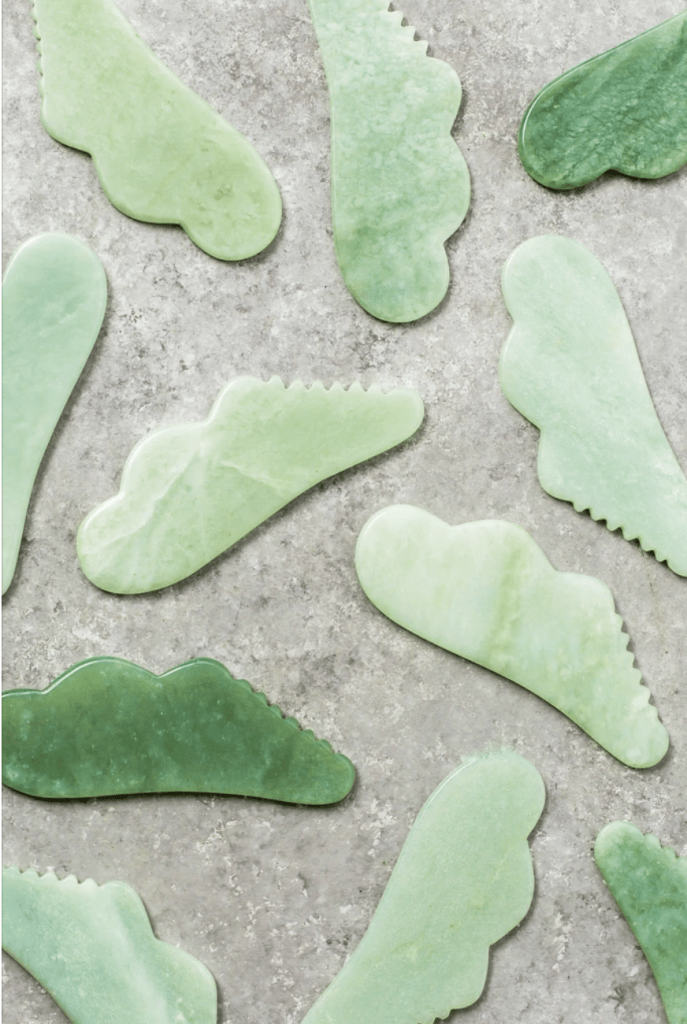 The Gua Sha Stones pictured here are from Primally Pure
These stones are crafted from sustainably sourced Serpentine Jade stone.
(Use code NOFUSSNATURAL10 for 10% off at Primally Pure)
How to Perform Gua Sha
To perform Gua sha, gently, sweep the gua sha tool across the skin in smooth, upward strokes. This is only general description, as Gua sha is performed in very specific ways and techniques vary depending on which part of the face you are working on.
Besides upward sweeping motions, some techniques include tapping or pressing the stone into the skin.
Before proceeding, it is a good idea to familiarize yourself with the various Facial Gua sha techniques. One of the best ways to learn is to watch someone do it. Watching a Gua sha technique video helps you get a true picture of how the steps are performed.
Reading about the technique is helpful too. Primally Pure has some excellent tips in the "How-to" section of this page.
Gua Sha Video Demonstration
Britta Plug, New York's premier holistic facialist, shares many wonderful technique and demonstration videos showing how to perform facial Gua Sha.
Britta is one of the founders of Wildling, a company that produces non-toxic, sustainable beauty products including facial oils and their signature Gua Sha tool, the Empress Stone. Wilding teaches self care rituals based on a deep understanding of plants and herbs.
Here is one of Britta's video's showing the basic Facial Gua Sha technique. See more videos at Wildling (check their "Tutorials" section).
Gua Sha at-home tips:
A few more suggestions and answers to your questions about performing gua sha at home.
Always apply a facial oil before performing gua sha on the face. Don't drag gua sha stones across dry skin without applying oil first.
Wiggle stone slightly at the end of each step – this helps stimulate flow and aids in releasing tension.
Always use light pressure.
Be consistent – the best results come when you perform gua sha regular basis (even if it's only for a few minutes each day)
Can you do gua sha if you've had botox?
Gua Sha is not suitable for areas that have received botox injections. If you have recently received injections, wait at least 3 months before performing Gua Sha.
How are Gua Sha Stones Different to Facial Rollers?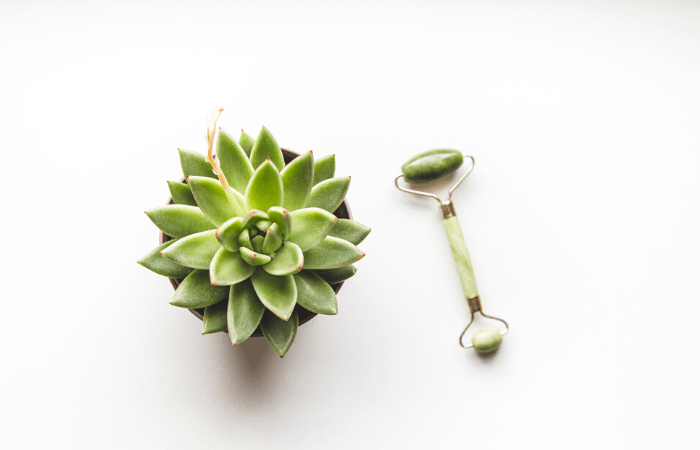 There are other facial massage tools besides Gua Sha stones, such as facial rollers. These are often made from various gemstones like jade or rose quartz.
Facial rollers provide some of the same benefits as Gua Sha stones, such as promoting lymphatic drainage and increasing blood circulation. However, they don't offer the same "sculpting" benefits and can't comfortably access areas of the face in the way Gua Sha stones can. They are still effective tools, and especially useful when you are short on time and need a quick pick-me-up.
Is Gua Sha Right for you?
The best way to know if Gua Sha is right for you is to give it a try. If you have botox, then be sure to wait at least 3 months before performing Gua Sha.
Feeling skeptical? Just take a look at some of the gua sha before and after photos and you'll likely notice a difference (the most obvious are the smoothing, depuffing, and brightening effects). Many report reduction of fine lines and wrinkles with consistent use.
Further reading:
Gua Sha: Is This Beauty Trend Better Than Botox
Jade Roller vs Gua Sha: What's the Difference
Gua Sha Tools:
Primally Pure Jade Gua Sha Stone (Use code NOFUSSNATURAL10 for 10% off at Primally Pure)
Primally Pure Bian Gua Sha Stone
Wildling Empress Gua Sha Stone
Facial Rollers: