This post may contain affiliate links which won't change your price but will share some commission.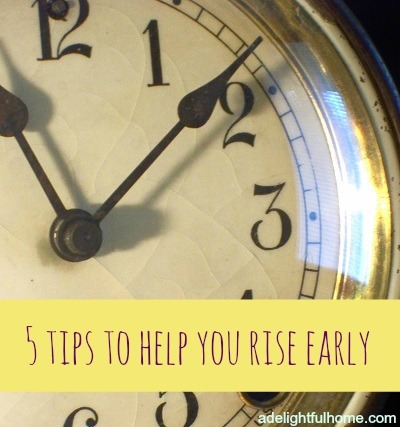 If you are striving to get up early in the mornings, you might need some extra motivation at times.
I know I do.
The comfort of a warm, cozy bed is hard to leave!
These are the five things that help me the most:
1. Go to be early
Yes. That is a no-brainer. But how easy is it to stay up later than you intend to? Pretty easy for most of us.
Going to bed early enough to get a decent amount of sleep makes all the difference. 5:30 am isn't that painful if you've had enough sleep.
Set some sort of reminder to help you get to bed on time. A ding on your phone, a note by the computer, or something else. Anything to help you remember that you need to get to bed, because morning is coming!
2. Have a plan for your morning
Knowing what you will do when you get up makes all the difference. Jot down a plan of action the night before so you will be ready to go in the morning.
You will feel so much more productive if you can start the day by getting something checked off the list.
I find that productivity keeps on going. If I start out getting things done, I seem to be more productive for the rest of the day.
3. Set up your morning space before you go to bed
Getting everything ready the night before will save you from hunting for things in the dark (as me how I know!) and allow you to get right to your plan of action.
I have a basket that I keep my morning items in. The night before I set them up on the kitchen table so they are ready to go. I lay out my computer, Bible, and my to-do list.
I also get the coffee ready.
If I'm going to exercise in the morning, I make sure my shoes and equipment are ready.
4. Do something you enjoy
One of my favorite tips from Andy Traub's book, Early to Rise, is to give yourself something to look forward to in the morning.
If your morning time is complete drudgery, it won't last long.
Take some time in the morning to do things you don't otherwise get to do and you will look forward to that time more and  more.
5. Get ready for bed early in the evening
OK, so I'm not saying you need to be in your jammies by 6pm. But I have found that getting ready for bed a good while before I intend to go to bed helps me wind down in time to go to sleep when I want to. Something about the flurry of activity in brushing teeth, washing face, getting dresses, seems to wake me up!
Bonus tip: brushing teeth earlier in the evening can help keep you from late night snacking.
Update on my mornings:
I'm still getting up a little before 6am. Today was 5:50. I'm shooting for 5:30 next week. I did sleep in twice this week after I stayed up super late doing taxes! I decided beforehand that I would not attempt to get up early on those days because I knew the sleep was needed.
What are your best tips for rising early?