This post may contain affiliate links which won't change your price but will share some commission.
If you're anything like most women, you've battled with your body image.
In today's society is it easy to place a lot of emphasis on our outward appearance. We've even come to find that we gain our self-worth from how we feel when we look in the mirror, or sadly, when we look at a magazine or t.v show.
Even though our mind knows beauty is more than skin deep, the battle rages on.
I've certainly struggled with this over the years.  Ballet class took a toll on me and has had long lasting effects on the way I felt about myself.
At Relevant this past September, I met Denise Groves. When she told me about her book, Beauty and the Beast Within, I was thrilled to see someone sharing information about true beauty and striving to heal the scars of self-loathing and struggle so many deal with.
Her goal is to help women uncover the truth about beauty, weight loss, and tame the beast within (all in 21 Days!).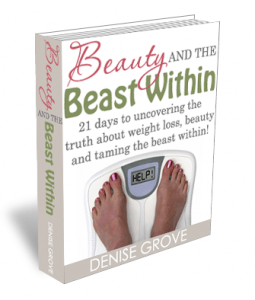 Beauty and the Beast Within is part devotional, part action-plan.
Following along is simple: read one page a day and do what she says!
Denise writes as a friend who has walked the path and come out on the other side.
Beauty and the Beast Within is a straightforward, easy read (I always appreciate that). There is no complicated workout program or eating plan (although there are tips on losing weight and getting healthy), but you will find the request to look clearly at the beliefs you hold about what beauty really means and how it applies to you.
Not always a comfortable thing to do, but those life-changing things rarely are.
Denise includes lots of scripture and plenty of suggestions to get you on the right track, mentally, spiritually, and physically.
If you want to get your head right (and your body, too) I suggest you read Beauty and the Beast Within.
The Giveaway

Denise is giving away one copy of Beauty and the Beast Within to one of you!

To Enter: Leave a comment below.

Extra Entries:
Leave  a separate comment for each one.

Read the table of Contents (scroll down) and tell me what chapter most interests you.
Share the giveaway on Facebook
Share the giveaway on Twitter
Like A Delightful Home on Facebook
Subscribe to the Beauty and the Beast Within blog

Giveaway closes at 8pm PST on Thursday, February 16.
Good luck!