This post may contain affiliate links which won't change your price but will share some commission.
You've heard of manuka honey, but have you heard of manuka oil? If not, I'm excited to tell you about it! Manuka oil is full of many beneficial properties. I think you'll be glad to discover this little powerhouse!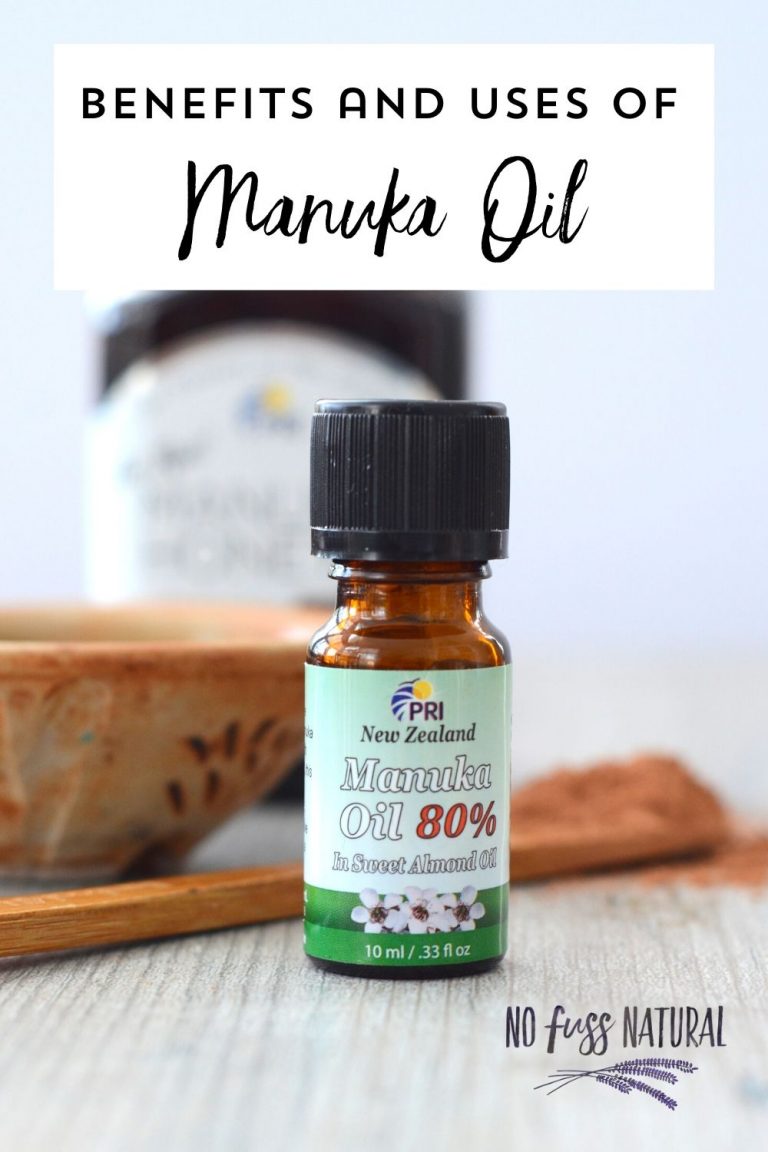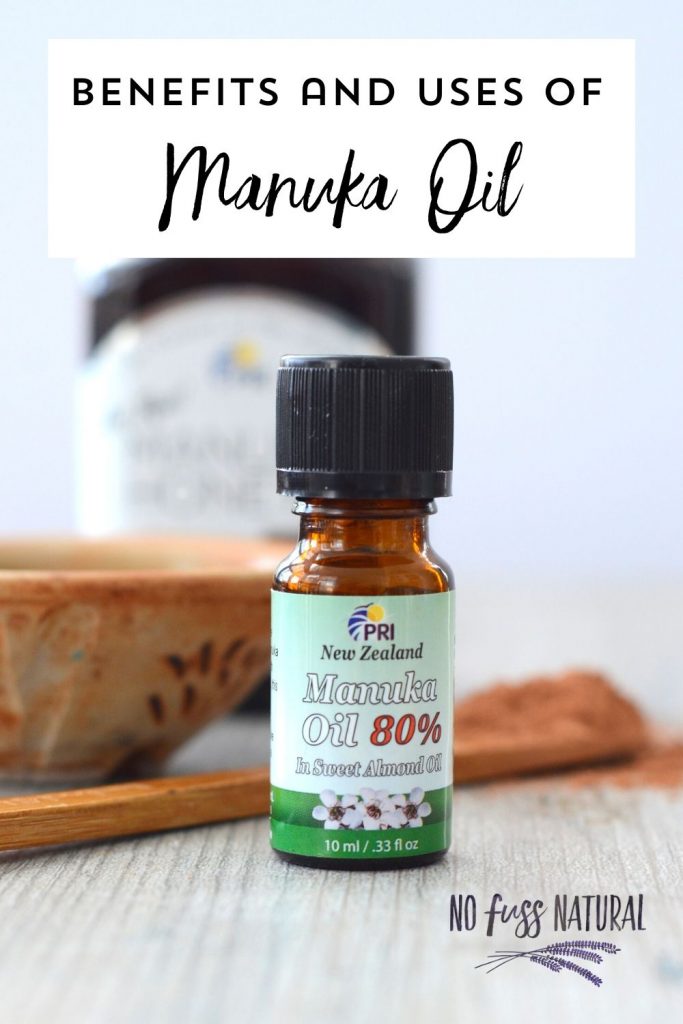 What is Manuka Oil?
Manuka oil is an essential oil created through the steam distillation of the leaves, twigs, and branch ends of the Manuka tree. The Manuka tree (Leptospermum scoparium) is native to Australia and New Zealand. Manuka honey is produced by bees who pollinate this same tree.
Used for generations by the indigenous Maori people, this essential oil has a pleasant, floral aroma.
With a wide range of antifungal activity, manuka oil is often utilized for antibacterial and anti-inflammatory purposes.
The antiseptic and antibacterial qualities of Manuka essential oil make it a good option in easing symptoms related to athlete's foot, cold sores, colds, cuts, and insect bites.
As an anti-inflammatory, it is often used to sooth sore joints and other muscular aches and pains.
Manuka essential oil is closely related to Australian tea tree oil and has many similar qualities, but is actually "20 to 30 times more active than Australian tea tree against gram positive bacteria and 5 to 10 times more active against fungi." (Vonhof, 2018, p. 335).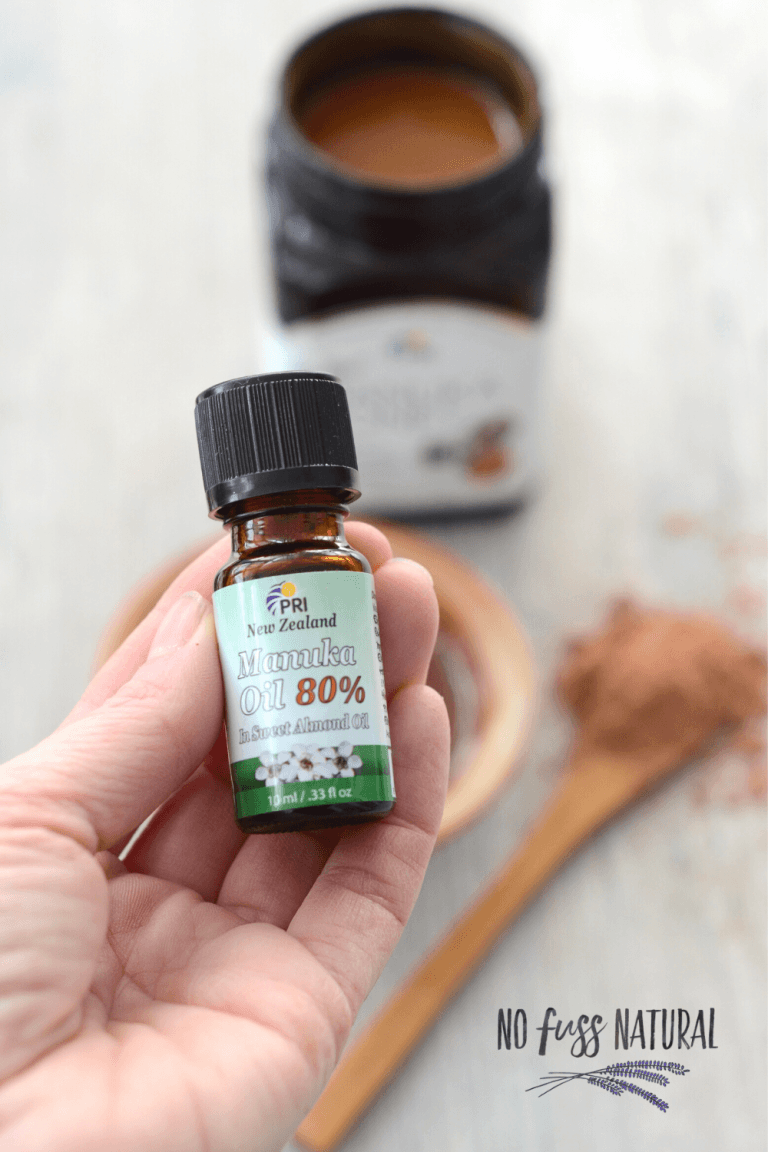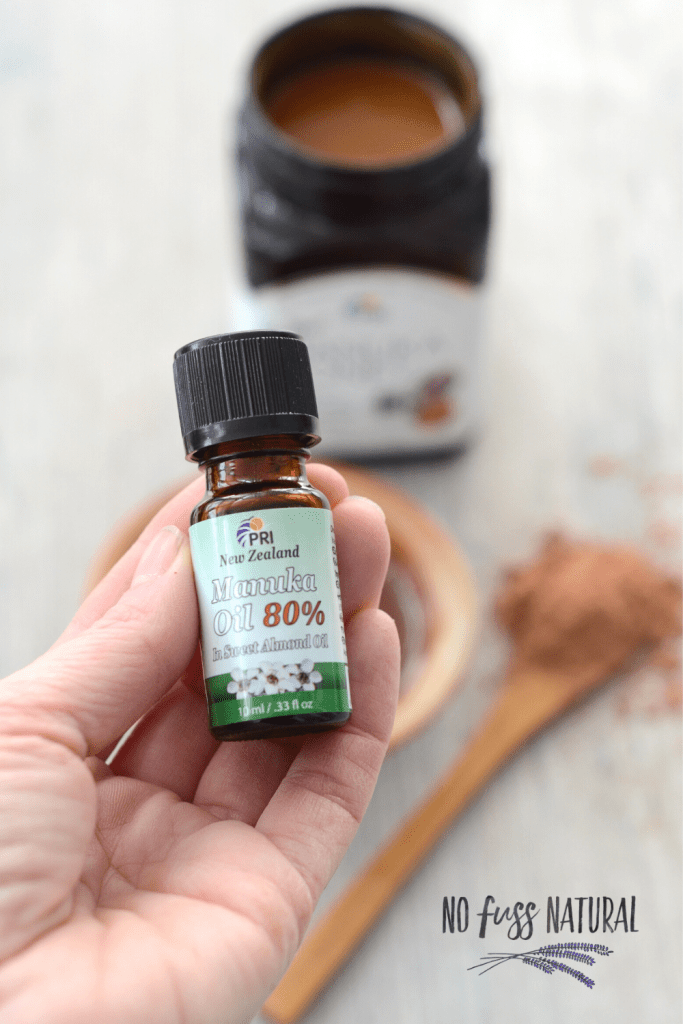 How to Use Manuka Oil
Now you know what Manuka oil is, you may be wondering how to use it. I'll share a few ideas below, but in general you can use it just about anywhere you typically use tea tree essential oil.
#1 – Add to skin care preparations
Manuka oil works well in skin care preparations such as face masks, facial cleansers, and scrubs. It's especially effective in combating acne and can also be used as a spot treatment (when diluted).
#2 -Scalp Treatments for Dandruff
Manuka has shown beneficial for easing dandruff. Add a few drops to a tablespoon of coconut oil and massage into the scalp.
#3 – Cold sore treatments
Apply diluted manuka oil to a cold sore to fight an active cold sore virus.
#4 – Facial steams for cold and flu
Add a drop or two of manuka essential oil to a bowl of warm water and perform a facial steam to ease symptoms of congestion during cold and flu.
#5 – Include in homemade deodorant
The antifungal properties of manuka essential oil make it a great addition to homemade deodorant. Plus, the fragrance will add a nice scent!
#6 – Add to massage oils
The anti-inflammatory nature of manuka essential oil means it is perfect for including in massage oil blends. It helps soothe sore joints and muscles and promotes relaxation.
#7 – Nail Soaks for Fungus
When performing a nail soak, add a drop or two of manuka oil to help fight fungus. You could also apply diluted manuka oil directly to the affected area.
#8 – Athlete's Foot treatment
As a powerful anti-fungal, manuka oil is an excellent choice for treating athlete's foot. In her book, Aromatherapy for the Healthy Child, Valerie Wormwood suggests adding manuka oil to foot powders or massage oils for athlete's foot. She also notes that manuka blends well with tea tree, cypress, lemongrass, and palmarosa for this purpose.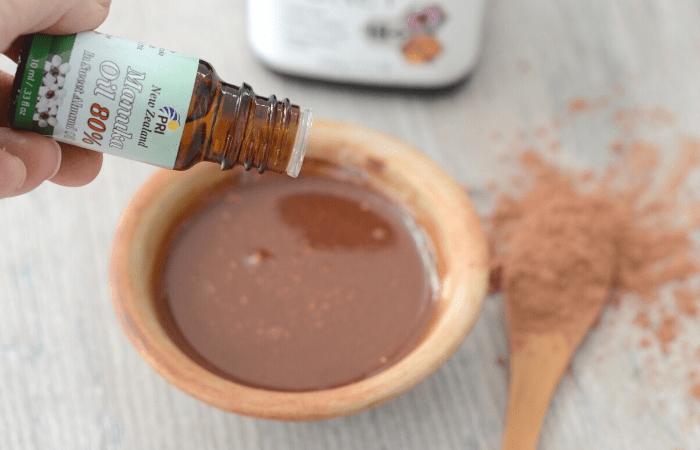 Manuka oil works well added to facial masks like this DIY chocolate honey face mask.
Which essential oils to pair with Manuka Oil
Manuka oil is wonderful on its own, but it also pairs well with many other essential oils to create a health-promoting blends or unique scents. The essential oils you choose to blend it with will depend on your needs. Here are a few suggestions:
Eucalyptus (

E. radiata

) – antiviral/cold sores

Juniper (

Juniperus communis

) – acne

Lavender (

Lavandula angustifolia

) – acne

Rosemary (

Rosmarinus officinalis

) – acne

Sage

(Salvia officinalis) – acne, antiviral

Tea tree (

Melaleuca alternifolia

) – acne

Thyme (

Thymus vulgaris ct linalol

) – acne, antiviral
Where to buy Manuka Oil
The best place I know of to buy Manuka oil is from Pacific Resources International. I use their Manuka honey, propolis, and Manuka oil. All are high-quality products and the company itself is top-notch. They are very transparent with their customers and are committed to providing excellent, authentic Manuka products.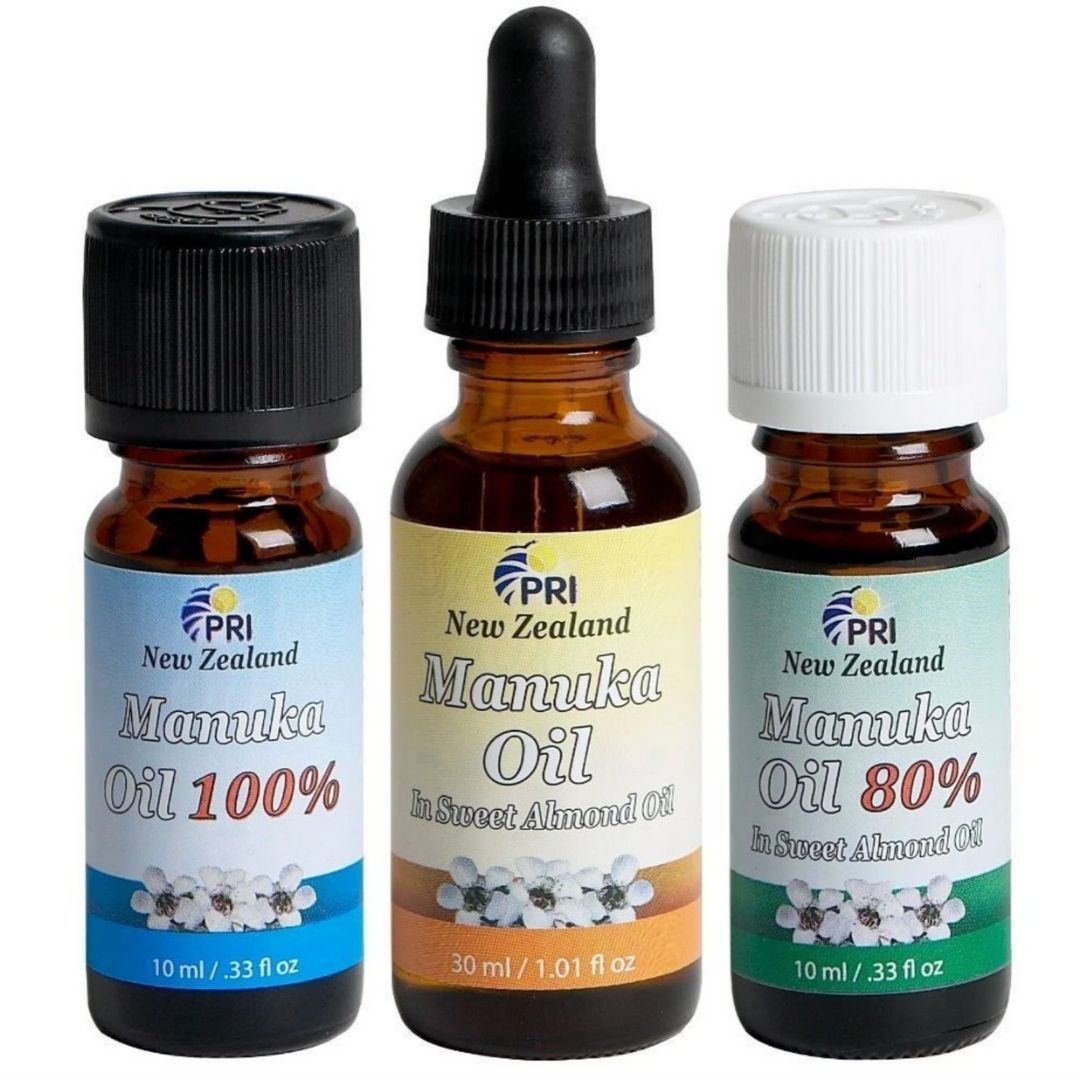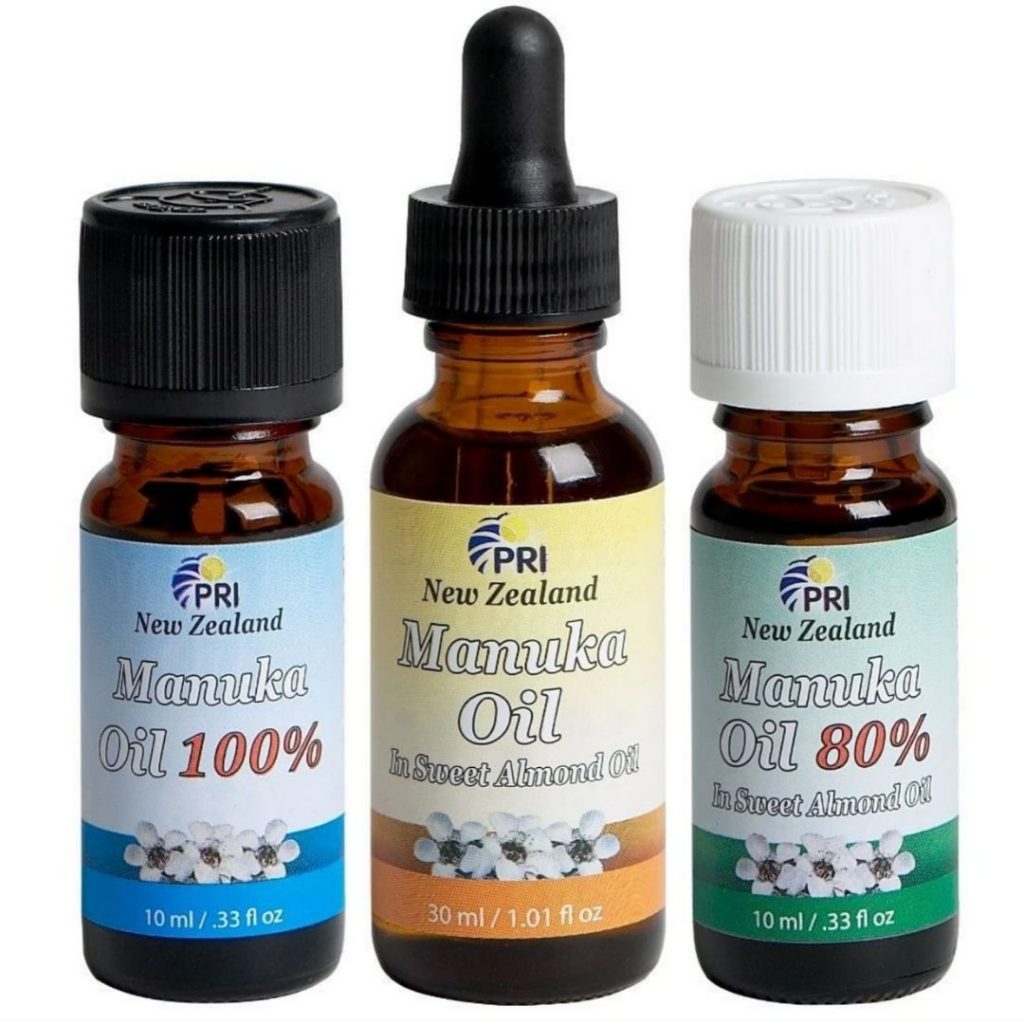 Pacific Resource International carries Manuka oil in a variety of dilution rates. One is 100% Manuka oil and there are two others that are already diluted so it's ready to apply directly to the skin.
About the different options:
100% Manuka Oil (10mL)
Use as an essential oil. Should be diluted.
80% Manuka oil (10ml)
Is diluted, but still very strong. Can be used as a spot treatment and is helpful for adding to nail soaks, and other preparations where dilution is needed.
10% Manuka Oil (30ml)
A great base for massage oils and facial oils.
Click here to learn more about Pacific Resource International Manuka oil.