This post may contain affiliate links which won't change your price but will share some commission.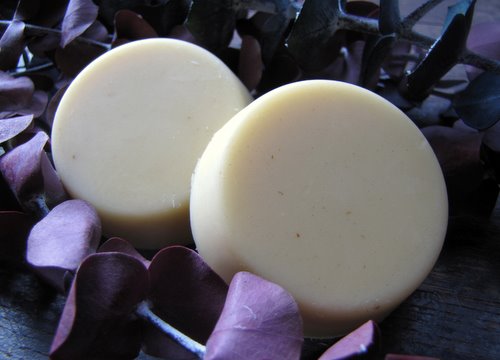 The hard lotion bars pictured above are some I made last year around Mother's day. They took me 30 minutes from start to finish.
In fact, they actually took way less active time since after I melted the three ingredients together, I just poured the liquid into a muffin tin and popped it in the freezer. Most of the time these took to make was them sitting in the freezer hardening.
A lot of homemade skin care is like that.
I know many people think it's too difficult to try, but it is much easier than you might expect.
Lip balm is very similar: mix, melt and pour.
Body scrubs: measure and mix.
That's it.
I don't know why but I REALLY want you to know that it is not hard! I guess I want you to feel the same satisfaction I do when I make my own body products and also the wonderful feeling I have when I give it to someone as a gift. They usually feel so special (and most often think it I slaved over it!).
Here is a video from Renee of Hard Lotion, demonstrating how she makes lotion bars. I think you'll see what I mean about easy.
One reason I'm telling you this now is because six excellent books that show how to make gift-worthy skin care products are included in the Healthy Living eBook Bundle. If you purchased these at regular price they would  cost $45.98!
I feel kind of strange telling you to buy something, I hate selling things! But I don't want you to miss out on this deal either. These books rarely go on sale. And they are very good books.
So, here are the books that are in the Skin Care and Beauty section of the Healthy Living Bundle:
Like I said, these would cost you $45.98. The bundle is only $29 (plus you get $49 in free bonuses – which are actually tangible products!) and you get 29 other healthy living books. Many of which are HUGE.
If you want to make your own products, whether you have done so before or are a beginner, you will love these books. And you'll have enough information to make wonderful gifts for all of your friends and family this Christmas!

Hey I made gifts for 12 people at once when I made the lotion bars. 12 holes in a muffin tin = 12 bars!
I'd love to know, have you tried your hand at making skin care products? Did you find it difficult or easy?
Sharing at Thrive @ Home and Your Green Resource.