This post may contain affiliate links which won't change your price but will share some commission.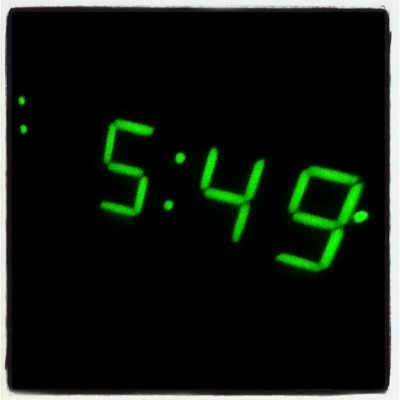 5:49.
That's what time I got out of bed this morning.
A definitely improvement on the 7 am wake ups I'd resorted to for a while.
There were times when I needed to sleep in until 7am: when I had babies who woke during the night, for example. But for the most part, that has passed (My babies are growing up!)
When I sleep until my kids wake me up, my whole day feels a mess. My brain has a hard time functioning while little people are telling me they are hungry  when my eyes have only been open for a few minutes.
After I rustle up breakfast and try to be friendly (which doesn't always happen). They day is off and running and I'm trying to catch up.
As an introvert, I feel stress because I haven't had any time of quiet and it doesn't look like I'm going to get any.
I feel out of control.
Waking up early changes all that.
It puts me in the driver's seat of my day.
It helps me feel calm and collected instead of tired and frantic.
Plus it gives me the time to work on things I love. To write eBooks, read great thoughts, or exercise.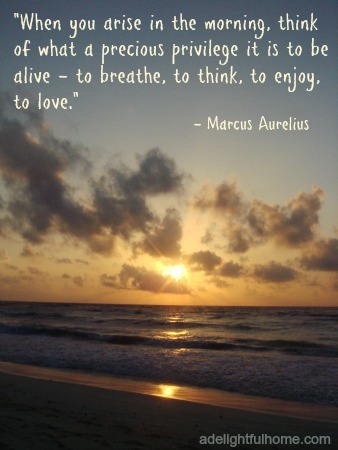 Having a little time to do something I love in the morning adds up.
What I choose to do with my morning time can change lives.
If I write a little each morning, I'll end up with an eBook to share (which might be helpful to others).
If I exercise a little each morning, I'll end up with a healthy body that functions well so I can enjoy life to the fullest.
If I read the Bible a little each morning, I'll grow as a Christian and be a better person.
If I have some alone time before my kids wake up, I'll be sweeter to them when they say, "I'm hungry."
Do you see how this adds up and makes a difference?
Jon Acuff says, "You can  be selfish at 5am."
You can. You can work on the things that take time and attention that you otherwise couldn't (especially if you are a mom)!
I'm finding it is a better to be selfish at 5am than at 8 am.
In Early to Rise, Andy Traub says,
"There is no time left to do what you want between 7am and 10pm."
I have found this to be true for the most part. Sure, I can schedule in quiet time for my kids in the afternoons, but nothing beats the focused attention and peace and quiet of an early morning.
I'm working on a new eBook (that will be free for you!) and getting my group fitness instructor certification. These things are happening in the morning. Without my mornings, I'm not sure if these things would actually come to fruition.
I'd venture to say that the way I spend my mornings is changing my life and in turn, the lives of my kids.
Need help with your Morning Makeover?


I highly recommend the Makeover Your Mornings eCourse from Crystal Paine.

It's full of motivation, encouragement, and practical tools.

It only takes about 10-15 minutes each day to complete. And after 14 days your life might just be on a whole new path! Seriously!

If you can't getup super early right now, this course will not make you feel guilty about that! It's for everyone, no matter how early you get out of bed.

Right now you can get the first day free! 

The Makeover Your Mornings course will be on sale for a great price this coming Tuesday! So, look out for that.
How do you feel about early mornings?