This post may contain affiliate links which won't change your price but will share some commission.
If you want to learn to make healthy, non-toxic, botanical skincare products at home, the Herbal Academy's Botanical Skincare Recipe Book is for you.
In this post, I review the contents of the book and give you a peek at what's inside. My hope is that this will help decide if it's something you'd like to invest in or not.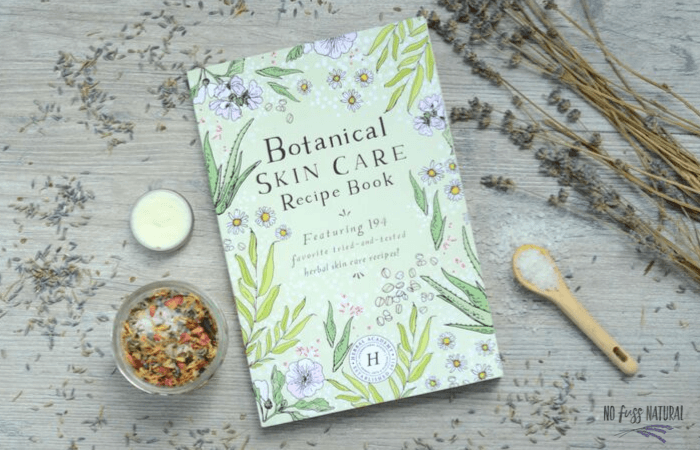 The book can be purchased separately but is also part of a larger Botanical Skincare Program (you can choose to include the book with purchase of the online program).
Please note, Herbal Academy gifted the book to me for review purposes, but I actually purchased the Botanical Skincare course for my own review and learning.
I adore learning from The Herbal Academy. In fact, last time I checked I had taken five of their courses!
Everything from the Herbal Academy of New England is presented beautifully and the content is always thorough and in-depth.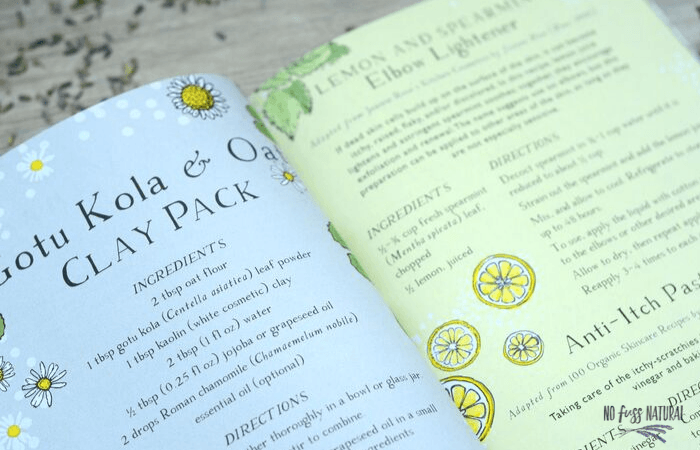 What's Inside the Botanical Skin Care Recipe Book?
The Botanical Skin Care book contains 194 herbal skin care recipes. All of the recipe are easy-to-follow and each one is written in a step-by-step manner.
The book contains recipes for lotions, creams, body butters, balms, salves, scrubs, soaps, serums, toner, bath bombs, and more.
I was very impressed with the variety of recipes included. In fact, there were more topics covered than I expected.
Herbal Academy of New England's Botanical Skin Care Recipe Book Table of Contents
The book is divided into sections as follows:
Bath Bombs, Bath Melts, and Bath Salts
Baths and Steams
Blemish Preparations
Cleansers
Compress, Poultices, and Washes
Cosmetics
Creams, Lotions, Lotion Bars, and Body Butters
Deodorants
Gels
Hair Care Products
Masks
Oils
Salves and Balms
Scrubs
Serums
Soaps
Sprays
Toners
Why Herbal Skin Care?
Herbal skin care is my favorite type of skincare as it harnesses the power of botanicals to deliver naturally active products that positively impact the skin.
When using herbs, it's possible to create much gentler products than when relying on essential oils alone. While this book does include some essential oils, the majority of the recipes are based on herbs.
Some of the herbs used in the recipes include arnica, burdock, calendula, chamomile, chickweed, elderflower, evergreen needles, lavender, pine resin, rose, rosemary, yarrow, and more.
Many of these herbs may be familiar if you've dabbled in home remedies or natural body care products before (such as making calendula salve), but some will likely be new, and that is where it gets really fun and interesting!
What I loved about the book
#1 – Beautiful Artwork
The artwork in this book is absolutely gorgeous, as seen in the picture below. It's truly a pleasure to flip through the pages.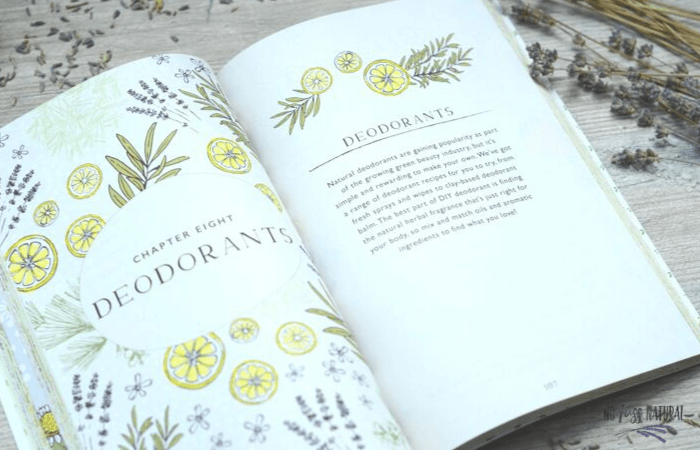 Some people read cookbooks for fun, I read skin care and herb books for fun. So this one is a perfect match for me.
However, it should be noted that there are no images of finished products or step-by-step process photos included. I don't feel that are necessary, especially if pairing the book with the online course, however it seemed worth noting in case that is important to you.
#2 – A Wide Variety of Recipes
As mentioned earlier, this book contains 194 recipes and covers many different skin care issues and topics. Just take a look at the table of contents listed above and you'll see what I mean. Many skin care recipe books don't have enough varety for my taste, so the inclusion of so many different types of recipes was a happy find.
#3 – Easy to Use
This book is organized in a user-friendly way, which makes it quick and easy to find exactly what you're looking for.
I found the recipes were also laid out in a nice step-by-step fashion which made them a cinch to follow. This is very important since no one wants to mess up skincare recipes and waste ingredients because of confusing instructions!
I am very happy to have the Botanical Skin Care Recipe Book on my bookshelf as part of my DIY body care and herbal learning collection. It is one I will reference often.
If you are looking for a quality resource that includes a wide variety of tried-and-tested recipes, you will love this book.
Click here to learn more about the Botanical Skin Care Recipe from the Herbal Academy.
If you have any questions about this book or the accompanying program, please don't hesitate to ask.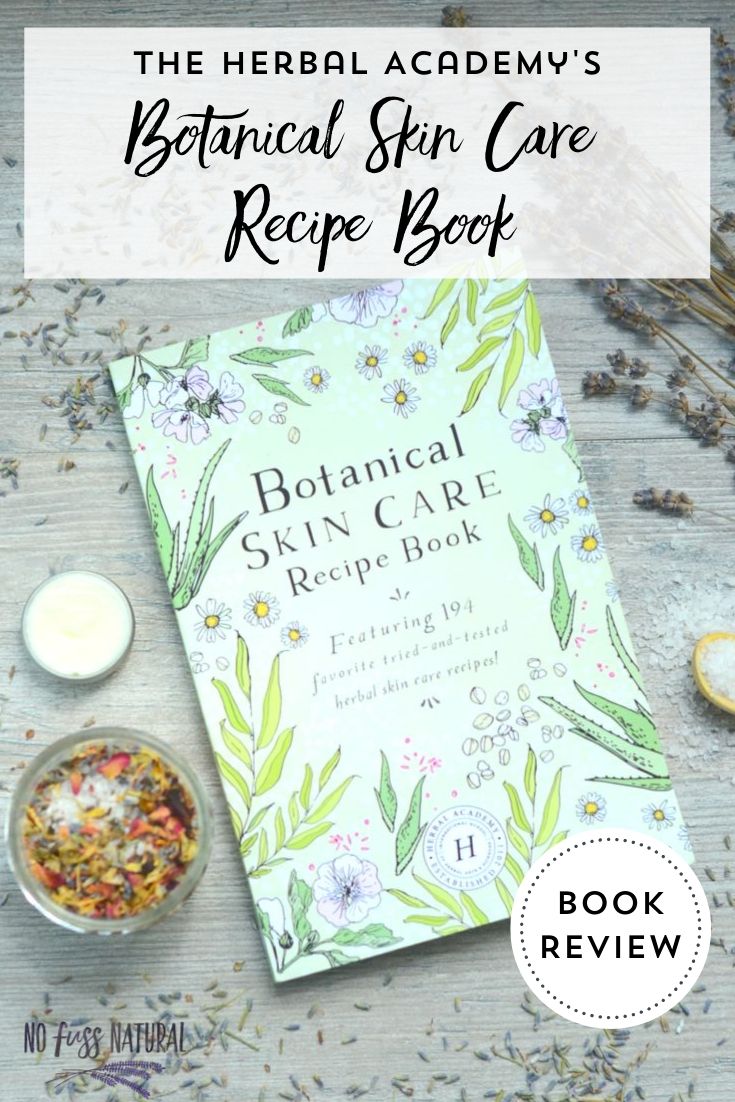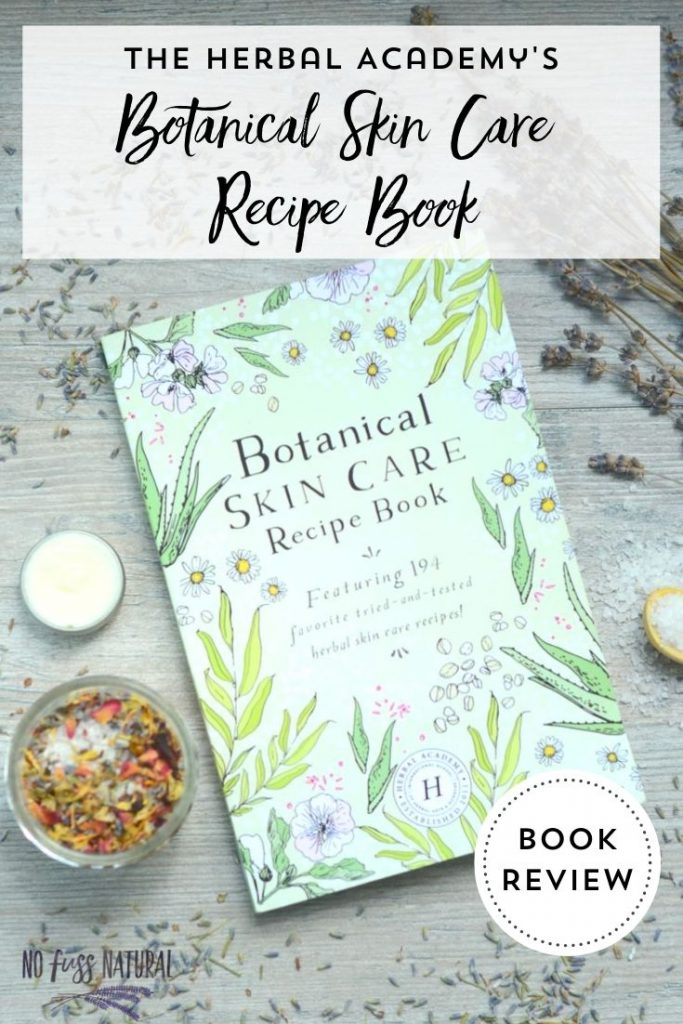 57520a22cc3b606ec912f13d1f0d71c879d093555c6954d9d6