This post may contain affiliate links which won't change your price but will share some commission.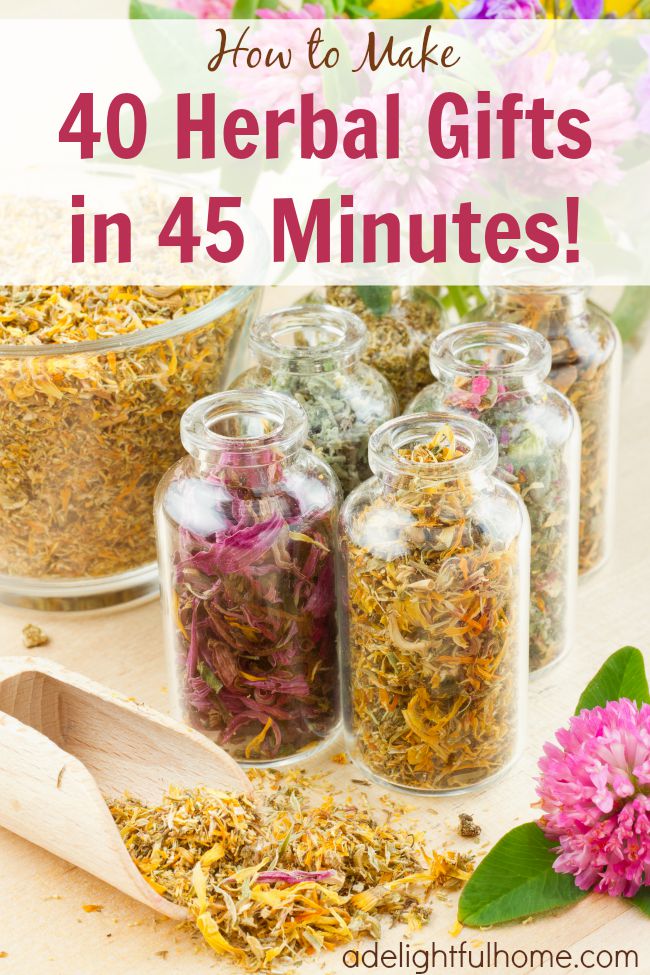 If you've been around here long, you know I like to quick method of creating gifts and homemade products. I used to put things off because I didn't have time, but have discovered that making natural body care products and herbal remedies can actually been done in a speedy fashion. Especially if you use the assembly-line technique.
A few tutorials I've created using this method include:
These are fun to do alone or with a friend or two. Either way, you'll feel very efficient and accomplished by the end of it.
Today I'm going to show you how to make 45 herbal gifts in 45 minutes!
Each gift includes dried herbs and is very simple to prepare.
This time estimation doesn't include hauling out all of your supplies! So, make sure you've got everything you need before you begin. I'll include a thorough list of supplies at the bottom of this post.
After each recipe I've included instructions for use. These can be printed out when ready to gift so your recipient knows how to use it. (this is not included in the time estimation either!)
Each of these items has been featured in it's own tutorial on the blog before.
We will be making:
Floral Facial Steam – 10 jars
Lavender & Clay Face Mask – 10 jars
Rose & Chamomile Bath Bags – 10 bags
Peppermint Foot Scrub – 10 jars
Floral Facial Steam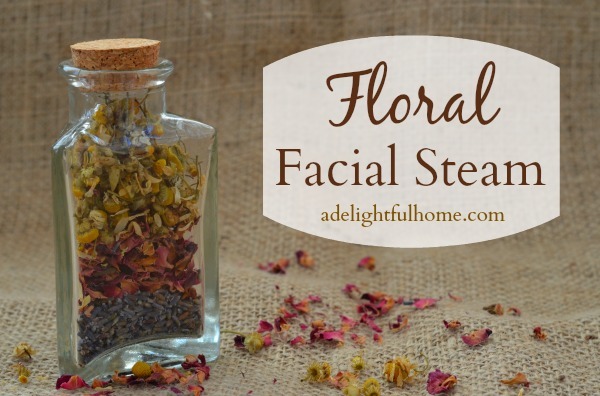 You will need:
Method:
Line up the jars in a row.
Place all of the herbs into a large bowl and mix to combine. Then fill each jar with 1/2 cup of the mixture. Add the lid and you're done!
Here is the information you'll want to include when gifting the floral facial steam:
How to perform a floral steam treatment:

• Remove make up or dirt by using a gentle cleanser
• Place herbs in a heatproof bowl (use 4 tablespoons herbs per treatment – this jar is enough for 2 treatments)
• Pour one pint of boiling water into a heat proof bowl (use pure water, if possible, to avoid breathing in any chemicals from a treated water
supply)
• Place bowl on a sturdy surface (like a table) and lower face over the bowl (it's usually best to sit in a chair that is pulled up close to a table)
• Place a towel over your head to create a tent over the bowl (the towel helps the steam stay close to the face and not evaporate into the air so quickly)
• Stay here for about 15 to 20 minutes
Rose & Chamomile Bath Bags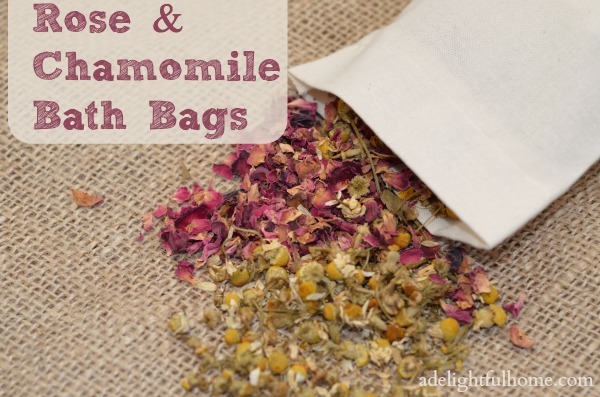 You will need:
Method:
Mix all the ingredients in a large bowl. Place 1 cup of mixture in each muslin bag. Tie the top of each bag to close tightly.
When gifting, include these instructions:
To use bath tea bag, tie bag to faucet so the water runs through it as the bath fills. Once the bath is full of warm water, remove the bag from the faucet and let it float in the bath. Soak for at least 15 minutes
Clay and Lavender Face Mask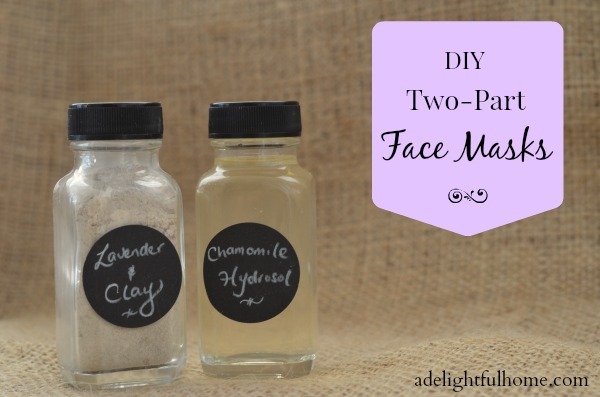 Since this tutorial is to aid you in creating as many gifts as possible in as little time as possible, we will be creating just the lavender/clay mixture. The picture above shows chamomile hydrosol, which is nice to give alongside the clay/lavender mix, but not necessary.
You will need:
Method:
Line up jars.
Mix lavender flower powder and white cosmetic clay. Place 1/2 cup of mixture into each jar. Add lid and close tightly.
When gifting, copy and paste this information into a document and print out so the recipient will know how to use the face mask:
At time of use, mix 1 tablespoon of lavender-clay mix with 2-3 teaspoons of water, cooled chamomile tea, or hydrosol, until a paste forms. Spread over the face, avoiding the eyes. Leave for 15 minutes. Wash off with warm water and a wash cloth.
Peppermint Foot Scrub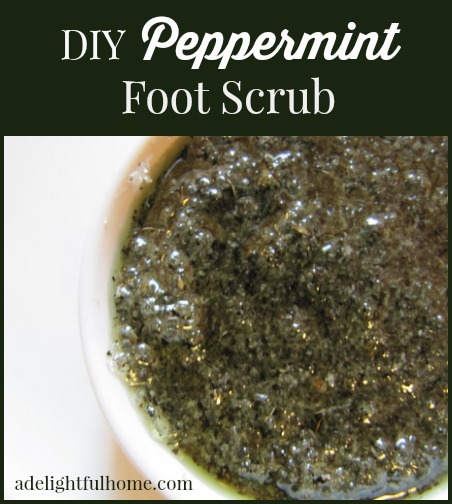 You will need:
Method
Line up jars.
Mix all ingredients in a large bowl. Scoop one cup on mixture into each jar. Close tightly with lid.
Instructions for use:
Rub scrub onto damp skin in gentle, circular motions.
This scrub is intended for use as a foot scrub, do not use on face. Do not use scrub on broken skin or skin that is windburned, sunburned, or otherwise irritated.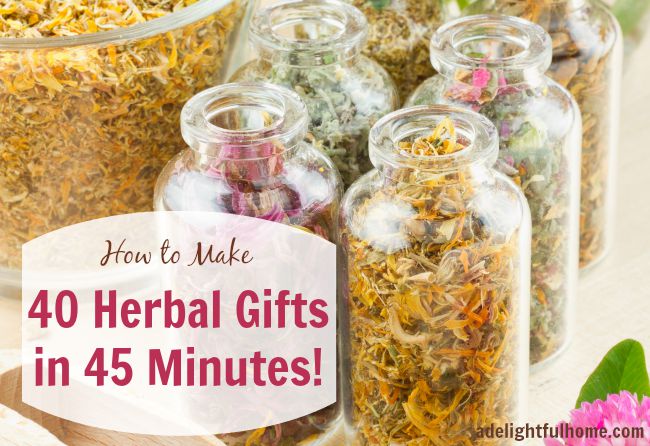 Ingredients and Supplies List

If you choose to make everything listed above, you will need the following:

For mixing and making:

4 mixing bowls
4 mixing spoons
measuring cups and spoons

Containers for your gifts:

Herbs

Other ingredients

I have not calculated the full cost of these items as yet. Hopefully you will already have some of them on hand.

You can save money by saving jam jars (or baby food jars) to use instead of buying new jars. The lids can be decorated to make them more appealing.