This post may contain affiliate links which won't change your price but will share some commission.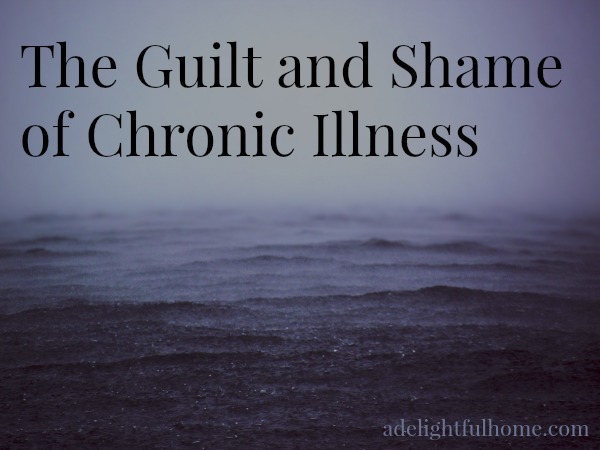 Having a chronic illness is the pits.
It just is.
I want to tell you how I'm over-coming (and I am), but truly it is just plain hard.
The most difficult aspect is the guilt and shame that washes over me.
I feel guilty that I need to rest instead of playing outside with the kids.
I feel ashamed that I am sick even though I champion health and wellness.
I feel sad that I have to preemptively say no to events and activities because they will be too much for me.
Some days I don't feel like me.
Even though this is not encouraging for you to read, I hope it will help those with chronic illness know that others feel as they do. If you know someone with a chronic illness, perhaps this will help you understand them a little better.
Many people suffering with a chronic illness don't look sick. Yet, they struggle with even the simplest of tasks. Things that may not require any effort from most people, take all the energy they can muster.
Sometimes people look at us like we are lazy because we don't involve ourselves in many activities. When the truth is, our involvement might trigger a flare up which will then involve weeks of fatigue and illness.

We don't want to say no, but we need to.
I am aware that the guilt and shame is often unfounded. It's OK for the kids to play outside without me. It's OK to say no to events and get-togethers. It's OK to need help.
We can't be all things to all people. Only God can do that.
I'm handing my guilt and shame over and asking Him to hold me up as I strive to do the best I can.
My best won't look like yours and your best won't look like mine, but we can each do what we can.
Have you ever felt guilt and shame over the state of your own health?
P.S. The thyroid sessions are ending this week. There is a ton of great information being shared. Check it out here.