This post may contain affiliate links which won't change your price but will share some commission.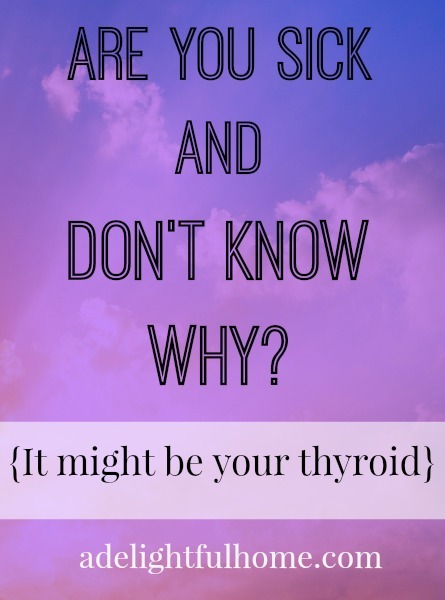 Some time last year I noticed that I wasn't feeling well.
My ability to function on a daily basis was dwindling.
I came close to tears while pushing my cart at the grocery store.
I wanted to crumble in a heap when someone asked me to do the smallest thing.
I gained weight and could not get it off no matter what I did.
I wanted to hide.
All of this confused me. I tried to live a healthy life. What on earth was going on?
Since then I've discovered that a lot of people feel the same way. They are sick and don't know why.
Once I found out my thyroid was not functioning, I had a place to start. It was a relief of sorts.
Even though it was daunting, I knew where to look for answers.
I was no longer stabbing in the dark, but could research with precision and treat with intention.
Things started turning around. Ever so slowly.
If you are sick and you don't know why, I highly recommend you get your thyroid checked.
Did you know that 30 million Americans — and 200 million people worldwide — have a thyroid disorder?
Many people are suffering with thyroid dysfunction and don't know it.
Do you have any of the following:
fatigue
difficulty keeping weight in check
sluggish digestion
brain fog
depressed (or even anxious) mood
cold hands and feet
hair loss
If you do, your thyroid may be the cause.
If you need help understanding the thyroid or want to learn more about healing thyroid dysfunction, you need to check out The Thyroid Sessions.
The Thyroid Sessions will teach you:
Exactly which tests to order. Remember, your doc works for YOU!
How to interpret your test results the right way and what to do about them
Thyroid-healing foods to add to your diet. (And which foods to remove.)
Natural detox and gut healing strategies to give your thyroid a boost
Which medications are safe and make sense as part of your healing protocol
When thyroid surgery is NOT the best option, and when it is
Sean has compiled all 24 of his "Thyroid Sessions" into a user-friendly digital collection of thyroid-healing information that will put YOU in charge of your health. 

You'll get LIFETIME streaming and downloadable access to: 

* 11 super high quality, HD on-camera video sessions (These look amazing!) 
* 11 Google Hangout expert interview sessions 
* 2 HD cooking videos with Recipe Guide 
* easy-to-download mp3 audio files for each interview session 
* 600-plus pages of transcripts   
* 10 incredible bonus items 

Click here to learn more about the Thyroid Sessions Digital Access Pass!