This post may contain affiliate links which won't change your price but will share some commission.
Heaven. Is it real to you?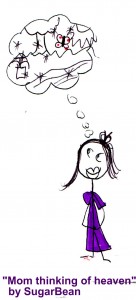 For the faithful Christian, heaven is a reality.  God promised it and He keeps His word.
Life may get tough.  We may feel worn to the ground, as though the world has chewed us up and spit us out.  But this is not all there is.
In order to have a healthy mind and spirit, we need to take hold of this truth.  So much peace comes from knowing you are right with God and knowing what awaits you at the end of this life (as much as our earthly mind can comprehend, that is).
Living with this eternal focus not only soothes our worried minds and encourages our weary spirits, it has the potential to revolutionize our homes.
An eternal focus helps us prioritize.
Looking at our schedules with a heavenly perspective helps us find what is truly important and weed out the unnecessary.  It is easy to do the urgent and neglect that which has true value.  An eternal focus keeps us on track. (Put the big rocks in first, as the analogy goes.)
An eternal focus affects the way we treat our children.
There are many good and beneficial things a mother wants for her child, but nothing is more valuable than heaven. Our goal is to help them get there. Our highest calling is to support them along this journey with heaven as the destination.  Having this in mind affects everything: what we teach them, what activities we choose to do, what books we read…the list is endless.
An eternal focus helps us reach out to others.
Seeing heaven as a reality strengthens our desire to teach others about God. If we believe it's a real place, then we will want to tell others about it.  Like one beggar telling another beggar where to find bread.
An eternal focus helps us endure the hard times.
One thing we can be sure of, life is going to have difficult seasons.  Our hope of heaven gives us strength to endure.
Know it is a real place. A place where there will be no hunger or thirst (Rev. 7:16-17), no death and decay, no mourning, crying, or pain (Rev. 21:4,): this knowledge will help you get through.
God will wipe every tear from our eyes.  In the end, everything will be alright.
In all honesty, this is often hard!  Life has a way of pulling us down.  But we can fight to keep our eyes fixed on Him by reading His word, praying, and intentionally causing our minds to think on eternity.
THINK—
Of stepping on shore and finding it Heaven;
Of taking hold of a hand and finding it God's hand;
Of breathing a new air and finding it celestial air;
Of feeling invigorated and finding it immortality;
Of passing from storm and tempest to an unbroken calm;
Of looking up—and finding it HOME!

—Myrtle Erickson