This post may contain affiliate links which won't change your price but will share some commission.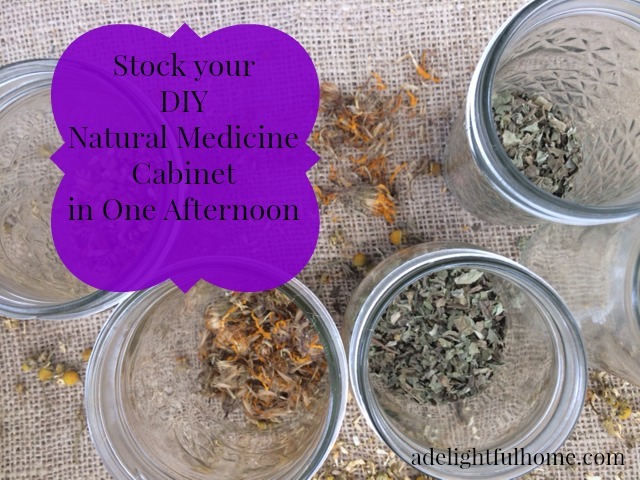 This post is LONG. You might want to pin for future reference.
If you've been around here long, you know I like to make remedies and beauty products in quick time. It started with 50 homemade gifts in an hour, then moved up to 100 natural beauty products in an hour. Now I'm tackling the natural medicine cabinet, and striving to stock it in one afternoon.
And I did it. Mostly.
Some of the items still have to sit for a few weeks, but all they need is straining, then they are good to go.
Here's what we are making in one afternoon:
Echinacea tincture
Chamomile glycerite for fussy babies and cranky adults
Plantain – Apple Cider Vinegar Tincture for acne
Healing salve
Chest rub
Arnica salve
Digestive Tea
Throat lozenges
Air purifying spray
I'd also like to include elderberry syrup but was out of berries at the time of this undertaking. So, I'll update with that information later.
What you'll need in order to stock your DIY Natural Medicine Cabinet in One Afternoon
You may not want to make everything listed. If this is the case, just leave those items off the shopping list.
Also note, if you want this process to go faster, the oils can be infused the day before. (Or even weeks before).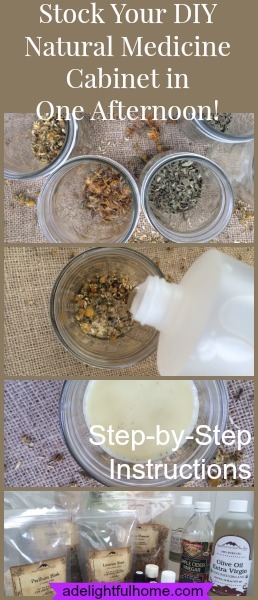 For Chamomile tincture
– from the Making Herbs Simple, Volume 1
Chamomile flowers, dried
Glycerin
large canning jar
Echinacea tincture
Dried Echinacea
Glycerin (can use vodka – see this post)
large canning jar
Chest rub
Healing Plantain Salve
Plantain-ACV Acne treatment
– from the Making Herbs Simple, Volume 1
For Arnica Salve ( to soothe bruises, aches, and pains)
For digestive tea
For lozenges
For Air Purifying Spray
Step-by-step instructions
Line up 5 canning jars on a table or counter top.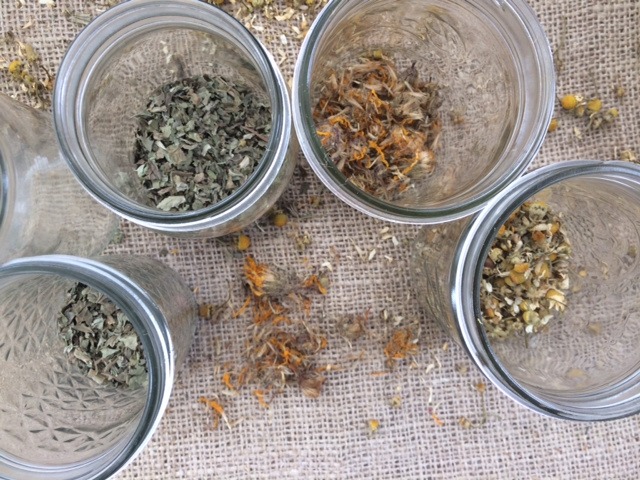 Fill the first jar 1/3 of the way with dried echinacea.
Fill the second jar 1/3 of the way with chamomile
Fill the third jar 1/3 of the way with dried plantain.
In the fourth jar, place 1/3 cup of dried plantain.
In the fifth jar place dried arnica flowers.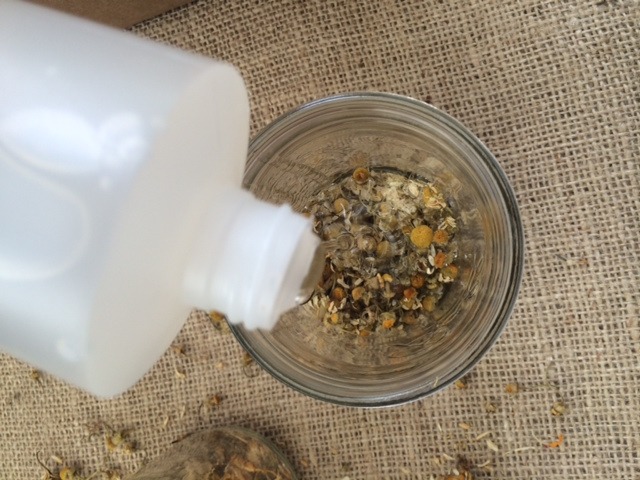 Pour glycerin over echinacea and chamomile until it almost reaches the top of the jar. Place lids on these jars and leave for 3 weeks, shaking jar occasionally. After three weeks have past, strain out the herbs. You now have tinctures! If you want to make these faster, you can follow the crockpot method described in this post.
Pour apple cider vinegar over plantain. Close with lid and leave for 4-6 weeks. Strain out the herbs. Use to this tincture on acne on the face or back of arms. If too strong, dilute with a little distilled water.
Pour oil over arnica flowers and set aside.
In the jar filled with 1/4 ounce plantain, pour 1/2 cup of oil.
Turn on the oven to 300 degrees. While it warms up, place the jars with arnica flowers/oil and plantain/oil into a loaf pan or casserole dish. Add water to the bottom of the pan so it comes up the sides of the jars (about an inch or so).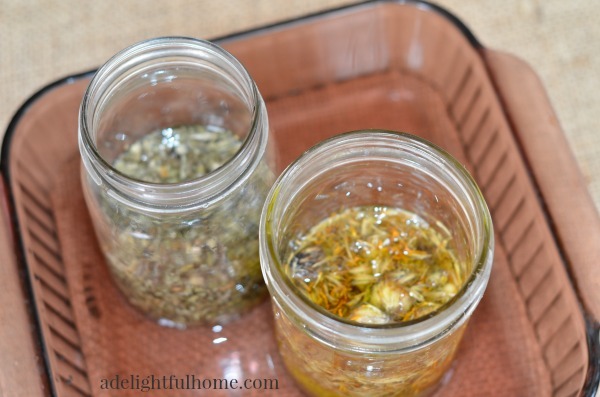 Once oven is preheated, place this dish with the jars and water in it, into the oven. Turn OFF the oven. Leave for 3 hours. Set your timer!
On the stove top place a small pan with a heavy bottom. Add 1/4 ounce of plantain and 1/2 cup oil. Warm over the lowest heat possible. Only needs to warm for about 20 minutes. So set a timer and keep on eye on this! (Alternatively, you can put this in a jar and into the oven with the other herb/oils.)
Next we will begin the lozenges.
Place slippery elm into a bowl and add a few tablespoons of the honey. Stir to combine and add more honey until the consistency resembles playdoh.
(During this time, the plantain/oil mixture on the stove top should be ready to turn off. Remove from heat and allow to cool).
Use approximately 1/8 inch of the 'playdoh' mixture to roll a small ball to create a lozenge. Roll this ball in ground licorice root and place lozenge on parchment paper. Repeat until all of the mixture is used.
Let air dry to harden.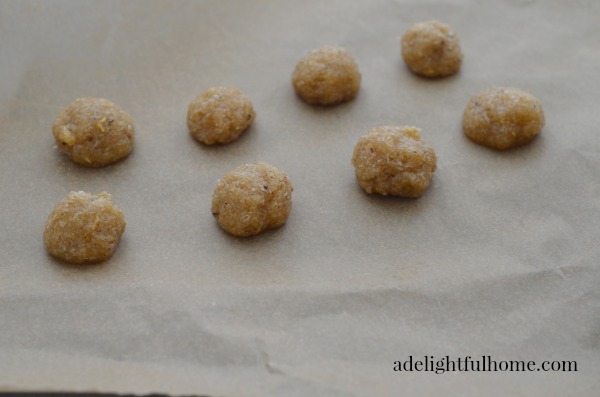 Now onto the air purifying spray. . .
Mix 1 1/2 ounce vodka and 1 1/2 ounce distilled water in a measuring cup with a spout.
Add 10 drops clove bud essential oil and 12 drops sweet orange essential oil and 12 drops lemon essential oil.
Use to purify the air and to clean door knobs, counter tops, anywhere germs may hide.
Mix up the tea
Add digestive tea ingredients (licorice root and spearmint) to a jar. Label and store. (May wish to add to label that 1 tablespoon per cup should be used when brewing the tea.)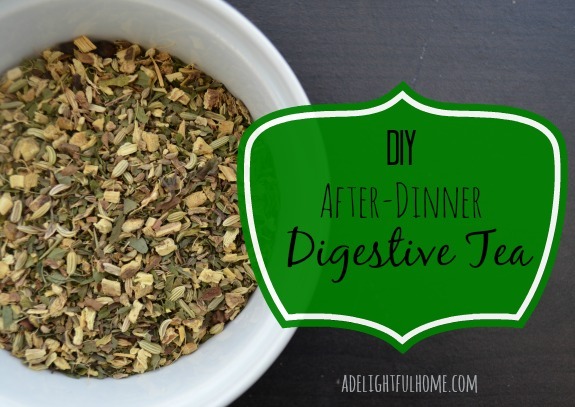 Back to the Chest rub. . .
Pour the cooled plantain/oil mixture through a cheesecloth and strain out the herbs.
Place this infused oil back into the pan along with the 1/4 ounce of beeswax. Melt over very low heat.
Cool slightly and add the essential oils and vitamin E. Stir to distribute evenly.
Pour into a clean jar and allow to cool.
Once completely cool, add the lid and label. This homemade chest rub can be kept for one year at room temperature
Clean up the kitchen a little as you wait for the oils in the oven to finish infusing.
After the three hours for the oil is up, take pan out of the oven and let cool briefly.
Strain out the arnica and plantain.
In double boiler, place the plantain infused oil. Add 1/2 ounce of beeswax.
Warm over low heat until the beeswax melts.
Once the beeswax is completely melted, turn off heat. Remove from heat and allow to cool slightly, then pour into clean a clean jar (or jars).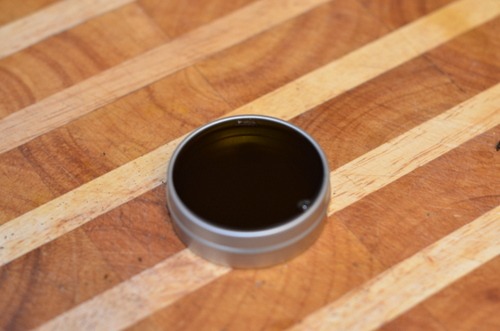 Plantain salve cooling
Allow to cool completely before adding the lid.
Salve will keep for up to a year.
Finish Arnica Salve
Place arnica infused oil in top of double boiler, add 1/2 ounce beeswax (this will make a slave consistency. If you want this to be more like a balm, add extra beeswax – this will make it thicker and firmer).
Warm over medium heat until beeswax is melted.
Remove from heat, add 10 drops peppermint essential oil, if desired.
Pour into jar and allow to cool completely before closing with lid.
Note: Arnica salve should be not be used on skin that is broken, or on open wounds. It is intended for use on bruises, bumps, sprains, and aches.
Don't forget:
Put a note on calendar to strain out the Enchinacea and Chamomile herbs from the tinctures in about 2 to 3 weeks.
If you have questions regarding any of the recipes or the process of preparing them, please leave them in the comments below. I will not be able to answer them until after the weekend. But, will update with information as soon as possible.