This post may contain affiliate links which won't change your price but will share some commission.
The following is a guest post from Mindy of Simply Designs.
(Mindy has a lovely blog I think you will all enjoy. I hope you will pay her a visit.)
I am so excited about what I am going to share with you today! I have recently been exploring the yummy world of natural skin and beauty care. I say "yummy" because most of the things that I have been experimenting with have included using edible ingredients. For instance, did you know that you can use raw honey to wash your face? And it works GREAT! Especially if you follow it up with this facial toner of one part water and one part lavender vinegar. My skin is feeling and looking better than it ever has! And I've been spending less money also – so it's definitely a win-win!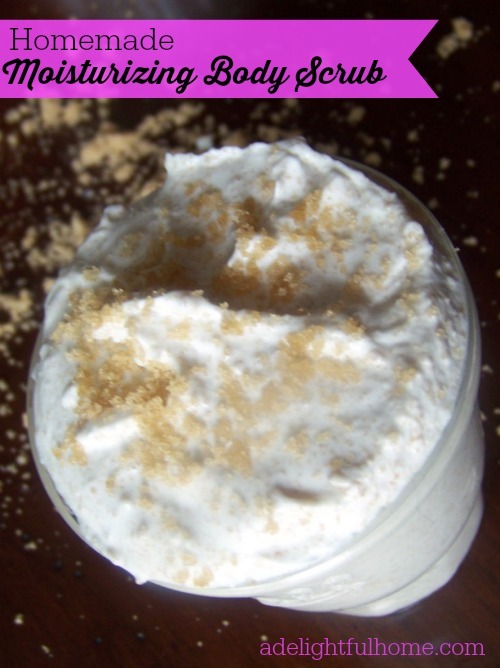 Out of all the natural skin care experiments that I have tried, this Homemade Moisturizing Body Scrub, that I am going to share with you today, is probably my absolute favorite! It leaves your skin feeling SOFT and SMOOTH like you've never experienced before! (At least like I had never experienced before! :-)) It is meant to be used in the shower, and you honestly don't even need to use any moisturizer when you get out. You will absolutely be glowing!
To get started on making the body scrub, you will only need four simple ingredients. If you don't have some of these ingredients on hand, a great place to purchase them from is Mountain Rose Herbs. I highly recommend their products, and I know that Stacy does too. (And yes, all of these ingredients are edible, although I don't think I have ever actually eaten shea butter!)
INGREDIENTS:
METHOD:
Begin by filling a 1/2 C measuring cup with shea butter, making sure to pack it down tightly. Transfer the shea butter to a small pan, and gently heat, using the double boiler method, until the butter is nice and soft. You don't want to melt the butter, but just soften it to make it easier to work with.
Next, transfer the shea butter to a stand mixer, and beat on high speed until it has a whipped consistency and doesn't feel grainy when rubbed between your fingers. This will take around 3-4 minutes. It should look like firm whipped cream when it is done. (If you think your tempted to eat it now, just wait till later!)
Combine the olive oil and melted coconut oil together in a small container with a spout. SLOWLY pour the oil into the bowl of shea butter, while beating on high speed. You may need to stop and scrape down the sides as you go.
Once all of the oil is incorporated into the shea butter, continue mixing on high speed for 1-2 minutes until it is nice and fluffy and looks like a soft, delicious whipped cream. If desired, you could also add some essential oils now. I usually don't, because I like the smell of just the coconut oil and brown sugar, but you could experiment with adding some if you would like.
At this point, you really could just stop, and use this as an after-shower moisturizer. I have done this before, but my favorite way to use this is as an in-shower moisturizing body scrub. It is just so nice, and makes your skin feel AMAZING! (Have I already said that? Please excuse me if I'm repeating myself!)
To turn this into a body scrub, you just need to add something that will exfoliate. This step is very flexible, and there are many things that could be added here. My favorite thing to use is brown sugar. It gives it a wonderful smell, and it does a great job at exfoliating. Some other things that you could consider using instead of sugar would be salt, coffee grounds, ground up oats, etc. Anything that will provide you with a gentle scrub can be used in place of the sugar. You could even do a combination of exfoliators if you would like.
So add the brown sugar (or whatever you decide to use) to your whipped butter and gently mix it in. (If you use brown sugar, make sure that there are no clumps of sugar before you add it to your bowl. It will be a lot easier to mix in this way, and you will not end up with any big sugar clumps in your exfoliator.)
That is all there is to it! And although, you could eat this, I think it would serve it's purpose better on your skin! To use, simply rub the body scrub all over yourself while you're in the shower, rinse off, and dry. You don't need to use a lot – a little bit will go a long way. When you get out of the shower, your skin will feel like silk, and you will be glowing!
This recipe makes around two cups of moisturizing body scrub. I like to store mine in glass ball jars. For a simple gift idea, fill up a 1 cup ball jar with your homemade body scrub, sprinkle a little brown sugar over the top (just for fun!), seal it with a lid, and decorate the jar with a cute ribbon and/or a homemade gift tag. Everyone loves receiving handmade gifts! I made some recently as a special treat for my friend who just had a baby, and she loved it! But make sure to save some for yourself, so you can have beautiful, glowing, soft, smooth, radiant skin too! Enjoy!
Stacy's note: Doesn't this look delicious? I love how easy it is to put together and think it would make a lovely gift! Thank you Mindy for teaching us how to make a moisturizing body scrub.