This post may contain affiliate links which won't change your price but will share some commission.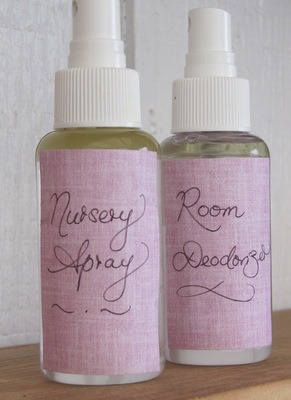 I've never been a fan of commercial air fresheners. They smell terrible and are loaded with chemicals.
So what should you do when the room needs a little refreshing?
The best thing is to open the windows and let in some fresh air! Even when it's cold, it is a good idea to open the windows periodically.
So what should you do when it's not convenient to open the windows?
Keeping an open box of baking soda out in the open will help absorb some odors. If you don't like the idea of an orange box sitting around, put the baking soda in a pretty bowl. If you have little one, it might be a good idea to put the bowl up high, so they don't "dust" the room with the lovely white powder!
Another option is to make your own air freshening spray. This is very easy and a nice way to add a pleasant scent to the room. Since essential oils are used to make this spray, it is also a nice way to boost (or calm) the mood of those in the house.
Below are two air freshening room spray recipes you can make in a matter of minutes. Both may be adapted to use other essential oils. Also feel free to add more or less of these ingredients. It is not an exact science.
NOTE: It is better to use glass spray bottles as the essential oils can cause the plastic to break down. I recently purchased some from Specialty Bottle, but they are also available on Amazon. In fact, Amazon has a lovely set of six cobalt blue glass bottles.
---
PSSST….
Before we get to the instructions, I thought you'd like to know there's an awesome way to get 10 e-courses and 16 ebooks and printable resources for 93% off (this week only!).
It's called the Herbs and Essential Oils Super Bundle.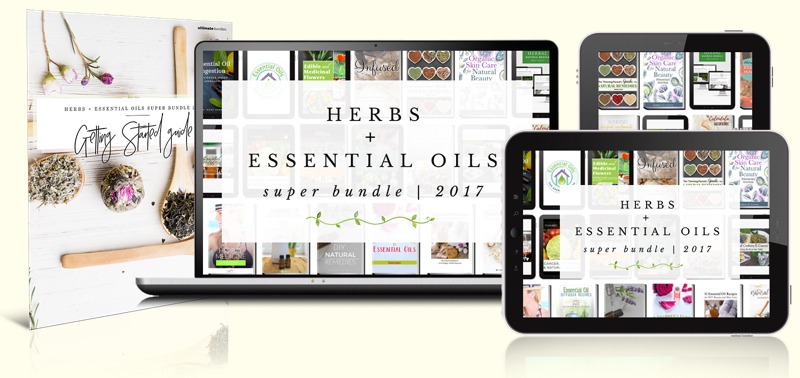 The bundle has 26 products (including 16 eBooks & printables plus 10 eCourses) to help you:
Rebuild your medicine cabinet with natural remedies
Preserve, harvest, and cook with healing herbs
Tackle your child's health ailments naturally
Confidently and safely use essential oils in your home
Create beauty and skincare products without harmful ingredients
Survive cold and flu season without getting sick (and remedies to help you if you do)
Worried you won't know where to start with all the products in the bundle?
Don't be! Inside the bundle, you'll find a handy Getting Started Guide to help you find the categories you want to take action with right away.
The combined value of the resources in the bundle is over $770, but you get EVERYTHING for 93% off!
If you want to learn how to make natural remedies a part of your family's health regime, the Herbs and Essential Oils Super Bundle is just what you need.
You'll also get some amazing bonuses, including:
Exclusive package including the Soft Essential Oils Carrying Case for 9 Bottles and a 10 ml bottle of Meditation Blend from Plant Therapy, $22 value (international shipping available)
FREE Leather Wrap Diffuser Bracelet from The Oil Collection, $22 value (shipping to US, FPO, APO)
Lavender Roll-On Bottle (10 mL) from MadeOn Skin Care, $15 value (shipping available to the U.S. and Canada)
1-year digital magazine subscription from Natural Herbal Living, $48 value (digital)
I have an extra bonus for those who buy through my link too 🙂 (Find out about that here).
The Herbs and Essential Oils Super Bundle before it expires on Monday, May 22 at 11:59 PM EST! So don't wait!
Ends in:


---
Calming Room Spray

Fill a small, 2 – 4 ounce, spray bottle with distilled water and add 80 to 100 drops of essential oil.

For a calming effect use approximately 20 drops chamomile essential oil, 50 drops lavender essential oil, and 10 drops rosemary essential oil.

I find the chamomile tends to overwhelm the other smells, so it might be worthwhile to start with just 10 drops and increase until you are pleased with the fragrance.
Simply Delightful Air-Freshening Spray

The following recipe is adapted from the Nursery Spray in Herbal Crafts by Jessie Hawkins (and excellent book). It uses a lot more oil than the previous recipe, but is not overpowering.

It is my favorite spray of all. I love the combination of oils and find it very pleasant. It's an excellent mood booster!

¾ teaspoon lavender essential oil
1 teaspoon sweet orange essential oil
½ teaspoon lemon essential oil

Fill bottle will water, measure in the oils. Tighten lid and shake to blend.
Be sure to shake before each use, as the oils will separate from the water: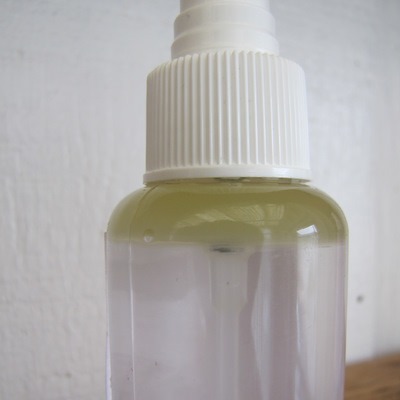 Do you make your own air freshening sprays? What fragrance combination do you like?