This post may contain affiliate links which won't change your price but will share some commission.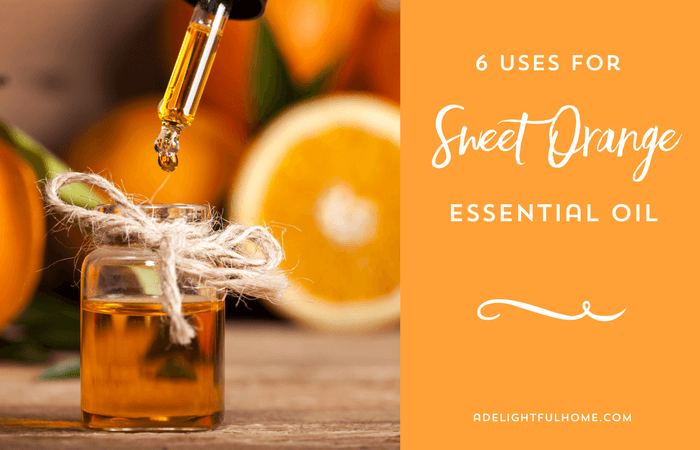 This post contains affiliate links.
Way back when I began to use essential oils, sweet orange essential oil was one of the first essential oils I purchased. I think it was because it was inexpensive and also because I recognized it. Orange was familiar; so I figured it wouldn't be too hard to use.
Fast forward 14 years and I'm still using it!
Sweet orange (Latin name: Citrus sinensis) is bright and citrusy. It smells just like a juicy orange, which is warm and uplifting.
Besides being helpful in natural cleaning products, sweet orange essential oil has many aromatic benefits.
Below you'll find a number of the wonderful ways to use and enjoy Sweet Orange Essential Oil:is a favorite for many reasons . . .
Include in Homemade Natural Cleaners
Sweet orange essential oil is naturally antibacterial. This makes it a great addition to homemade cleaners. It's fresh scent also lends itself to use in cleaning smelly places, such as the bathroom, kitchen sink, and more.
Click here to see three homemade cleaning recipes that use sweet orange essential oil.
Use to reduce Anxiety and Depression
Sweet orange essential oil has been used as a mood booster for many years. One of the easiest ways to use it for this purpose is to diffuse in an essential oil diffuser.
Small nasal inhalers can easily be made and being portable, make it simple to take the scent with you wherever you go.
If you don't wish to use a nasal inhaler, try a small roller bottle. Mix a carrier oil with sweet orange essential oil and roll behind the ears when out and about. It may help depression and anxiety, but also works as a natural perfume!
Ease Digestive discomfort
Sweet orange essential oil is thought to aid in easing digestive upset. Blend 6 drops in 20 ml of carrier oil and rub over the abdomen.
In the Essential Oils Handbook, Jennie Harding suggests adding 4 drops of Neroli essential oil to the above blend to improve digestion.
Ease Respiratory Conditions
In the book, The Complete Aromatherapy and Essential Oils Handbook for Everyday Wellness, Nerys Purchon and Lora Cantele suggest that lavender works well in synergy with orange essential oil to ease respiratory conditions.
A blend of lavender and orange essential oil could be added to a diffuser or mixed with a carrier oil and rubbed on the chest and back.
Add To Homemade Body Care Products
Sweet orange essential oil is a wonderful addition to many homemade body care products. It's great in a body scrub, creates an uplifting body wash, delicious lip balm, sweet-smelling lotion bars, and more.
Blend with…
Interested in creating your own sweet smelling products? Sweet Orange Essential Oil blends well with Bergamot, Cinnamon Bark, Lemon, Red Mandarin, Pink Grapefruit, Sandalwood, and Vanilla.
Cautions
Sweet orange essential oil is one of the safer essential oils to use. It is generally well tolerated by most people, however, it is important to remember that we are all unique and everyone reacts differently. If you experience any adverse effects from using orange essential oil, stop immediately.
Sweet orange essential oil is one of the citrus essential oils that is not phototoxic. Be aware that other orange essential oils, such as bitter orange essential oil, is phototoxic and should not be used before exposure to the sun.
Do not use essential oil undiluted.