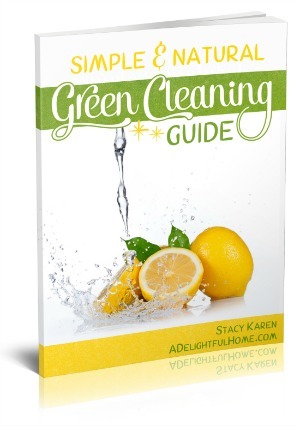 Are you concerned about the toxins contained in most household cleaners?
Want to learn the basics of natural cleaning?
Need some cleaning recipes to get you started?
The Simple & Natural Green Cleaning Guide is here to help.
WHAT'S INSIDE?
This 39 page eBook includes practical information to get you started on your green cleaning journey.
You'll find recipes for natural all-purpose cleaners as well as quick and easy cleaning solutions for the most common cleaning tasks.
There are specific cleaning recipes for:
bathroom
kitchen
cutting boards
walls
floors
carpets
laundry
natural air-fresheners
information on the best plants to reduce toxins in your home
and more!
This eBook is heavy on the how-tos.
I didn't want to give a lot of philosophy or history; my goal was to provide a practical resource that could be used right away.
This handy book is one you'll reference again and again.
And it's only $3.99!