This post may contain affiliate links which won't change your price but will share some commission.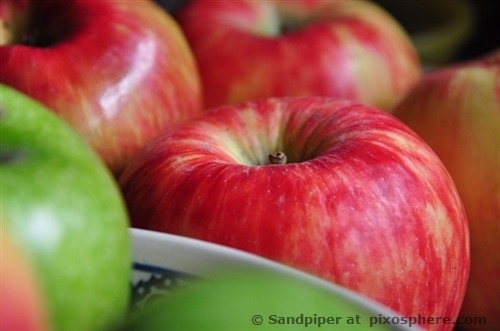 This week the High Five Moms are sharing about preserving Fall's harvest.
Nothing says fall to me like freshly picked apples!
I planned to share an applesauce recipe with you, but there are so many great tutorials on the web already, it seemed a bit redundant to add another here. So, after you've made (or bought) some appleauce, you might enjoy this healthy treat: Applesauce cake.
This cake is made with whole food ingredients and whispers Fall with each bite.
Applesauce Cake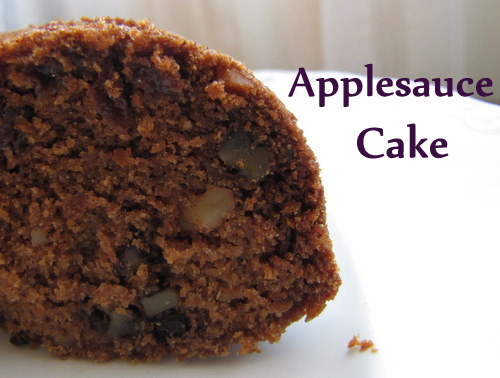 Ingredients
2 cups whole wheat pastry flour
2 tsp. baking soda
1 tsp. baking powder
1 1/2 teaspoons cinnamon
1 tsp. freshly grated nutmeg or 1/2 teaspoon dried nutmeg
1/4 tsp. ground cloves
3/4cup raisins
3/4 cup chopped walnuts
1 stick butter
1 large egg
1 cup sucanat (a whole food sugar)
2 tsp. vanilla
2 cups applesauce
Method
Preheat oven to 350°F.
Stir together the flour, soda, baking powder, and spices.
In a large bowl, cream together the butter and sugar until light and fluffy. Add the egg and beat until combined, then  add a cup of the dry ingredients, then add 1/4 cup of the applesauce and stir to incorporate.
Continue alternating wet and dry ingredients.
Add the raisins, walnuts, and vanilla and stir to distribute evenly.
Pour  into a greased and floured bundt pan.
Bake for 35 to 40 minutes or until a  toothpick comes out clean.
Cool the cake in the pan and turn onto a plate or serving platter.
Leave the cake unfrosted for a tasty, quick-bread snack. If you would like more of a dessert feel, drizzle with you favorite cream cheese frosting. I love this Maple cream cheese frosting from Smitten Kitchen. The original recipe calls for the cake to be dusted with powdered sugar (which is not a real food ingredient! So you make the call of that one).

Visit the other High Five Moms:
Andie @ Happy Andersons
Jasmine @ Ponder the Path
Brandy @ The Marathon Mom
Keri Mae @ The Happy Home
This post is being shared at Raising Homemakers and Real Food Wednesday.