This post may contain affiliate links which won't change your price but will share some commission.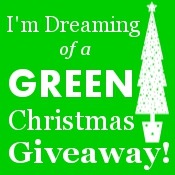 I'm excited to be participating in the Dreaming of a Green Christmas Giveaway Bash this week along with several other green bloggers.  We'll be giving you the opportunity to win green Christmas gifts for your family, friends, or yourself!  Be sure to check out the other great giveaways at the end of this post.
Today's giveaway is brought to you by Tropical Traditions.
They are giving you a chance to win a 5-pound bag of Soft White Winter Wheat Grains!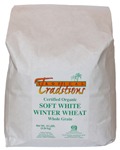 Maybe you are thinking: Wheat Grains are not a Christmas gift item! Are you? Because I would love a bag of wheat for Christmas. In fact, once my mum disguised a Christmas gift in an empty brown rice box and I was thrilled (thinking it was actually brown rice)!
Even if you don't want wheat grains for a Christmas gift, you can use them for Christmas baking. Soft White Winter Wheat makes a lovely pastry flour that works very well in baked goods.
Judging by the response and questions I received after sharing about grinding my own wheat, I think many of you will be excited to try these grains.
Before I go on, Tropical Traditions does sell many other wonderful items that would be perfect for gift giving: coconut oil soap, hair oil, some of the best coconut oil around, gift certificates and so on. So, even if you don't care for wheat grains, be sure to check them out.
Why Soft White Wheat Grains?
When I first began to grind my own wheat, I only used hard white or red wheat grains. These grains work well for yeast breads and some  quick breads, too. But they tend to make muffins and other baked goods a little heavy.
Soft white wheat grains make a lighter flour, called pastry flour. Since using soft white wheat grains to make pastry flour, I have been able to sneak it into all kinds of goodies without people noticing!
I've made cakes with it and taken them to church. And people eat them and like them!
A few items I've cooked up with  flour made from soft white wheat:
Pumpkin Bread
Muffins
Scones
Another reason it is nice to buy grains opposed to flour, is because they stay fresh longer. Grains stored correctly can last indefinitely, where as flour will go bad in a matter of months.
Why Buy from Tropical Traditions?
Tropical Traditions is a company with high standards. So far all of my dealings with them have been positive. I have confidence that they choose products of good quality and work ethically.
I tried their wheat grains and loved them. They were fresh and tasted good (that's important!).
To enter to win a 5-lb bag of Organic Soft White Wheat Grains:

For extra entries (Leave an extra comment for each):

Giveaway ends on Wednesday, November 23rd at 5pm.

Open to US residents only.
Check out today's other great giveaways in the Dreaming of a Green Christmas Giveaway Bash: