This post may contain affiliate links which won't change your price but will share some commission.
Confession: I am messy!
(If you are not interested in messy confessions, and just want to get to the giveaway already, scroll down :))

As a child, my bedroom floor was usually covered with stuff. It didn't cause me too much trouble because I had an uncanny way of knowing exactly what was in each pile and which corner of the room I last saw my tap shoes (yes, I was a tap dancer).
Apart from the occasional missing item, or some slight embarrassment if someone actually saw my room, it didn't bother me too much. I was happy in my mess. And it always provided a great way to procrastinate whenever I had to study for test (you know, I have to clean my room first).
Then I became a wife and mother. The entire home was my domain! Cue: Panic Attack.

I struggled to keep the house clean and had absolutely no idea how to organize or even how often I should wash the sheets!
On the job training is tough. Especially when their are children underfoot making messes behind you.
When it comes to keeping our home spic and span, it is easy to be out of focus in one way or another. Perhaps we care too much about keeping things clean and neglect relationships. Or maybe, we are too lackadaisical and our home is neither warm or inviting because it is covered in dirt!
The journey to a clean and comfortable home may be fraught with difficulties, but there is hope!
Sometimes all we need is a friend to come alongside and show us the way, to offer support, to give us a few tools, a pep-talk, or a pat on the back. Sarah Mae is one of those friends. If you have read her blog, you know she is an wonderful encourager and strives to be a truth seeker (and teller) at all times.
Sarah Mae has written an excellent e-book titled: 31 Days to Clean: Having a Martha House the Mary Way.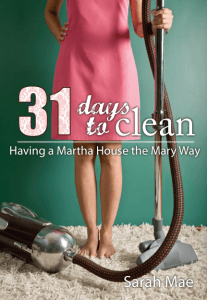 Don't you just love that title?
This book gets to the heart of the matter, helping the reader look deeper and search out their own reasons for keeping a clean home.
To me, this is brilliant. Having a strong grasp on why we do something always strengthens and motivates. (This is the same tactic I use to keep me exercising).
This book is not about keeping a perfect home. For what is a perfectly clean home if it is not filled love and happiness? Nothing.
As Sarah Mae says, "This book is about bringing life to the mundane in order to love well".
31 Days to Clean offers 31 Days of encouragement. Each day begins with a some ideas that will set your mind to thinking. Then the ideas are put into action through two challenges: A Mary Challenge and a Martha Challenge.
Sarah Mae describes the challenges in this way:
The Mary Challenge -Something you do that encourages/engages your heart
The Martha Challenge – Specific cleaning tasks
Very clever, don't you think?
I'm slowly working my way through this book, even though I read half of it in one sitting…I just couldn't put it down.
31 Days to Clean is an excellent tool for helping women create peace and joy at home. It is going to help you delight in your days. I'm certain of it.
Sarah Mae is offering a copy of 31 Days to Clean to one of you!
Giveaway will end on Monday evening at 6pm PST.

To enter to win a copy of 31 Days to Clean, leave a comment below.

For extra entries you can do any of the following (leave a separate comment for each):

Like 31 Days to Clean on facebook
LikeDelighting in the Days on facebook
Check out the 31 Days to Clean Table of Contents and tell me which chapter you are most interested in reading.

This Giveaway is now closed.