This post may contain affiliate links which won't change your price but will share some commission.
December is moving along, full steam ahead! I hope you are all enjoying your families.
It really can be a challenge to stay cheerful and sane with all of the activity that surrounds the holidays! I'm planning to take next week off and spend most of my time making gifts and hanging out with the kids. I probably won't post here every day.
Today's post is rather random, which is how I am feeling at the moment!
E-book Update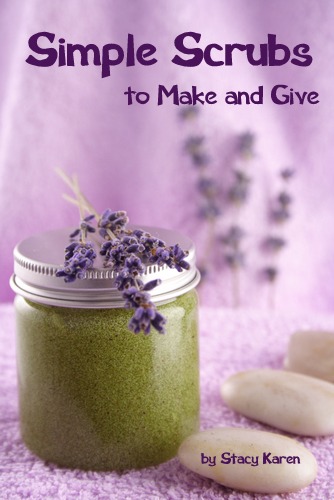 I announced my ebook was nearing completion, but forgot to share details!
My ebook is the first in a series of natural body care books. It's titled: Simple Scrubs to Make and GIve.
This book has grown and grown and is now over 40 pages with 20 recipes! I think you'll like it. The final details have been more time consuming than I anticipated. I hope it will be ready early next week.
Sorry for the wait. Hopefully it will be worth it!
This weeks links:
Crystal at Money Saving Mom is writing a great series: 21 Days to a More Organized Christmas. I think most of us could benefit from reading these posts! I could find a way to link to all of the posts in the series. So, search 21 Days to a More Organized Christmas in her search box and you will find them.
Sally Clarkson is hosting three Mom Heart conferences early next year. She is a excellent encourager and teacher.
If you can get yourself to one of these conferences, you will be blessed. I have no doubt about it. I've heard Sally speak live a number of times and have been changed for the better on each occasion ( I still have a long way to go though. Which is why I really want to go and hear her again!)
Vintage Remedies will be starting a free 8 Weeks to Real Foods course in January. I've signed up and am looking forward to it.
I love Vintage Remedies. They communicate complex topics in an understandable way. In fact, I just became a student in their Family Herbalist Course!
Giveaway winners
I forgot to announce the winners from our Green Christmas Giveaway Bash (wasn't that fun)!
Here they are:
Winners have been contacted. Congratulations!
Jenuinely Pure Voucher – Michelle – mml_acc . [email protected]
Soft White Wheat Grains from Tropical Traditions – Colleen – countryqueen…@
KOKO Lunch Bag – Heidi  – [email protected]
Apple Valley Natural Soap – Suzannah – [email protected]
Hard Lotion Gift Set and eBook – Sue Ellen @ One Mother's Love
Dayspring Voucher – Rebekah – Simply Rebekah
Thanks so much for taking part in the giveaway bash. It was a blast!
There's still time to enter two more giveaways (ending on Monday evening):
Smart Sweets eBook – 30 Healthy Desserts to Indulge Your Sweet Tooth
Savvy Teas and Herbs $30 Voucher
Have a lovely weekend!
Links to Vintage Remedies are affiliate links.