This post may contain affiliate links which won't change your price but will share some commission.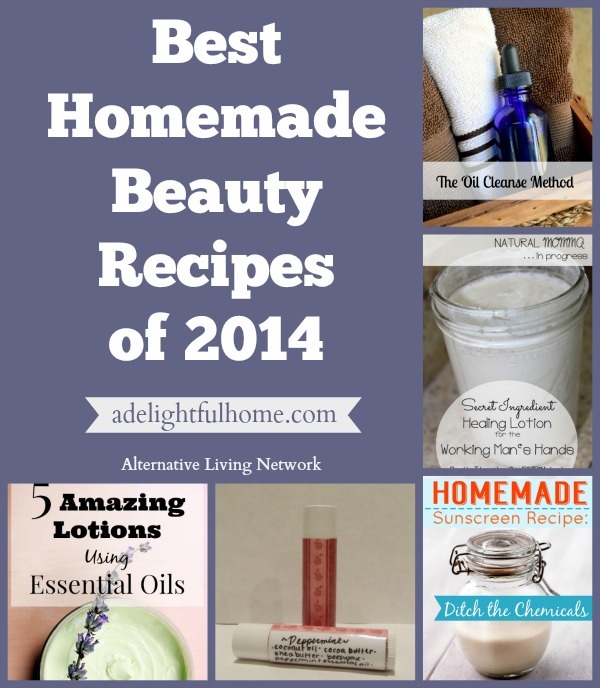 This year I dove deeper and deeper into natural, homemade beauty. It is one of my greatest joys to share how simple and easy it is to create natural body care at home.
Yesterday I finished the natural skin care development course I've been taking throughVintage Remedies. It took me two years to complete it! But, I certainly went at a snails pace.
The course is no longer available, but they have a new one (which is currently on sale): Foundations of Botanical Skincare .
During my studies I had the chance to develop some new recipes which I look forward to sharing with you soon. I also plan to go back to a series I began last year which teaches about various ingredients in natural skin care and how to use them.
Today I've joined with my fellow bloggers at Alternative Living Network to bring you some of the best Homemade Beauty Recipe Posts of 2014.
I hope you find something fun to make!
Christmas Beauty Balm @ It Takes Time
20 Homemade Beauty Product Gift Ideas @ Accidentally Green
Creating Homemade Moisturizers with Shea Butter @ Accidentally Green
Secret Ingredient Healing Lotion for the Working Man's Hands @ Natural Momma In Progress
Make 100 Natural Body Care Gifts in an Hour @ A Delightful Home
Homemade Sunscreen Recipe: Ditch the Chemicals @ Intoxicated on Life
5 Amazing Lotions using Essential Oils @ Beauty in the Mess
Soothing Lavender Detox Bath @ This House of Joy
The Oil Cleanse Method @ Never Lacking in Zeal
Make Your Own Liquid Shampoo @ Never Lacking in Zeal
Color Enhancing Hair Spray @ The Pistachio Project
Activated Charcoal Face Mask @ The Pistachio Project
Strawberry Lemonade Foot Scrub @ Richly Rooted
Homemade Lip Balm @ Jaimie Ramsey
DIY Homemade Deodorant @ Jaimie Ramsey
How to Make Lotion Bars @ A Delightful Home
Enjoy!