This post may contain affiliate links which won't change your price but will share some commission.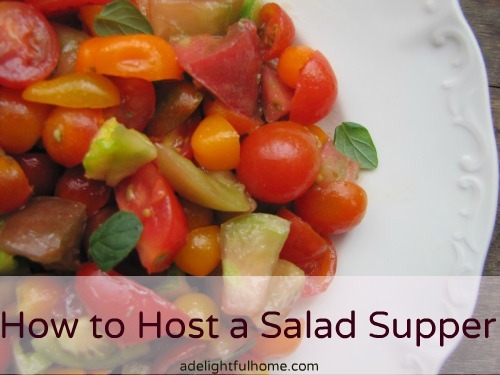 I was first introduced to the idea of having a Salad Supper when graduating from Bible college in 2001.
Every year during graduation week, the ladies would have a Salad Supper. There would be a speaker, some awards and recognition, and everyone would bring a favorite salad to share.
It was lovely.
Because graduation is usually during warm weather, salad was a perfect supper! Especially for ladies.
Ladies like salad. Right?
I thought it was very fun and unique anyway.
Since then I've used this idea for a few get-togethers with other ladies.
It's very simple.
Each person brings a salad to share.
That's it.
As long as everyone doesn't bring a plain, green salad, it's good.
There are so many salad varieties once you start looking: Greek salad, antipasto, tomato salad, bread salad, rice salad, fruit salad, and so on.
Another option, is to have a build your own salad dinner or lunch.
Going this route means you can handle it on your own or ask guests to bring one part of the salad to share.
Place each salad component in a bowl or combine a few on a platter, such as sliced veggies. Let each person make their own plate, just how they like it.
Some ingredients to consider including:
Lettuce
Mixed greens
Fresh herbs
Cheese, diced cheddar or crumbled blue, feta or Gorgonzola.
Dressing and vinaigrette – like this simple shallot vinaigrette and this Balsamic dressing with thyme.
Boiled eggs
Bacon, cooked and crumbled
Chicken, sliced
Croutons
Tomatoes
Onions
Snow peas or sugar snap peas
Shredded carrot
Avocado, sliced
And whatever else sounds good. I'm sure you can think of lots more!
The great thing about hosting a build your own salad lunch is that everything is simple to make. You can get most of it ready the night before and rest easy the day of the get-together.
What do you think? Do these salad suppers sound doable?
What else would you add to my list of salad ingredients?
Some of the other High Five Moms are sharing hospitality tips on their blogs, too.
Check them out:
10 Ways to Be Hospitable Without Going Nuts @ A Happy Home
6 Tidy-Up Tips @ Happy Andersons