This post may contain affiliate links which won't change your price but will share some commission.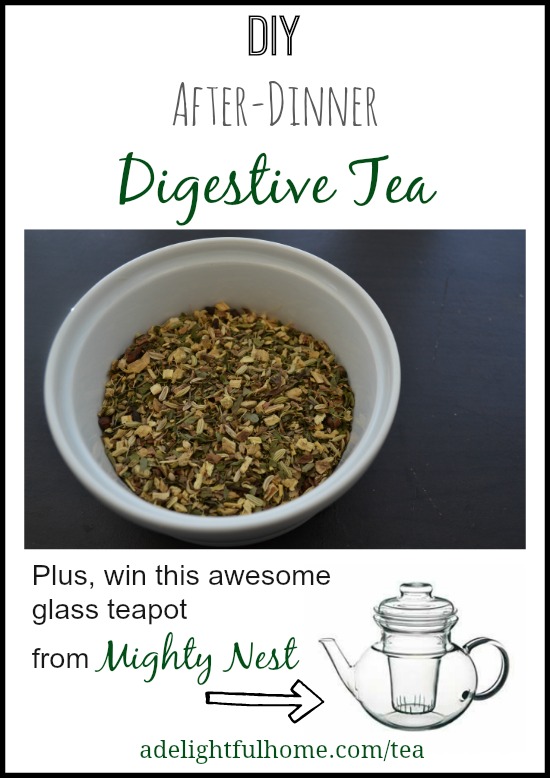 Herbal teas are a simple way to enjoy the many health benefits of herbs.
I, quite honestly, adore herbal tea. And not just for it's health benefits; the process of preparing, smelling, and sipping it, are equally enjoyable.
Often times, loose leaf herbal teas are superior than the tea bag variety. Not to say that all tea bags are bad, but rather, loose leaf is often better. One of the reasons is that the leaves have more room to unfurl and infuse the water. It's also been noted that some tea bags contain added flavorings, and even some preservatives that are less than desirable.
Today I'd like to show just how easy it is to prepare loose leaf tea, and even create your own tea blend
Since it is the season for a little over indulgence, I thought it fitting to share an after-dinner digestion tea. As you will see, all it takes is a little measuring and mixing, and you're done!
After-Dinner Digestion Tea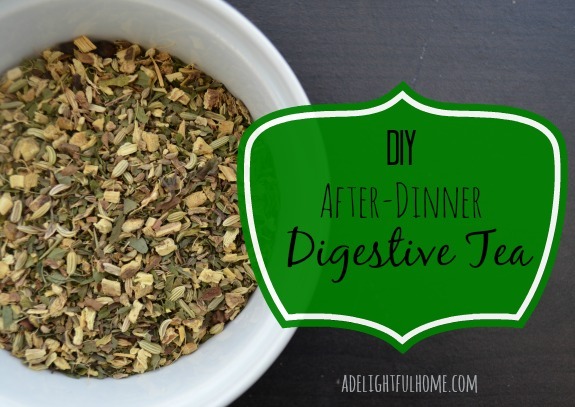 Recipe adapted from Herbal Teas.
This recipe contains spearmint and licorice root. Both are excellent for enhancing digestion. Spearmint is especially soothing to the stomach, which the licorice root adds a little sweetness and also contains anti-inflammatory properties.

Ingredients
1 parts spearmint leaves
1/8 part dried licorice root
Optional: enhance digestion (and flavor) by adding a few cloves and a sprinkle of fennel.
Method
Mix the spearmint and licorice root together. If using 3 ounces of spearmint, use 10.5 grams of licorice root. If using only 1 ounce of spearmint, use 3.5 grams of licorice root.
Store in a glass jar.
Use 1 tablespoon per cup when brewing tea.
My favorite way to brew tea: in a Glass Teapot or Infuser
Glass, a chemically inert material, does not absorb odors or chemical residues, making it an excellent choice for brewing. (-From Mighty Nest.)
Plus, glass is also aesthetically pleasing, which truly enhances the tea drinking experience (if you ask me).
So, yes, if I get to choose, I choose glass. My second choice is ceramic.