This post may contain affiliate links which won't change your price but will share some commission.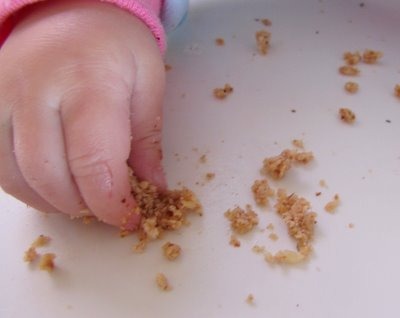 A few years ago I discovered what my family deems to be the best peanut butter recipe EVER! It is based on the nut butter recipe from Nourishing Traditions, except I haven't made the time to soak and dehydrate the peanuts yet (as recommended in the book). In fact, I like them roasted.
The great thing about this recipe is that it calls for coconut oil. Coconut oil hardens below 76 degrees F.
While this might be frustrating for some when storing the homemade nut butter in the fridge, it is perfect for using as a snack for babies and toddlers.
Here's why…
The coconut oil makes the nut butter solid. This allows it to be broken into little chunks that can be picked up by tiny fingers.
The coconut oil melts in the mouth very quickly too. So kids have no problem eating this. My youngest daughter (15 months) and nephew (18 months) LOVE it. I make it with almonds for my daughter since I suspect a peanut allergy. (A reader also used cashews with great success.)
Just break it up, put in the tray and away they go!
Because the recipe includes a little honey, I wait until babies are over 1 year before I share it with them (the honey could be left out if necessary).
If you thought you had to wait until your babes were a lot older to share delicious nuts with them, think again! And I just love the fact they we don't have to eat Jif or Skippy! That's my kind of fun.
Some of the links above are affiliate links.