This post may contain affiliate links which won't change your price but will share some commission.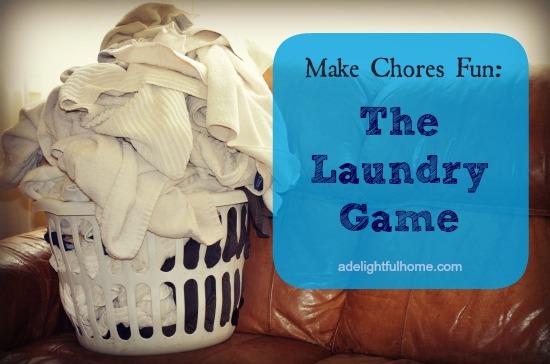 Sometimes chores are just plain dreary and overwhelming.
If you are willing to be a little silly, you can get through them quickly and have fun doing it.
Here is an example:
Once upon a time there was a mountain of clean, unfolded laundry on a bed, in a house, somewhere in the U.S.A.
Sadly, that laundry pile was mine.
I was not extremely motivated to get rid of it. I just knew it had to be done.
My two little helpers (six and three at the time) were not very excited about the laundry mountain either (unless they were allowed to climb it!)
Now, I could just buckle down and say, "let's put this laundry away," but that would be boring.
Don't get me wrong, kids need to do chores without them being made into a game, but sometimes we need to have a little fun, right?!
So we decided to make a game of it.
The two little helpers were now "delivery people". For some reason, these delivery people spoke with English accents.
They stood at the door and waited for instructions while I folded. The instructions would be something like: "Please take these to 2374 Kitchen Drawer" or "2952 Brother's Bed"
They ran and ran, delivering their packages quickly and efficiently.
Sometimes the boss (me) would find some shirts that were missed and would call the delivery person back stating that the people from 5273 Shirt Drawer were very upset because they had ordered five shirts and only received four.
The "delivery person" would then apologize profusely and hurry to said destination. Upon returning I would hear a full report of their encounter with the unhappy people from 5273 Shirt Drawer.
Very entertaining!
I know this is quite ridiculous – but it was such fun. And we got the laundry put away!
The kids laughed, made memories, and worked hard (they also think their mom is pretty cool). I folded and folded – but didn't put too many clothes away – my delivery people did that for me.
My favorite part was when the kids started to make up some addresses of their own. The one, that made everyone giggle was, "2402 Daddy's Undies." (Don't forget to say it with an English accent!)
Of course this is very silly, but a handy tool for conquering the dreaded laundry mountain. It worked for us!

Image from AntwerpenR on flickr
Do you have any tricks for making chores fun?
This post was originally published in August, 2010