This post may contain affiliate links which won't change your price but will share some commission.
Mothers need other mothers.
We know and appreciate each other without saying a word.
We all feel and experience so much of the same thing, day in and day out; the embarrassment of our 2 year old having a tantrum in public, the exhaustion and fear when our child is sick, the love and pride that bursts from our heart. . . all this we have in common. It binds us together.
Having a few good friends, who are also mothers, is a blessing. True friends who are willing to share their struggles as well as their triumphs, a wonderful gift.
We need motherly friends of all ages. Older ones to mentor and guide us. Younger ones to be an example to. Mothers in a similar season of life to commiserate with. They are all important.
It's worth making time to nurture a few good relationships with other mothers. It helps us learn and grow. Refreshes our spirit. Spurs us on.
It's easy to make time out with the girls a bottom of the list kind of thing. I encourage you to seriously consider getting together with a friend on a regular basis. Even if it is not very often, make some time for it.
Getting together doesn't have to be done in person (although real life sitting at the table, with tea in hand, is wonderful). I've been known to schedule a phone conversation a week in advance because that was the only time I could find to do it. I planned it ahead, made sure my husband would be on duty with the kids, and then sat on the porch, chatting away, just like we were out to tea. It was wonderful and really gave this weary mom a boost.
Sometimes it takes a while to find some true, kindred-spirit friends. It took me a few years to discover some like-minded mommas in our last hometown. They are still near and dear to my heart and challenge me to grow every time I speak with them. If you are still looking, hang on, they are out there!
In the meantime (and even the after-time), here are ten encouraging and motivating mothers you can visit any time of day. They all have the gift of encouragement and each one shares valuable resources and tips to help you become a better mother:
10 Encouraging Moms
You will find wonderful encouragement and much motivation on her blog and in her books. Sally is real. That is why I love her. She shares about the good and the bad. Listening to Sally speak at a conference a few years ago, I began to feel a fire in my heart, todo and be my best for my children, and for God's kingdom.
Sally is able to help you see your strengths and weaknesses, without ever pounding you. This was a welcome discovery for me, since there were other books and speakers that had left me feeling guilty and hopeless.
It seems I'm always linking to Kat. . . because I am! She has a wonderful talent for telling it like it is, and shares Sally's ability to show you the strengths and weakness in your life, without crushing your spirit. I love her and recommend her blog wholeheartedly.
I have many, many CDs and books from Lorrie Flem. They have encouraged and convicted me on numerous occasions (usually while I was doing the dishes and listening to one of her lessons). I always appreciate how she shares extremely practical tips. Lorrie posts a free video at Chick Flicks for Mom, every week or so. They are short and give some good food for thought.
I recently signed up for her new program, The Encouraging Mom. If you like Lorrie Flem, you will like this. (I'm not an affiliate . . . I just love her stuff!)
I am always impressed with how Jamie finds new and different ways to do things (see her once a month cleaning post for example).
What I enjoy most about Jamie is the fact that she is an intentional mother. You will find lots of practical suggestions and encouragement on her blog, Steady Mom,  and also in her book, Steady Days (which I liked so much I sent it to my sister in Australia, so she could read it too).
I have already mentioned how much I am enjoying Brooke's ebook: Warrior Prayers. Her passion for the power of prayer is contagious. Reading her Warrior Prayers blog will encourage you to be intentional and to tap into the true source of change: God.
Witty and true to life, Amy always makes me laugh or cry. She is real and lets her readers see imperfections and struggle (with a dose of good humor).
I find her words inspiring and comforting. I think you will too.

Another real momma, Kendra shares candidly about her life and also provides lots of tips and tricks for finding joy in the journey. There is a lot of practical advice (as well as encouraging words) on her blog: Preschoolers and Peace.

Michelle has the gift of encouragement. Her honesty and passion is empowering. If you haven't read her post, If You Care and You Try, then you should do that now. I also recommend: You Deserve Gold Stars and Chocolate. Because you really do.
Amanda (who also blogs at Oh Amanda) shares lots of ideas for impressing God's word upon the hearts of your children. Reading her blog will give you an abundance of material to use throughout the week with your own children. I love this, because honestly, it's hard to come up with new stuff every day! Thanks Amanda.
I "met" Hyacynth online some time last year. She has a huge heart for giving to others, including her family.  An excellent communicator, Hyacynth is like as a friend walking beside you. She is there in the midst of the journey, providing support and focus to others.
So there you have it. Ten encouraging mom blogs.
This is the ninth post in the Becoming a Better Mother Series!
I'm linking this post to: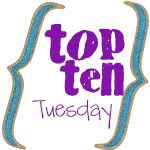 If you have a favorite Mom blog or book that encourages you, please share it in the comments so we can all check it out!