This post may contain affiliate links which won't change your price but will share some commission.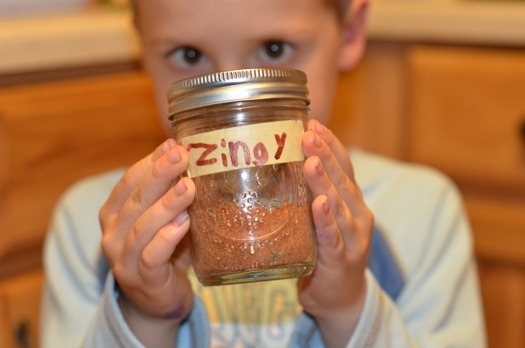 My kids love to cook. I think that's a fairly common thing.
Sometimes letting kids cook gets very messy. And sometimes it's a little dangerous with all the hot pans and sharp knives.
One thing I've found that is super easy for them to do (and is not dangerous at all – no chance of them getting burned) is to make spice mixes.
It's helpful for me to pass this job to them as it frees up some time so that I can prepare other things instead of measuring spices. It's also  great for them to learn to measure and mix correctly.
One of the first spice mixes my son made was a spice mix from Emeril's cookbook, There's a Chef in My Soup.

My son chose this book for his birthday a few years ago and has really enjoyed it.
I am very happy with it as well.  There's a Chef in My Soup contains real recipes with real ingredients. No strange "kid" type foods. Which drive me crazy.
This spice mix is very flavorful and is excellent in pasta dishes, meat casseroles, vegetable side dishes, soups, and burgers.
Here is the recipe:
Zingy Spice Mix

Based on Emeril's Baby Bam spice mix in There's a Chef in My Soup.

Ingredients

3 tablespoons paprika
2 tablespoons Celtic sea salt
2 tablespoons dried parsley
2 teaspoons onion powder
2 teaspoons garlic powder
1 teaspoon ground black pepper
1 teaspoon dried oregano
1 teaspoon dried thyme
1/2 teaspoon celery salt

Method

Measure all ingredients into a mixing bowl.

Stir to combine.

Place into an airtight container and label.

Store for up to three months.
What easy foods do your kids prepare?