This post may contain affiliate links which won't change your price but will share some commission.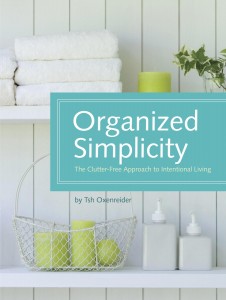 I've been on serious de-cluttering kick for about a year now.
Sitting back and looking at my home, I realized that stuff has caused me stress over the years and stood in the way of goals, opportunities, and peace.
Organizing stuff, cleaning stuff, re-arranging stuff…it's so time consuming! Isn't it much nicer to cook, or play outside with the kids. Isn't it more important to feed a hungry soul with God's word than mess with plastic tubs and piles of paper?
Of course you can't get through life without spending some time with stuff. Certain stuff is useful and necessary. And there are times when we need to deal with plastic tubs and piles of paper. But we want to be in charge of stuff, not have stuff be in charge of us. Right?
I have read a book or two about simple, clutter-free living. Many have been good. But not as good as the one I read last year:
Organized Simplicity by Tsh Oxenreider.
She "gets it."
Organized Simplicity doesn't just talk about how to deal with clutter, it gets to the heart of why you might want to. One of the main reasons: so you can have the freedom to pursue that which is important to you and your family.
I pre-ordered this book, then read it within 48 hours of receiving it. The overriding theme of living an intentional life was just what I needed.
It is important to remember that we can change things, instead of getting caught up in what life throws our way, paying attention to the urgent, and forgetting our mission. This book renewed my passion for carving out the life I desire for my family. For placing value on what is important to us (God and Family). And then living in a way that reflects that.
Here is a short quote from the book:
"Make your home a place where you can slow down. Don't just wish for it and watch with helplessness as your kids grow by the minute. Choose now to make your home a haven that can serve your family's desires and dreams, and don't waste any more time enslaving yourselves as its servant. Life is too short to miss out on the little things."

-Tsh Oxenrider, Organized Simplicity, page 103
The book is full of empowering words like that!
I wanted to direct your attention to Organized Simplicity, because if you read this blog, I assume you are striving to create a home where peace and joy reign. I truly think this book is helpful in pursing that goal.
As soon as I finished reading, I doubled my de-cluttering efforts and tackled the overflowing kitchen drawer:
Things were going very well, until I decided to empty an old jar of poppy seeds into the trash can and, without thinking, dumped them directly into the bag I was filling for the thrift store! I guess I really was done with that stuff!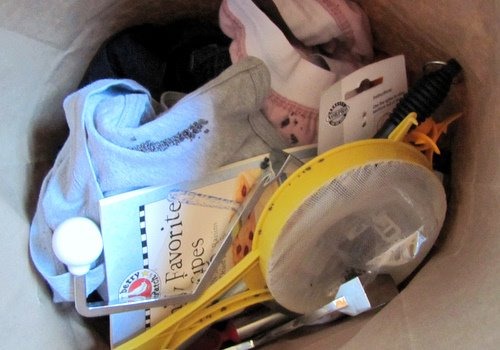 Please tell me you do things like this too!
Which is the hardest area in your home to keep clutter-free? (Mine is probably the kitchen counter.)
Links to amazon are affiliate links.