This post may contain affiliate links which won't change your price but will share some commission.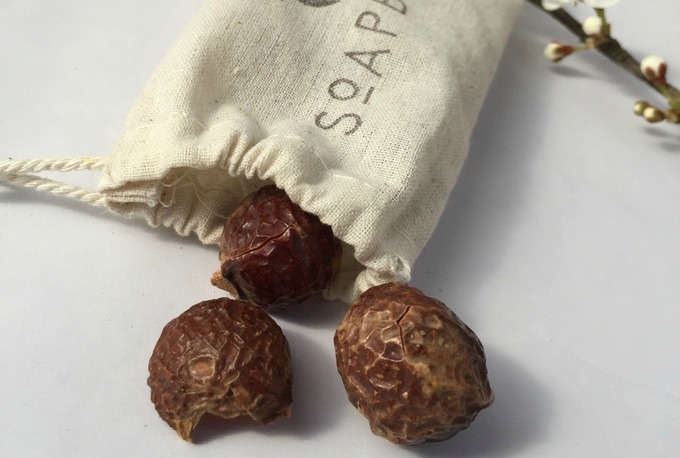 As you're probably well aware, many soaps and cleansers contain harmful ingredients. These chemicals add to the toxic load we carry, making it harder for our bodies to be in optimal health.
Thankfully, there's the Soapberry.
Yes, it's are real thing.
Crazy, right?!
These berries grow on trees and with a gentle rub, the berry naturally lathers up between your palms. It's naturally cleansing and antibacterial.
Here are a few reasons you might consider using Soapberries:
1. 100% natural
We are talking unprocessed and unaltered – soap fallen straight from a tree. In this modern day, who would have thought that nature could provide soap? Rub a single berry between your hands, and feel the naturally luxurious lather form in your very own palms.
2. Earth-friendly
A single berry can provide 3-4 uses and once they're suds are used up, soapberries are completely compostable. Artificial bubbles are washed down through our drainpipes and enter our eco-system. However, these berries are 100% biodegradable.
3. Multi-functional soap
Soapberry is a multi-use all natural soap that seems to have an endless number of uses from hair and skin remedies, face wash, and even as a laundry detergent. With its antibacterial properties, it's great for removing odors while simultaneously providing a gentle, chemical-free cleanse.
4. Gentle on skin and hair
Soapberries are hypoallergenic meaning it's safe for your sensitive skin. Contrary to its alternative name, "soap nut" it is actually a fruit so it's nut-allergy safe. With a pH-balance of 5.5, it is the same as your skin and will protect your skin's natural oils. No dryness, and many even opt out lotion and conditioners, leaving skin and hair smooth and soft.
5. No Animal Testing
As nature's plant-based soap without the chemical additives, no living being is harmed to test whether a product's ingredients are safe for humans.
I've heard of soapberries being used to wash laundry, but never to create shampoo or body wash.
Recently I came across a fun Kickstarter campaign for a company called Soapberri. They are on a mission to create natural, safe products and make them available to the general public.
Besides providing the actual berries, they are also formulating shampoo and body wash.
I love it!
Soapberri is offering some fun goodies to those who back the campaign, including: shampoo, body wash, soapberries, and a Soapberry eBook.
The Benefits of Using Soapberries in Shampoo and Body Wash
The soapberry extract has a natural pH of 5.5, the same as your skin. So it doesn't strip away your natural oils and dry up your skin and hair like harsh commercial synthetics. Many people say they don't need conditioners or lotions afterwards. It's perfectly gentle for babies and those with sensitive skin.
It is not only natural, but also…
Organic – it doesn't get more organic than wild
Cruelty Free – no ingredients have been animal tested
Eco-Friendly – no more chemical run off or micro beads
Fair trade – we add supplemental business to local communities
Sustainable – our extraction process is zero waste, zero emission
Vegan – because using tallow soap is like rubbing a cheeseburger on your face
Hypoallergenic – perfect for those with skin allergies and sensitivities
Other botanical treasures in our Soapberri Hair Lather and Body Lather
Aloe Vera Juice
Chamomile Extract
Olive Leaf Extract
Gotu Kola Extract
Shea Butter
Cucumber Extract
Pretty cool, don't you think?
Want to learn more about soapberries or try some for yourself?
The campaign ends on March 31! So, be sure to hop over and check it so you can get the best deal possible.