This post may contain affiliate links which won't change your price but will share some commission.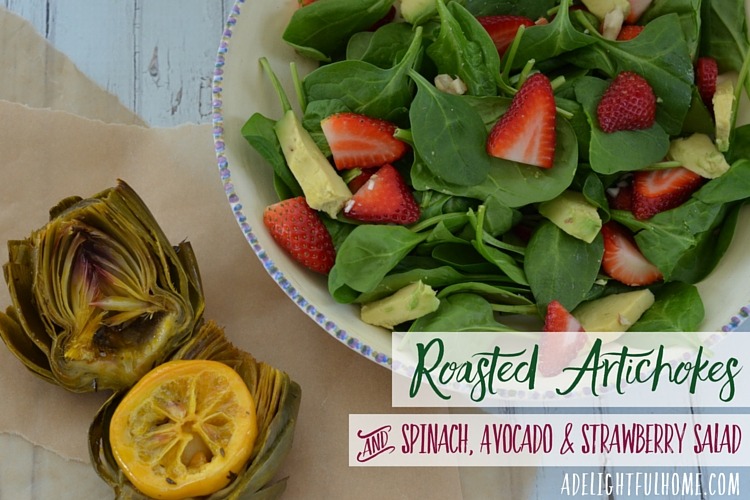 Born and raised in Australia, I never expected to live in California. Especially not for a long period of time.
But now, I've been here for almost seven years!
One of my favorite parts of living in California is the abundance of fresh, locally grown fruits and vegetables, as well as dairy, nuts, and meats.
Having such wonderful resources has allowed me to provide high-quality nourishing meals for my family, without too much effort.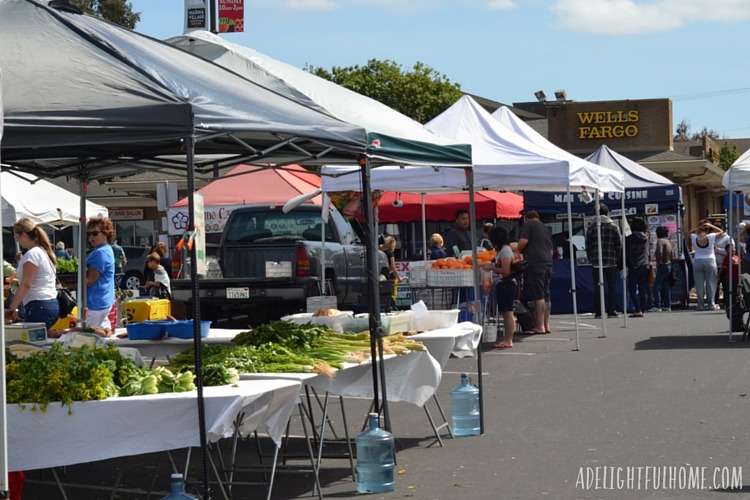 The convenience of having wonderful Farmer's Markets nearby (as well as fantastic CSAs) is a huge blessing. This is extremely convenient and enjoyable for me and my family, but it's also beneficial to the rest of the country.
California's farmers and ranchers play a critical role in growing the delicious, healthy, safe and affordable foods that feed families across California and the U.S.
Did you know that California grows nearly half of the fruits, nuts and vegetables grown in the U.S.?
It's also the nation's top nut producer (California grows 100% of the United State's supply of almonds!).
If that wasn't enough, California is the country's No. 1 milk producer as well as the leading producer of butter and ice cream!
There's a lot going on in California!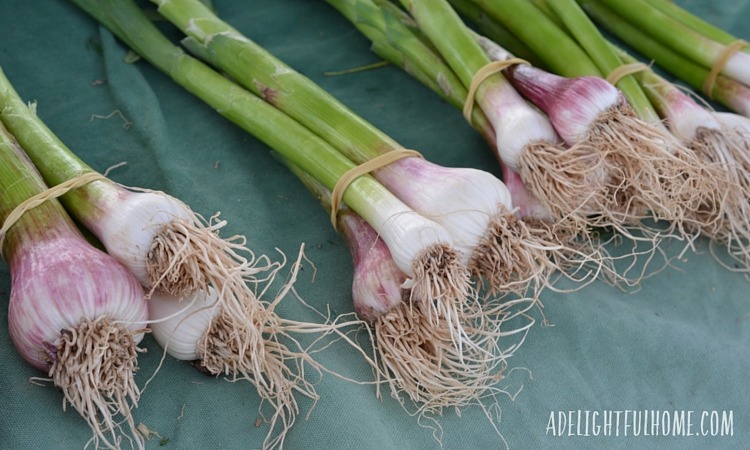 (I found these beautiful onions at the local Farmer's Market this week! They taste amazing!)
Being someone who generally loves alternative methods and natural living, I'm thrilled that California farmers and ranchers are consistently looking for innovative ways to use water responsibly to put food on the plates of Californians. Without water for California farms, we wouldn't have fresh food available.
California's farming and ranching community is highly aware of the need to make the most of our natural resources and are committed to using water efficiently and responsibly. Having seen the depleted reservoirs first hand, this is important to me.
If you'd like to learn more about California's farmers and ranchers, visit CultivateCalifornia.com.
After church on Sunday, my daughter and I visited our local Farmer's Market to pick up some fresh produce to make a simple spring salad.
Even though I didn't need carrots for the salad, I couldn't resist these colorful beauties: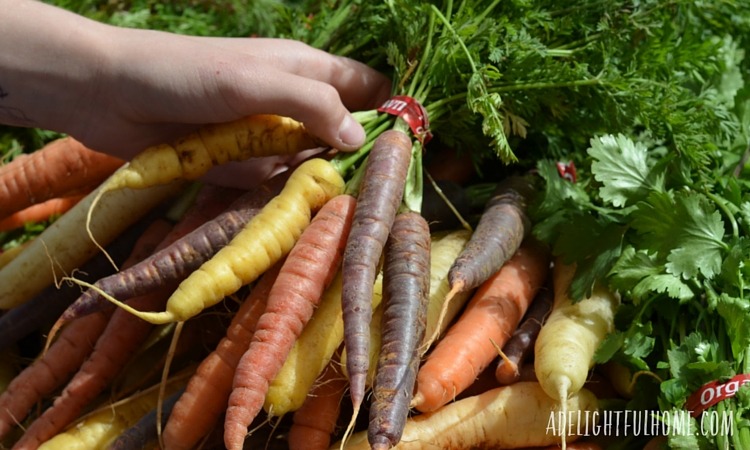 The kids enjoyed eating them with dinner.
Our most exciting find was these lovely strawberries: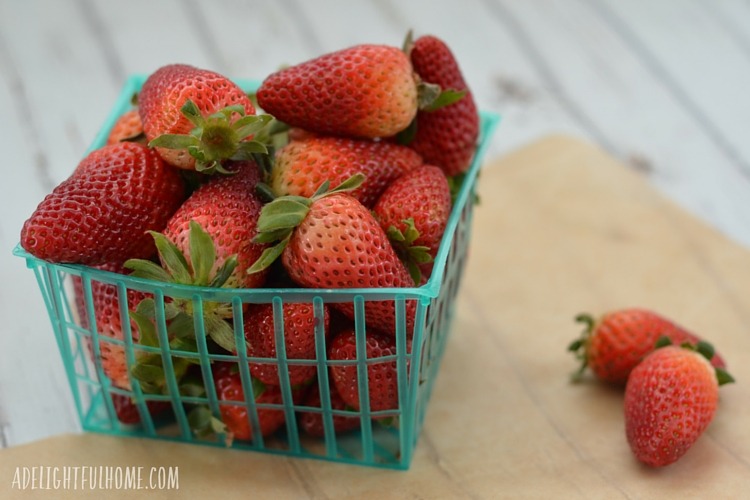 The strawberries we get at the Farmer's Market are always so delicious!
As soon as we got back to the house, I started roasting a few artichokes. It's wonderful to cook something that's been grown so close to home! I find it to be a comfort of sorts, knowing they are local and that buying them is supporting the local economy. I know how lucky we are to be able to do this!
While the artichokes were roasting, I put together our simple spring salad made with spinach and strawberries.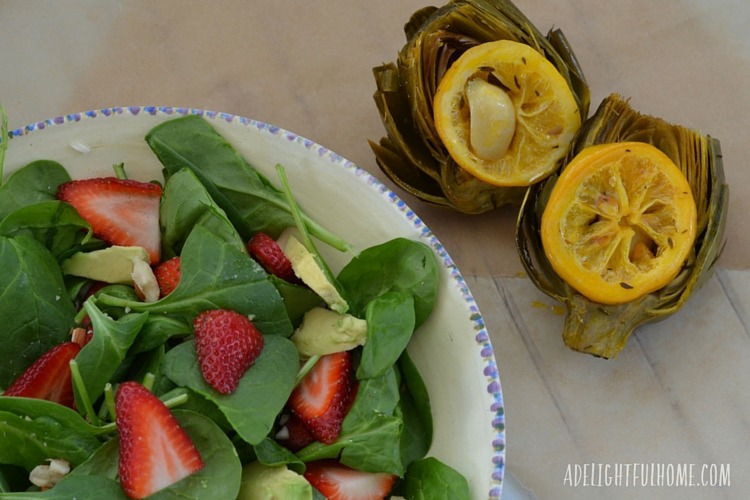 Here are the recipes for both:
Roasted Artichokes & Spinach, Avocado & Strawberry Salad
For the Roasted Artichokes:
Ingredients
4 artichokes (3-4 inches in diameter)
1 lemon
4 tablespoons oil (I use a sunflower, coconut, palm oil blend, but avocado oil would also work nicely)
4 garlic cloves
Sea salt
Thyme
Method
Preheat oven to 375 degrees F
Slice the top 1/3 off the artichoke with a serrated knife
Use a serrated knife or kitchen scissors to cut the stem until it is 1-inch or less in length
Remove small outer leaves
Slice the artichoke in half length-wise
Rinse artichoke and pat dry
Use kitchen scissors to slice the tops of the leaves off so each has a straight (horizontal) top
Use a paring knife to cut out the hairy section near the bottom of the artichoke

Pour oil into the bottom of the pan (use a pan small enough for the artichokes to fit snuggly)
Sprinkle thyme and salt over the oil
Toss artichoke halves in oil then place cut side down
Place the one lemon slice and one garlic clove under each artichoke half
Cover with foil and bake for 50 minutes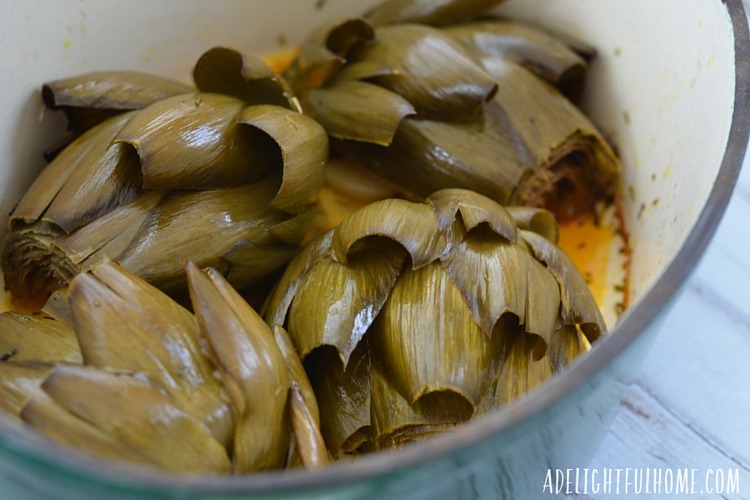 For the Spinach, Avocado & Strawberry Salad:
Ingredients
4 cups baby spinach leaves
1 avocado, sliced
1/2 cup strawberries, sliced
1/8 cup almonds, crushed
1 teaspoon onion, minced
Balsamic Dressing:
4 Tablespoons balsamic vinaigrette
1 Tablespoon maple syrup
2 cloves garlic, pressed (I use this awesome garlic press!)
1 ½ Tablespoons fresh thyme, chopped or 2 teaspoons dried
2 teaspoons fresh oregano, chopped or 1 teaspoon dried
½ cup extra-virgin olive oil
¼ teaspoon sea salt
Method
This salad can be prepared in one large bowl, or on individual plates (to create individual servings).
First, prepare the dressing by placing all dressing ingredients in a jar and shaking to combine. Set aside.
If preparing salad in one large bowl, place the spinach leaves in the bowl and sprinkle the onions and almonds over the top. Toss to combine.
Place the avocado and strawberry slices on the spinach. Pour salad dressing over the top, as desired.
If preparing salad on individual plates, follow the same procedure, except use approximately one cup of spinach per plate. Then divide the rest of the ingredients evenly. Drizzle dressing over the salads, as desired.
This is satisfying dish all on it's own, but would also pair well with roasted chicken or beef.
Visit CultivateCalifornia.com to learn more about California agriculture.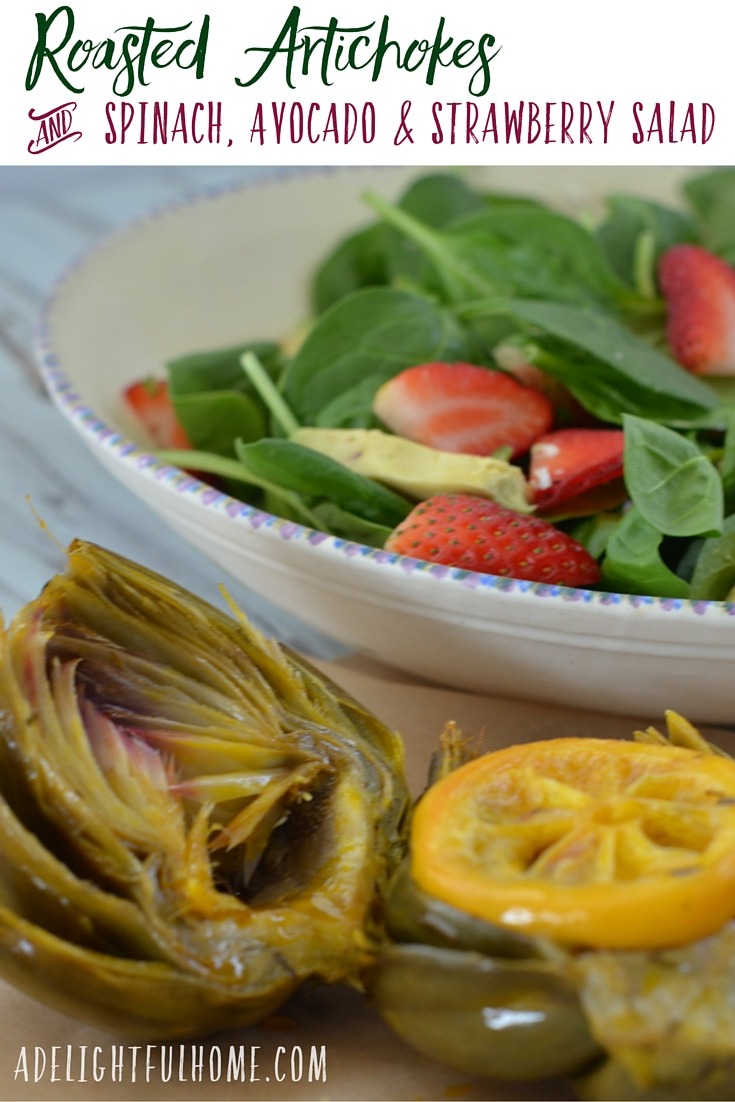 I was selected for this opportunity as a member of Clever Girls and the content and opinions expressed here are all my own.