This post may contain affiliate links which won't change your price but will share some commission.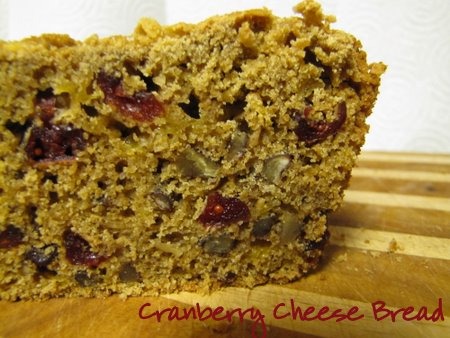 A unique sweet bread that is perfect for gift giving. Bursting with cranberries and nuts, this loaf has an undeniable holiday feel.
The recipe includes cheese, but doesn't taste like cheese! I promise.
Cranberry Cheese Bread
3 cups whole wheat pastry flour
1 tablespoon baking powder
1 teaspoon baking soda
½ teaspoon salt
1 cup Sucanat
½ stick butter
1 egg
1 cup buttermilk
¼ cup orange juice
1 Tablespoon grated orange zest
½ teaspoon vanilla
1 cup chopped pecans or walnuts
1 cup shredded cheese
1 1/4 cups dried cranberries
Preheat oven to 325 degrees F.
In a small bowl mix together the flour, baking powder, baking soda and salt. Set aside.
In a large bowl, mix sucanat, butter, and egg with an electric beater. Add the buttermilk, orange juice, orange zest, and vanilla, beat until fully incorporated.
Add dry ingredients to wet ingredients. Stir to combine.
Add cranberries, nuts, and cheese. Stir until evenly mixed. This will make a very thick batter.
Divide batter evenly between two well-greased loaf pans. Bake for 45 minutes to 1 hour (mine took an hour).
Cool completely before slicing.
Freezes well.
Soaking Method:
If you wish to soak the flour before baking (to reduce phytic acid), then mix melt the butter and mix with the flour and buttermilk. Let sit out, covered, for about 12-24 hours.
When ready to cook, beat the sucanat, orange juice, zest, egg, and vanilla together. Mix into the soaked dough. This is very difficult to do by hand! At least for me it was. I had to break out the Bosch and mix in there with the dough hook.
Once incorporated, add the baking powder, soda, and salt. Stir well. Add the nuts, cheese and cranberries and proceed as directed above.
I've submitted this recipe to the Hearth and Soul Hop at A Moderate Life. Which always hosts a large number of interesting and delicious recipes. I recommend you hop on over for a visit.
I also added this post to the Whole Foods for the Holidays – Bread Dishes over at A Little Bit of Spain in Iowa. Part id the Real Food Progressive Dinner! Fun.