This post may contain affiliate links which won't change your price but will share some commission.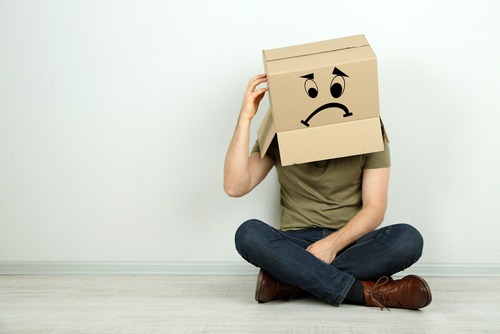 What's the hardest part of a move? It's hard to say; there's the packing, the goodbyes, and the struggle of selling your old pad and finding a new home. Then there's the post-relocation depression, those feelings of nostalgia and sadness that wash over you as you sit in a new home in a new city, asking yourself why you left in the first place. Many people see post-relocation depression as a mourning period for the life you left behind. But the good news is, you can (and will) survive your big move.
You will thrive in your new city. Here's help:
Step 1: Prepare Ahead of Time
When it comes to moving to a new city, reality doesn't always meet your expectations. You expect to start collecting moving boxes months in advance, packing your belongings systematically and with organization. You expect to pack at least one box every day and a little part of you might expect it to be kinda fun.
In reality, what happens to most of us, is a last minute whirlwind of stuffing things into garbage bags, suitcases and other awkward containers. It's not organized chaos; it's just chaos. Once you finally get to your new city, you'll think of that last latte you never drank from your favorite coffee shop or how you didn't say goodbye to your neighbor down the street. Avoiding this regret by giving yourself plenty of time in your last few weeks to say proper goodbyes and actually enjoy your old city in all its glory.
Step 2: Create a Familiar Environment
Begin unpacking as soon as possible. This is easier said than done, but the longer you wait to create a home, the more prone you are to relocation depression. The last thing you want to see after coming home from a long day at your new job or exploring new schools for your kids is a bunch of cardboard boxes.
Start with the bedrooms. Creating a familiar environment in the room you wake-up in will start your day off right. Whether it's seeing the familiar picture frames on your nightstand or the feeling of your bed, you'll be comforted by old sights in your new home. Familiar smells and sounds are also great in battling relocation depression. Light your favorite candle or incense, play consoling music and close your eyes. This is a great time to do some meditation (the kind of meditation I prefer, is to pray and meditate on God's word. Choosing a Bible verse to think about, is really helpful) or reflect on your big move, get in touch with your emotions, set your intentions for your new city and find your happy place.
Step 3: Pick up Old Habits
And we're not talking about eating dinner in bed or having those late night bowls of ice cream. We're talking about your healthy old habits like taking a yoga class every Monday evening, taking your kids to the park on Sundays or shopping at the farmers market on Saturdays. Moving to a new city is overwhelming and falling back on routine will keep you grounded. Yes, it's a new yoga instructor and a new park, but it's still your yoga practice and your family whose company you're enjoying.
Step 4: Get Involved
Moving to a new city leaves us vulnerable. Even with your partner and kids, it's difficult adjusting without your friends, your family and the support group you had built in your old city. Get involved as soon as possible after your move! The longer you wait to join your kid's PTA, the local reading club or just to introduce yourself to your neighbors, the harder it becomes. Meetup.com is a great way to find groups of people in your neighborhood who enjoy similar activities such as baking, hiking, reading or running. No better way to relate with new people than sharing old hobbies.
Step 5: Maintain Meaningful Relationships
The meaningful relationships from your old city are sure to last the distance as long as both parties put in the effort. Just because you're going to make new friends does not mean you'll lose touch with your old pals. In fact, with social media, you won't even miss a second of what's going in their lives and when you reunite, it'll be as if nothing changed. If relocation depression has hit you hard, invite some of your close family or friends to visit your new city and spend a weekend. You get to show your slice of home your new stomping grounds and they get a weekend vacation.
If even after following these five steps you find yourself feeling sad and homesick, give yourself the most important healer of all: time.
Do you have any tips for betting the blues after a move? I'd love to hear them!