This post may contain affiliate links which won't change your price but will share some commission.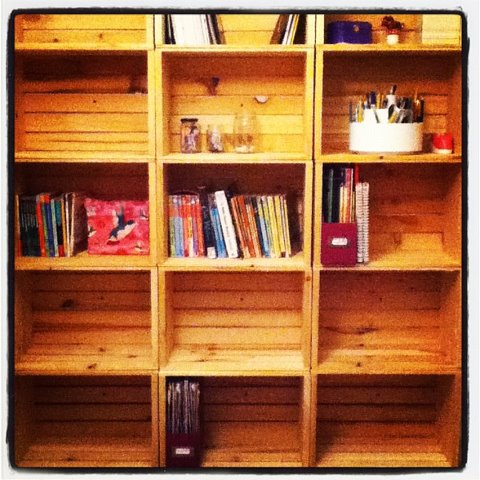 As I mentioned on our facebook page, I am doing some serious decluttering of our home right now. I'm also trying to revamp our storage spaces and make things easier to manage. Last night my husband and I put these crate shelves together for my daughter's room. A post with how-to details is in the works.
I've been missing blogging but have yet to carve out any decent time for it after I have done everything else I need to do! I'm hoping to be back here more regularly before too long, but I'm still unsure as to when and how!
I hope you are all well and enjoying your sweet families this weekend.
Here are some posts and articles I've enjoyed recently:
Natural Must-Have Products for Summer by Hyacynth Worth

Easiest, Healthiest Strawberry Lemonade Ever @ Laurel of Leaves
How to remove your name and address from whitepages.com – I did this after finding anyone could look up and see my home address!
Deep Dark Chocolate Cheesecake – I made this for my husband's birthday (but added some coffee). It was deliciously rich. He loved it.
How to Miss a Childhood @ Hands Free Mama – A very important read. I hope you check it out.
And now for some BIG news . . .
Earlier this year I got up early and stayed up late for many days working on a chapter for an upcoming ebook especially for homemakers.
The Heart of Simplicity: Foundations for Christian Homemaking.
This ebook features 13 different writers, and covers important topics such as:
Foundations in Christ
Marriage
Motherhood
Missions
Home Education
Family Economy
Family Health
Time Management
Housecleaning
Organization
Hospitality
Giving
Leaving an Eternal Legacy
I'll be sharing more details soon.
You can learn more about the book at The Heart of Simplicity. It releases this Wednesday!
What have you been up to?