This post may contain affiliate links which won't change your price but will share some commission.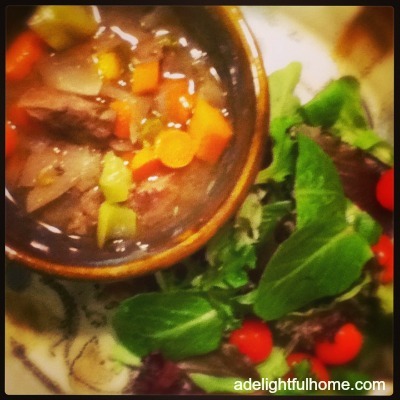 I've been posting a lot of food pictures on Instagram this week. I started the Whole 30 on Monday and find that sharing what I'm cooking and eating helps me stay on track.
I love Instagram. Let me know if you are over there so I can follow you. I'm StacyKaren.

Here are some of my favorite reads this week:
How to be a Happy Introvert Mom @ a runcible life – Awesome ideas here!
10 Green Cleaners for the Kitchen @ Live Renewed
20 Tips on Fighting Anxiety, Depression, and Exhaustion Naturally @ Kelly the Kitchen Kop
My sweet sister, Emma, a personal trainer and busy mom of a toddler, shares how she stays fit @ Real Fit Moms

Last week I signed up for a free trial of Plan to Eat and am amazed at how much this wonderful tool helps me in the kitchen. I hope to do a more indepth post on it in the future, but for now here's a quick rundown:
Save recipes from anywhere on the web
Type in any recipes you want in your organizer
Drag and drop recipes to a planner to create a weekly menu
A shopping list is created from your menu plan!
Print out shopping list or view on your phone while at the store! So cool!
Try out Plan to Eat free for 30 days.
If you are on Plan to Eat, request to add me as a friend and we can share recipes with each other (I'm StacyKaren). Fun!
I hope you have a wonderful weekend.