This post may contain affiliate links which won't change your price but will share some commission.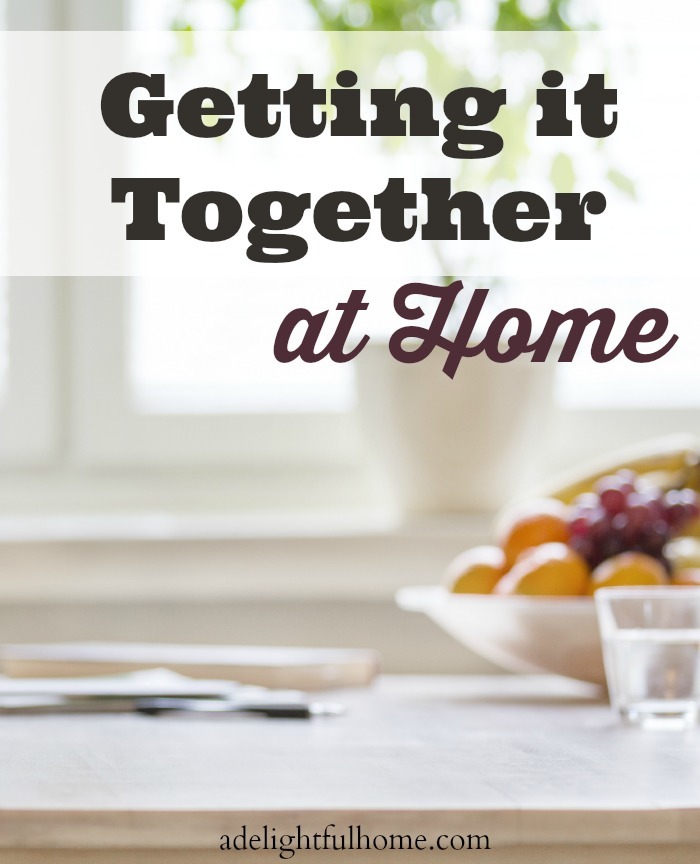 I've never been an excellent homemaker. I entered the realm of marriage, motherhood, and homemaking with little preparing or instruction.
It's been tough to develop these skills, but also fun to learn how to take care of my own little domain.
Even though things were humming along OK (not awesome, but OK) they seemed to fall apart as my health declined about 18 months ago. I just didn't have the energy to keep up with laundry or wash all the dishes. Paper plates made a regular appearance as I chose to rest whenever I could.
But, thankfully, my health and energy are continuing to improve and I'm ready to get things back together around here.
Getting it Together at Home Action Plan
These are the areas I'm focusing on. I thought if I shared my plan with you, I'd be more likely to stick to it. Plus, it might be helpful to anyone else whose also working to get it together at home!
Declutter
Living in a fairly small space, I've become less attached to stuff and increasingly appreciative of room to move!
Clutter causes stress and takes time and energy. The less of it, the better.
I've been working on this for a few months now. The first category I decluttered was clothing:
Here is a bunch of clothing on my bed! I got rid of anything I didn't love.
Now it's easy to put things away! No stuffing clothing into a packed closet.
And my favorite part is seeing the empty closet floor. It keep walking by it, just to take a look. My daughter said, "I didn't know you had carpet in your closet!" Which just goes to show how cluttered up it was!
There is an entire eCourse dedicated to decluttering in the Homemaking Bundle. 
Not really a Pinterest worthy picture–but here is what my closet looked like after I decluttered it: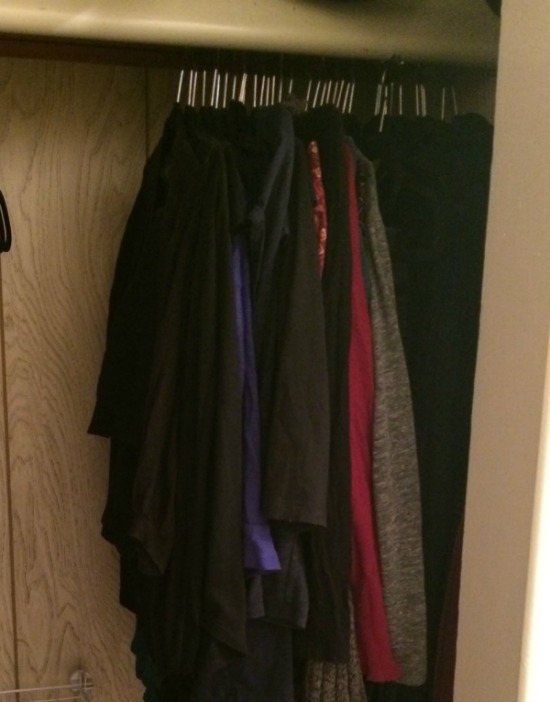 I think I need more color!
Organize
A place for everything and everything in it's place. 
Yes I want that! But, I don't have it yet! After I finish the massive declutter, I'm going to make sure there is a home for all the items that remain.
And to add to this, I want everything to be easy to put away. That means keeping shelves and drawers clutter-free so it's easy to see what's there, easy to retrieve it, and easy to put it back.
I also want frequently used items to be kept near where they are used, whenever possible. I already do this to some degree, but will refine it as I go.
Chores for the Kids
My kids help with cleaning and other tasks, but they could do more. I especially want to improve the ways we work together to clean up after each meal.
Creating Workflow Systems
It doesn't matter how well I organize, if I don't have a plan to manage my home, it's probably going to spiral into chaos once more. If you got the 4-Steps to Stress Free Homemaking videos series, you saw how a few simple systems can help take care of  day-to-day tasks.
A few ways I stay on top of things is to do a load of laundry first thing each morning, create menu plans on Sunday afternoons, work on dinner early in the day so I'm not scrambling at 5pm, and .
I still need to create a better plan of action for dealing with papers that come in the house and I'd love to have a better system for keeping up with cleaning tasks. <– These are on my to-do list.
Holly's book, Controlling the Spin Within is excellent for this. She has a knack for simplifying things to make sure you are doing what's most important.
I'm also referencing Project Organize Your Entire Life for ideas.