This post may contain affiliate links which won't change your price but will share some commission.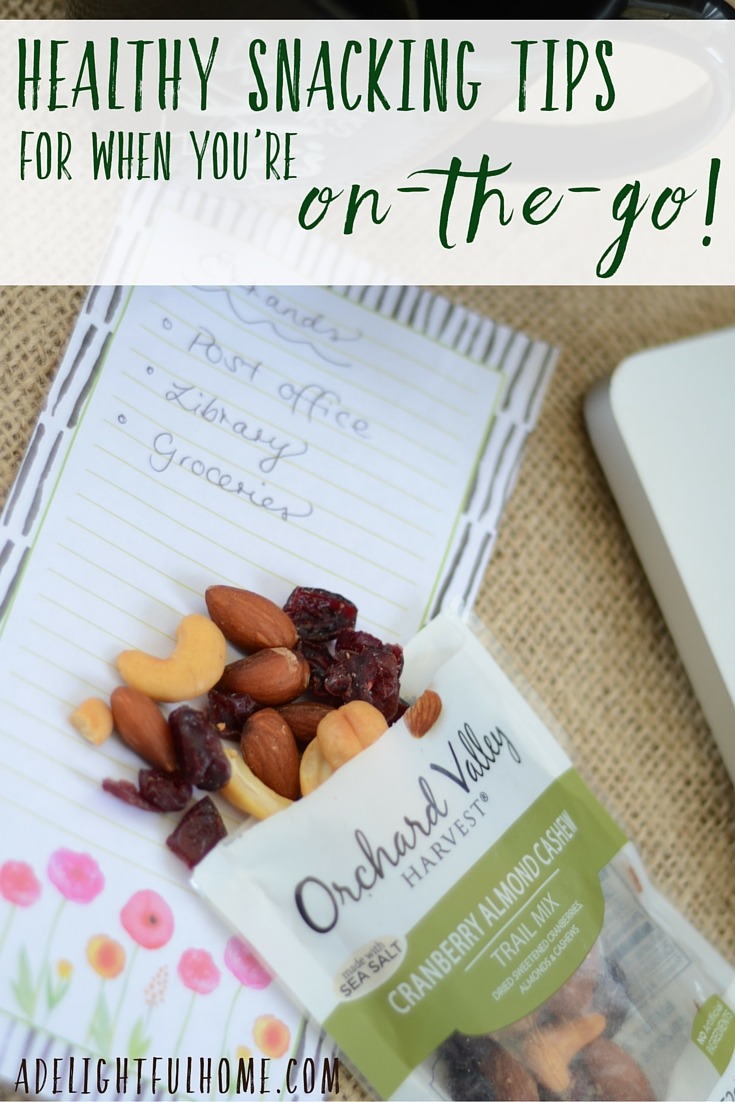 I keep snacks in my purse in order to stay healthy and happy!
I'm sure you can relate . . .
If you are trying to eat healthfully, grabbing a snack while out and about can be challenging.
Getting hungry away from home, when you're not prepared, may mean having to choose an unhealthy option or spending more than you'd like to get something that's both satisfying and good for you.
Other times you may become hungry and there is nothing to eat! Blood sugar drops and you get cranky! <– this is me.
I've experienced both of these scenarios way too many times!!
Add the kids getting hungry, and it can make our outings a lot more stressful. Hungry kids often means meltdowns, whining, and crabbiness all around.
In order for us to eat well and feel good, I'm striving to keep healthier snacks on hand at all times.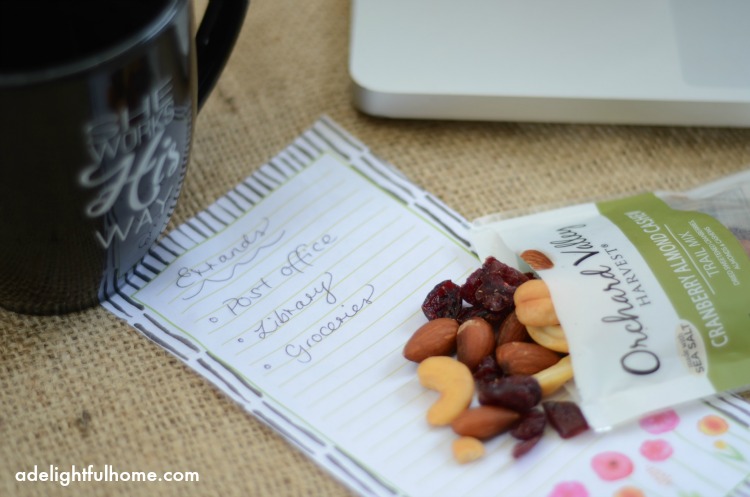 I'm partial to having a snack while working at home, too!
Plan and Prepare Ahead
It's a good idea to look at the calendar before planning your menu and grocery shopping to see if there are any special events or classes coming up.
Also take note of what's going on at home. Are you working on a big project? Will you have much time to cook?
Once you know what's going on, plan and prep your snacks.
This may mean preparing food before we leave the house, like a nutritious muffin or homemade protein bar. But, lately, for me, it's more likely to be a healthy snack that I'm able to buy at the store.
Consider buying pre-made snacks (high-quality ones)
The reason I'm choosing pre-made snacks more often these days is because life is super busy.
And my kids are always hungry!!
I can't keep up.
I also love that pre-made snacks last longer.
For example, if I make muffins, they are likely to get crumbly or squished. And if we don't eat them while we are out, they may go to waste.
But, I can keep little bags of nuts or snack mix, like the ones from Orchard Valley Harvest, and they are ready whenever we need them.
On a recent trip, I got hungry while waiting for the plane. I didn't want to spend money on an expensive snack from the airport, so I just whipped out my little packed of goodies and was satisfied.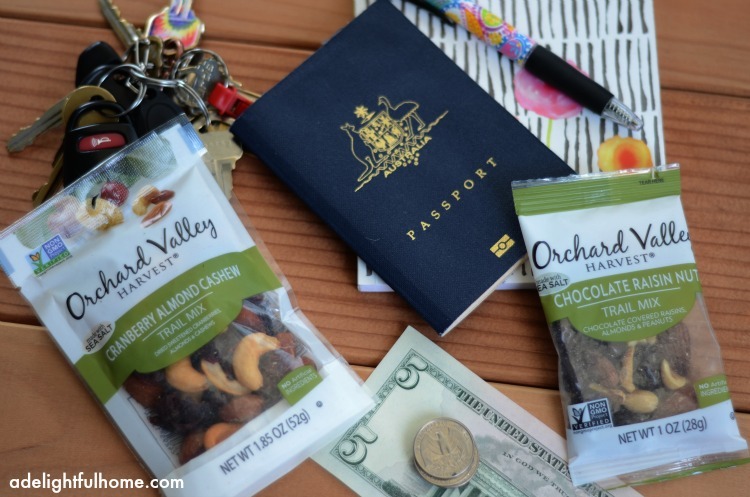 NOTE: I'm an Australian citizen who is a US Permanent Resident. Although this pictures shows my Australian passport, I don't believe these snacks are available in Australia at this time.
I'm also packing these in my kids backpacks when they go to nature class each week. It's great because I don't have to worry about preparing extra food…it's already hard enough to get everyone out the door on time!!
Plus, if they don't eat it, we can just save it for the following week. No waste!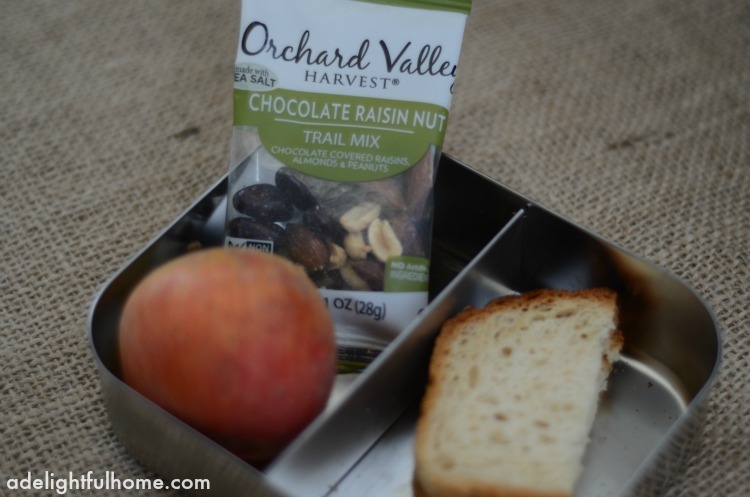 I had the chance to try three of the nut/snack combos from Orchard Valley Harvest, including Cranberry Almond Cashew Trail Mix, Dark Chocolate Almonds and Chocolate Raisin Nut Trail Mix. I throughly enjoyed them all.
I have to admit that the chocolate covered almonds are my favorite!!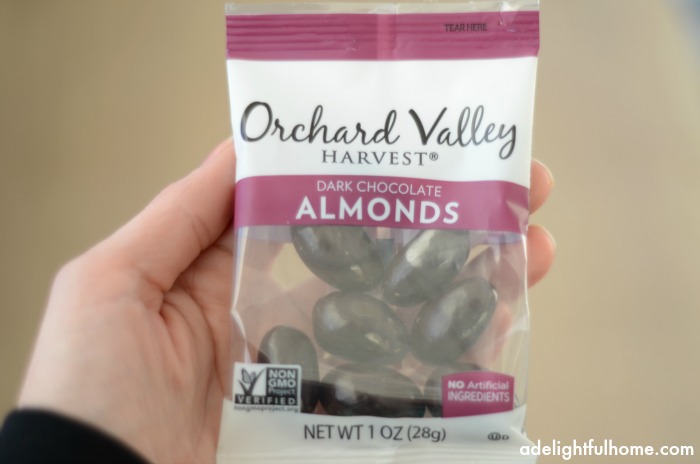 The rest of the family loved them too. I actually had to stop them from eating the entire bag so I could take pictures!
Portion Control
Another great benefit to pre-made snacks is that they are portion controlled. It's way to easy to plough through a large bag of chips, nuts, or other snack. But a grab-and-go size keeps it reasonable.
How to find a high-quality pre-made snack
I am careful about the pre-packaged items I buy and am not a fan of many snack foods available at grocery stores, however, there are some that pass the test.
Here's what to look for to ensure your snack is high-quality and healthy:
free of GMOs
does not contain hydrogenated oils
uses recognizable ingredients (fruits, nuts, veggies)
is not loaded with added sugars
does not contain artificial colorings
does not contain artificial flavoring
does not contain artificial preservatives
One of the main reasons I like Orchard Valley Harvest is because their product line is non-GMO project verified.
This is HUGE!!
GMOs are in so many of the products and foods we buy. It's infuriating. So, I'm always happy to find a brand that refuses to use GMO ingredients.
Plus, the nuts and fruits used are picked at their peak, minimally processed and have no artificial colors, flavors or preservatives.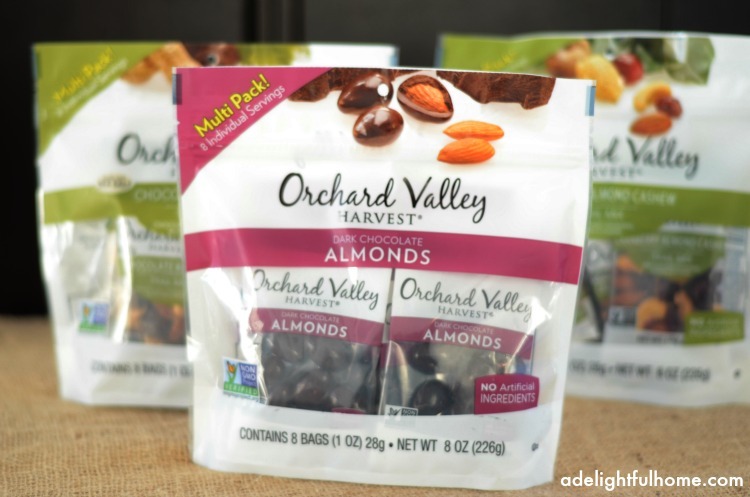 WIN an Assortment of Orchard Valley Harvest snacks and $50 Visa gift card
Orchard Valley Harvest has offered to give one of you an assortment of their delicious snacks AND a $50 Visa gift card!
These healthy snacks are a wonderful alternative to chips, candy, or sugar-laden "snack" bars.
They are perfect for busy families. Designed with convenience in mind: Grab & Go sizes and Multi Packs are perfect for snacking while you are out and about.
They are also great for portion controlled snacking which keeps us from mindlessly munching on way more than we intended.
Orchard Valley Harvest has a lot of variety, which means you're likely to find a snack that's a perfect fit, whether you want to satisfy a sweet or savory craving, refuel before a workout or take a mid-day break at work. 
Grab & Go and Multi Pack sizes are available at retailers nationwide, including Cranberry Almond Cashew Trail Mix, Dark Chocolate Almonds and Chocolate Raisin Nut Trail Mix.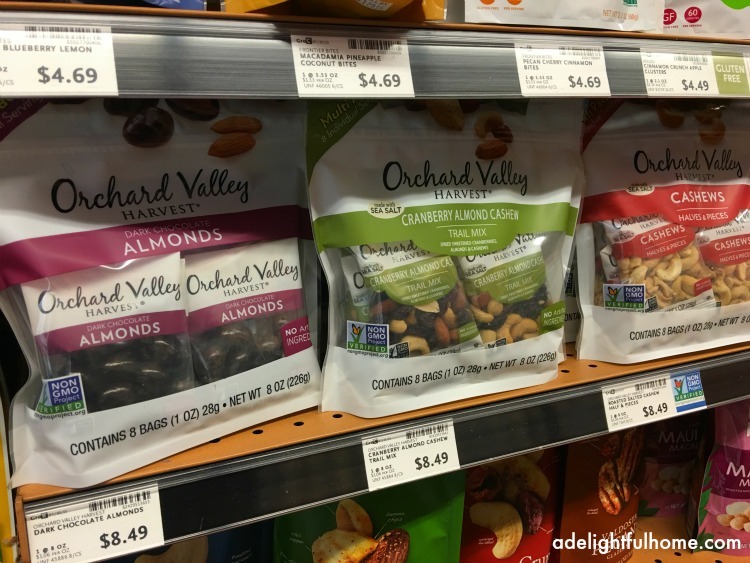 I found a nice selection at Whole Foods. But they are also available at Safeway, Wal-Mart, and other retailers (depending on your state). Use the Store Finder to find a retailer near you. 
Learn more about the Orchard Valley Harvest product line at  OrchardValleyHarvest.com.
Enter using the Rafflecopter below (email subscribers click through to enter).
a Rafflecopter giveaway

This is a sponsored conversation written by me on behalf of Orchard Valley Harvest . The opinions and text are all mine.
Comments submitted may be displayed on other websites owned by the sponsoring brand.