This post may contain affiliate links which won't change your price but will share some commission.
Looking for accessible scientific information on natural ingredients for homemade skincare?
It's not always easy to find!
That's why I am excited to share a new book filled with reliable, scientific information with you today. It's called, Modern Cosmetics: Ingredients of Natural Origin, A Scientific View, Volume 1.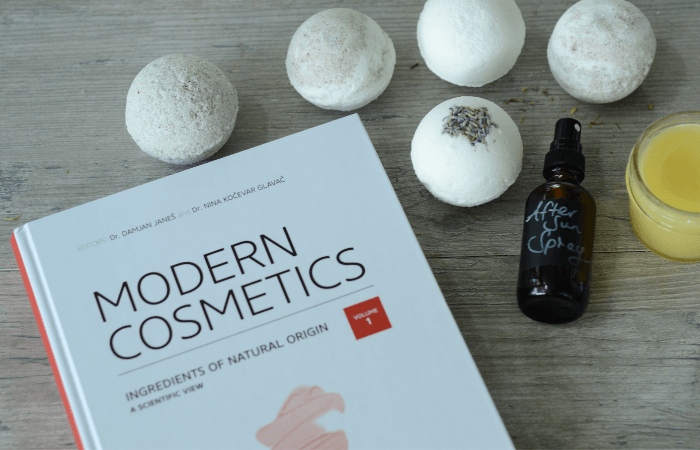 As you are likely aware, I have a passion for homemade natural skincare products. If you are reading this, there's a good chance you do too. And while there are many books on creating natural skincare and body care products available, many of them do not include scientific information. Sure, you'll find an overview of a number of helpful ingredients in many of these books, but nothing as in-depth as the one I'm about to share with you.
Modern Cosmetics: Ingredients of Natural Origin is almost like a textbook. It's definitely not for "light reading" but is more of an educational reference tool.
A helpful resource you'll want on hand to aid in the ingredint selection and other product formulating decisions.
This book is 482 pages of information on natural ingredients. Written by scientists, Modern Cosmetics was release in November 2018 from Modern CosmEthics team out of Slovenia.
Modern CosmEthics "goal is to spread knowledge about and the associated values of so-called cosmEthically active cosmetics that are based on the skin's natural needs, physiologically and ecologically acceptable cosmetics ingredients, and modern approaches of cosmetology." (Source)
Read more about the Modern CosmEthics team here.
Modern Cosmetics: Ingredients of Natural Origin is divided into 26 chapters and includes detailed information on natural ingredients as well as other important information which helps one understand the skin and the way different ingredients impact it.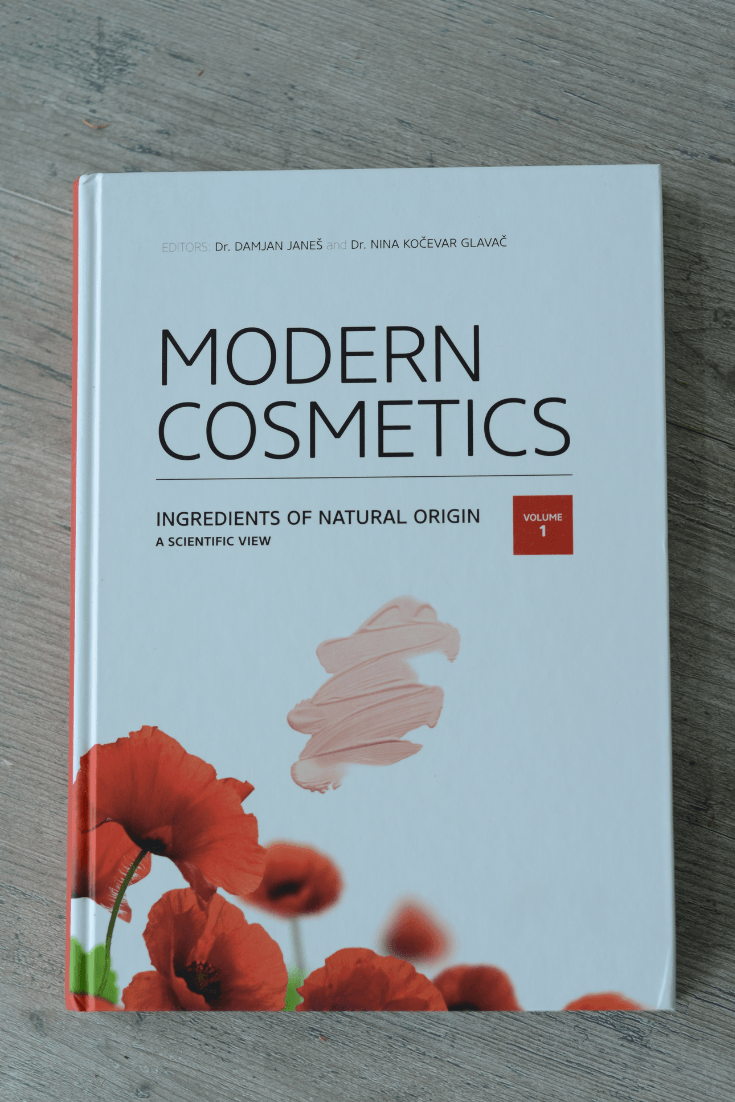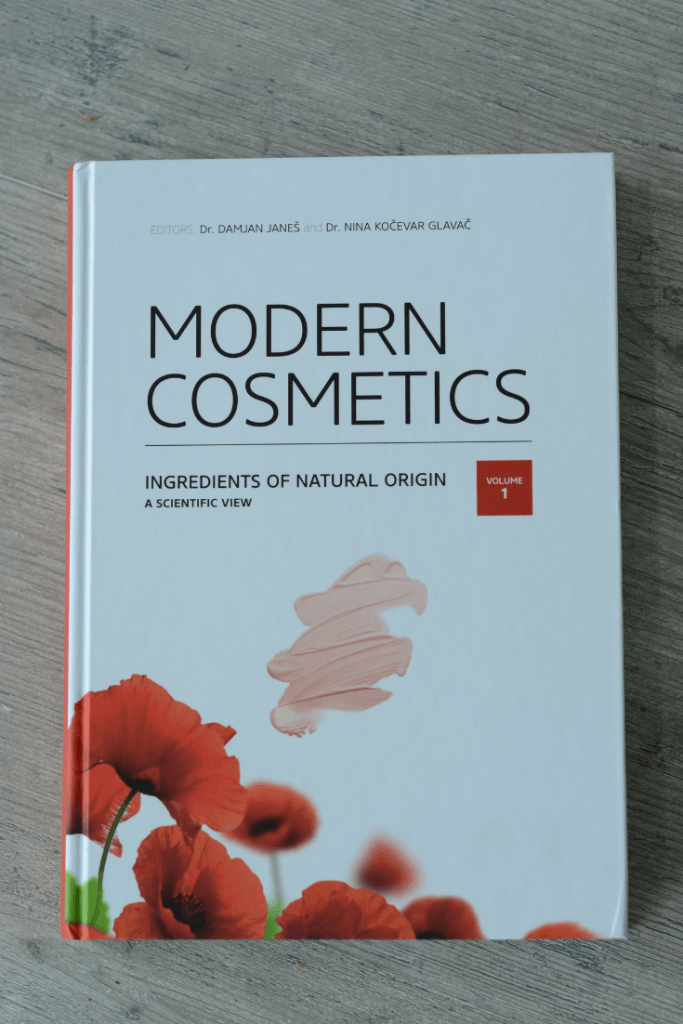 More thAn a book about ingredients
Even though my favorite parts of the book are the ones that dive deep into specific ingredients, I also found the beginning chapters which are not focused on ingredients, to be extremely informative.
The book begins with a comprehensive overview of the skin. This chapter discusses the structure of skin as well and provides detailed information on various skin types.
Chapter three is another interesting chapter in which the technological aspect of cosmetic products is discussed. Here the authors cover different vehicles and delivery systems, which gives the reader a clear understanding of the various types of skincare products (such as solutions, emulsions, gels, liposomes, and so on).
This is where things get quite technical and also where you'll see this book is very different from your average "natural beauty book."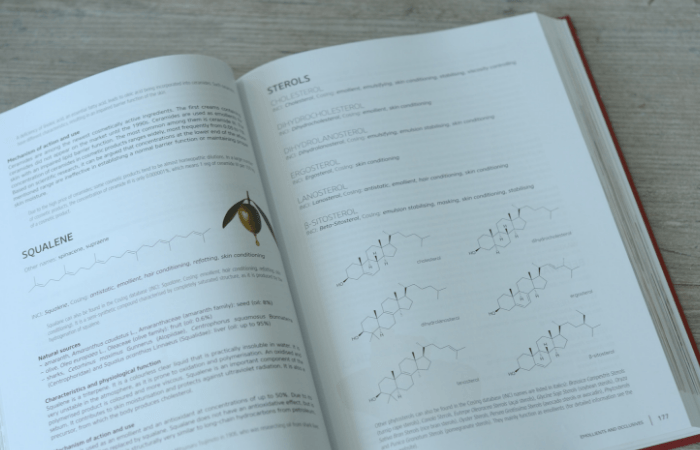 Monographs and more
Much of the book is devoted to detailed descriptions of specific ingredients. I love this information! It's so helpful in selecting ingredients for homemade products.
Each monograph includes:
INCI classification
botanical descriptions of plant sources
characteristics
the mechanism of action and use (including in vitro, in vivo and clinical studies)
I especially found the detailed breakdown in the composition and characteristic sections to be very helpful. This will come in very handy when creating products for specific skin types, especially since the fatty acids are listed in percentages so you can know what might be better for dry or oily skin, for example.
What I liked about it
First of all, this book is extremely comprehensive. I always love books and products to be comprehensive, and this book most definitely is.
It includes 272 detailed monographs of natural cosmetic ingredients and more than 500 presented ingredients!
I found it fun and interesting to learn more about ingredients I already know and love as well as discover new ingredients I'd never heard of before!
I feel confident using this book as a reference tool in my skincare formulations since it was not just written by a scientist, but by a team of scientists. This makes it less likely to carry any bias or include misinformation.
In fact, not only was this book written by a team of eleven scientists, four reviewers were also involved in its production.
The great thing about so many authors being involved is that each can write n their specific field of expertise and sphere of knowledge and experience. This gives us, the readers, the most up-to-date and reliable information.
The division into 26 chapters is also extremely helpful as I can easily find the information I'm looking for.
Many of the monographs included really helpful information besides a technical and scientific overview of the ingredients itself. For example, some monographs said things like, "provides a no-sticky feel".
This is so helpful, especially when selecting ingredients for use in home formulations and considering incorporating ingredients you have not used before.
It is truly invaluable when considering what might work for a particular product or skin type as trial and error get expensive!
Not to say you won't need to do some trial and error, you will, but most likely a lot less. Information like this can save a lot of time and money!
What I didn't like
There was not much I didn't like about this book. In fact, I am really thankful to have it in my collection.
Occasionally there were times where the information was so technical that you might need to do a little more research and learning to understand it. But that was very infrequent. For the most part, everything was easy to understand and very clear. And we can't expect on a book to provide us with everything we need to know. Even though this does cover a lot of information!

Who is this book for?
Modern Cosmetics: Ingredients of Natural Origin, A Scientific View, Volume 1 is for anyone who wants to learn more about natural ingredients for skincare products.
I feel this book is a helpful tool for homemade skincare hobbyists and professional formulators alike.
Where to buy or learn more
Modern Cosmetics: Ingredients of Natural Origin, A Scientific View , Volume 1 is only available for purchase directly from Modern CosmEthics.
If you are interested in creating your own natural skincare products, I highly recommend Modern Cosmetics as an extremely useful learning and reference tool.
Click here to visit Modern Cosmetics to learn more and get a peek at a few of the pages.