This post may contain affiliate links which won't change your price but will share some commission.
You've heard of the benefits of fasting, but perhaps fasting does not work for you for one reason or another.
Some people cannot fast due to specific health issues or find it is just too problematic because of past experiences with food, fasting, or other personal reasons.
Thankfully, there is a way to fast with food. It's called the ProLon Fast Mimicking Diet.
I was first intrigued by this idea when I saw it offered in the office of my Functional Medicine Doctor. Usually, I would overlook these kind of things, but when my functional medicine doctor recommends something, I listen. When ProLon gave me the opportunity to try the 5 day Fast Mimicking Diet, I was excited to see how it worked!
Below I will share my experience with this program so you can see if it is something that would be helpful to you.
What is the ProLon Fast Fast Mimicking Diet?
"ProLon® is a 5-day dietary program that nourishes your body while promoting rejuvenating changes, including supporting metabolic health."
It was created by DR. Valter Longo and iis the first and only clinically tested, scientific breakthrough in Fasting Mimicking technology that gives your body the stem cell-based rejuvenation of a 5-day fast while getting to eat real food.
The supplies can be ordered online or through your doctor. You will receive a box with everything you need for the 5-day fasting period.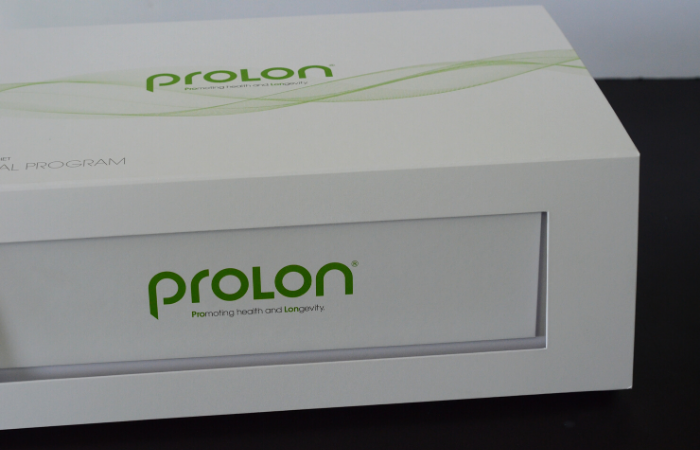 Inside the box are 5 smaller boxes, one for each day of the fast. The content of each box is slightly different, but generally includes soups, energy bars, teas, drinks, and supplements.
ProLon ingredients are plant-based and do not contain any additives, preservatives.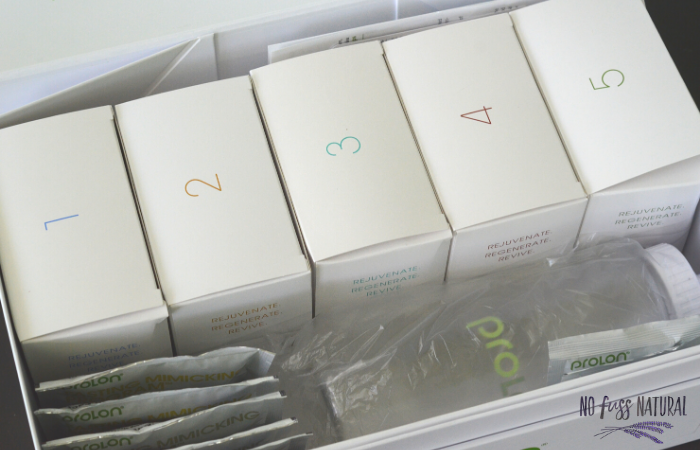 I love the convenience of having everything in one box, No shopping for crazy ingredients or having to cook like a madwoman to prepare the meals. Simple is the way to go when undertaking anything like this!
The products come with a handy guide that walks you through exactly what to eat each day.
You can follow the meal plan in the order given, but can also switch it up and eat the meals in any way you like. However, since each day is designed to work in a specific way, you should only consume meals from each day's box and not switch anything between boxes/days.
The 5-day meal program provides approximately 1150 calories a day one and close to 800 calories each day from day 2-5. If you know me, you know that I am not much of a calorie counter or a fan of calorie restriction, but for the purpose of a time-limited fast and the many benefits it provides, I find this acceptable. Especially since it is an alternative to a water-fast which can be hard on the body.
What are the Benefits of the ProLon Fast Mimicking Diet?
The ProLon® Fasting Mimicking Diet® comes with benefits that surpass other types of diets and even water and intermittent fasting. These benefits come from a proprietary mixture of micro and macro-nutrients that work together to put your body into a fasting state, while nourishing you for a safer (than water-only) last that also helps maintain energy levels. At the end, you'll experience a leaner, more energetic version of yourself.
The FMD® helps support the body's natural functions to:
– Enter into a protective and stress resistant mode
– Remove damaged cells and tissues
– Promote self-repair through cellular regeneration and rejuvenation
Many also find the FMD to aid in weight loss.
The ProLon Fasting Mimicking Diet induces fast fat loss without decreasing lean body mass and maintains a healthy metabolism.
ProLon® Reduces visceral fat while maintaining lean body mass and is clinically shown to trim excess fat while protecting lean body mass.
Because the ProLon® Diet provides your body with essential nutrients while it's operating in fasting mode, you're actually able to maintain lean body mass—something normally lost during a traditional prolonged fast.
ProLon® has been shown to help maintain healthy levels of biomarkers for aging such as glucose, cholesterol, blood pressure while reducing abdominal fat and waist circumference.
Read more about the scientific benefits of this fast here. https://l-nutra.com/pages/scientific-articles/
My Experience
Below I'll share my experience going through the 5-day program. It is definitely a commitment, but much more doable than a water-fast!
One-on-One Coaching Session
ProLon provides the opportunity to have a one-on-one coaching call with a ProLon heath coach. This is completely optional, and not mandatory, but is a nice way to set yourself up for success.
As an introvert, I am not overly fond of phone calls and almost decided not to do it, but I knew a 5-day fast wasn't the easiest thing to undertake, so committed to the call.
During the 15-minute call, the health coach gave me an overview of each day of the program, reviewed my health goals, and shared tips to make the 5-day journey as pleasant as possible. She also offered to follow-up afterward and suggested I connect with her should I have any questions or concerns throughout the fast.
After this call I was excited and ready to begin!
Day One: Prepare the Body
Day one is the day in which you will consume the most calories. My health coach explained to me that this is essentially a day to get the body ready.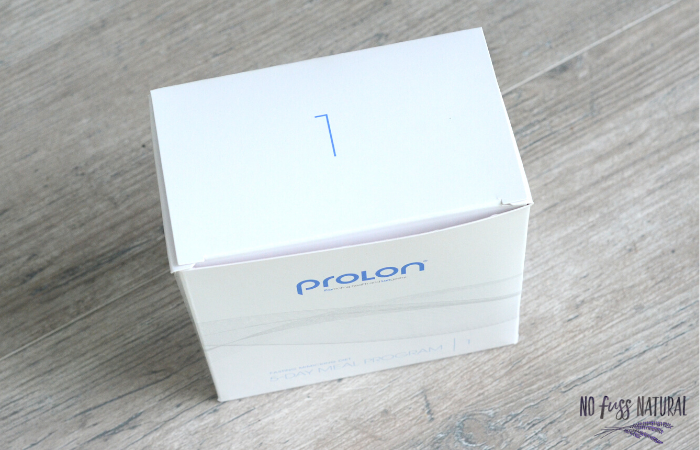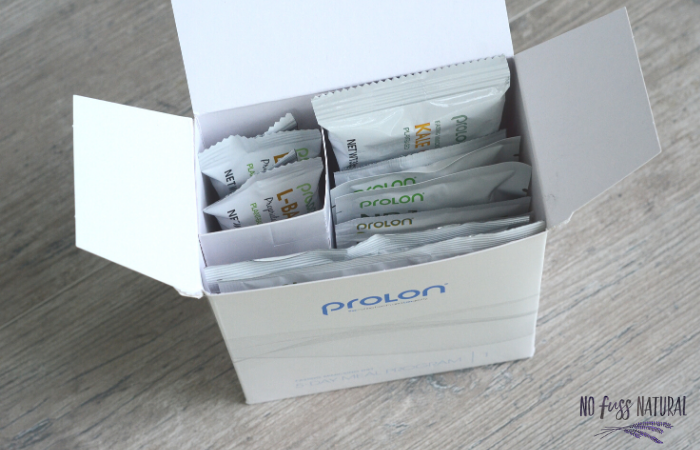 I found this day relatively easy, although I was getting a little hungry by the evening and chose to go to bed slightly early as I didn't want to experience hunger pains before bed if I could avoid it!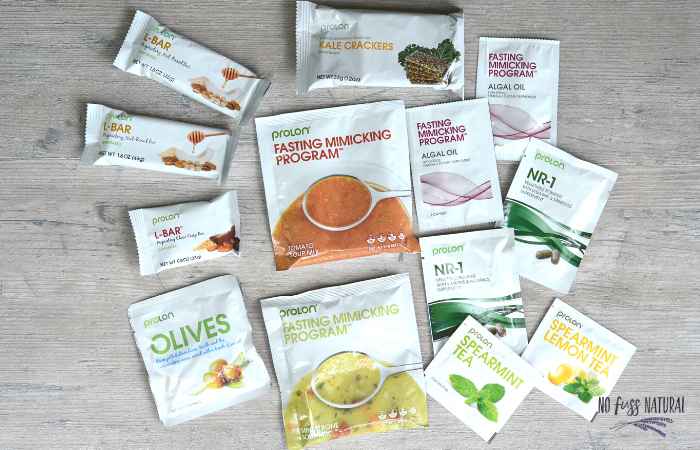 On day one I was introduced to the L-Bar, which is a nut-based bar designed to provide nourishment while helping keep the body in a fasting mode activated by high (good) fats, reduced carbs and protein. Fast Bar™ is non-GMO, gluten-free, with NO artificial additives or preservatives.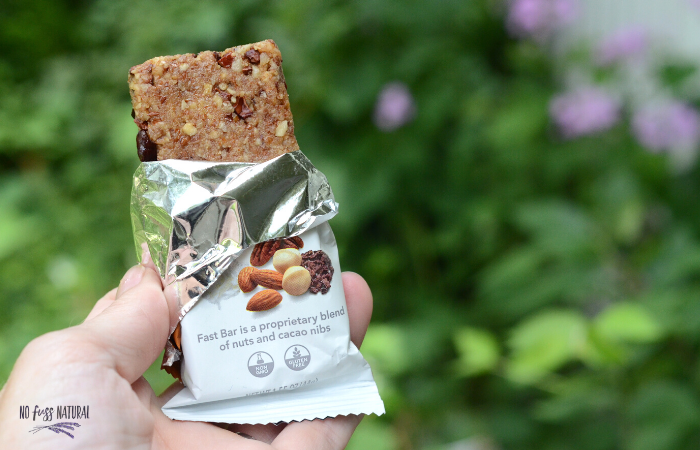 I love the ingredients and taste of the L-Bar and was happy to know it would be something I'd consume every day of the FMD. In fact, as the days progressed, I really looked forward to this bar each morning!
Day Two: Fat-Burning Process Begins
This day begins with a L-Bar, which I thoroughly enjoy, but I did wake up nervous about the fact that the calories for today would be lower. I don't want to be hungry and cranky!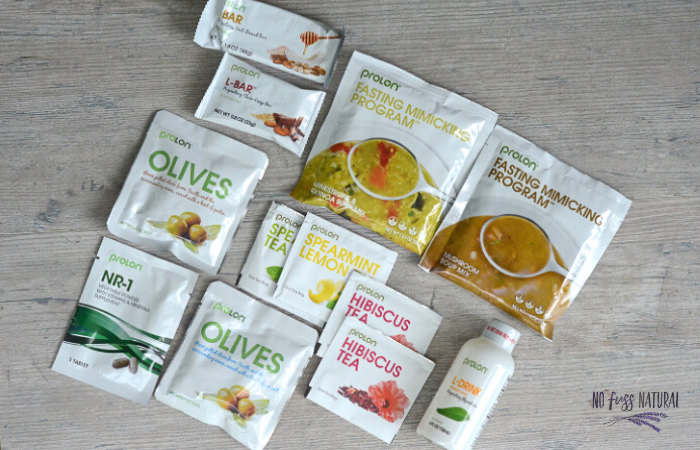 The day went fairly well, with a few moments of hunger. I did move my evening snack to lunch time because I was hungry and still had a lot to do. I was slightly sad the snack was not available at dinner, since I'd already eaten it, but it still felt like the right choice.
My health coach explained that one day two cellular clean up can begin, and that helped me stick it out as I am thrilled with the idea of cell rejuvenation.
ProLon® is the only FMD® that still triggers autophagy in the body (a repair process in which damaged cells and cellular structures self-destruct) followed by a period of enhanced stem cell-based renewal to promote the natural process of rejuvenation throughout the body.
Day Three: Fast Day
Another low-calorie day and I am relying on the L-Drink to help get me though. I did make up a little nervous again as I knew I'd likely get pretty hungry today.
You can think of the L-Drink as a kind of energy drink. It is specifically formulated to provide vegetable-based nutritional support during the FMD. It provides you with glycerol, which in the fasting mode helps to protect amino acids (to preserve lean body mass) and promote hydration.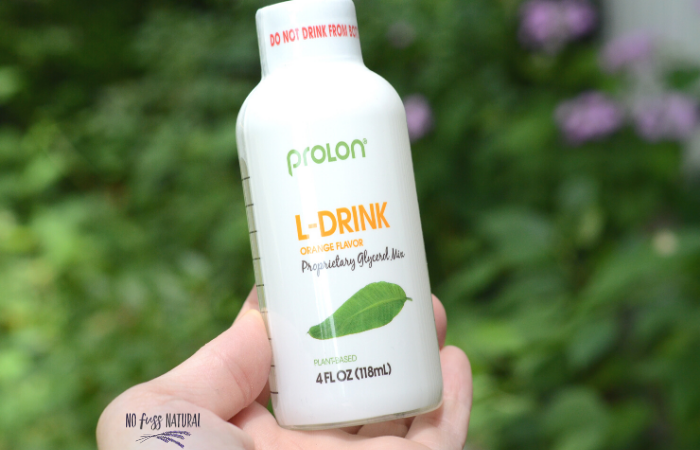 This drink is designed to sip throughout the day. It is very helpful for taking the edge off. I found it helped sustain me and may be why my energy levels stayed up (for the most part).
I mixed my L-Drink with one of the provided Hibiscus tea packets and drank it iced throughout the day. I always find Hibiscus tea feels like a treat, so that was nice to have!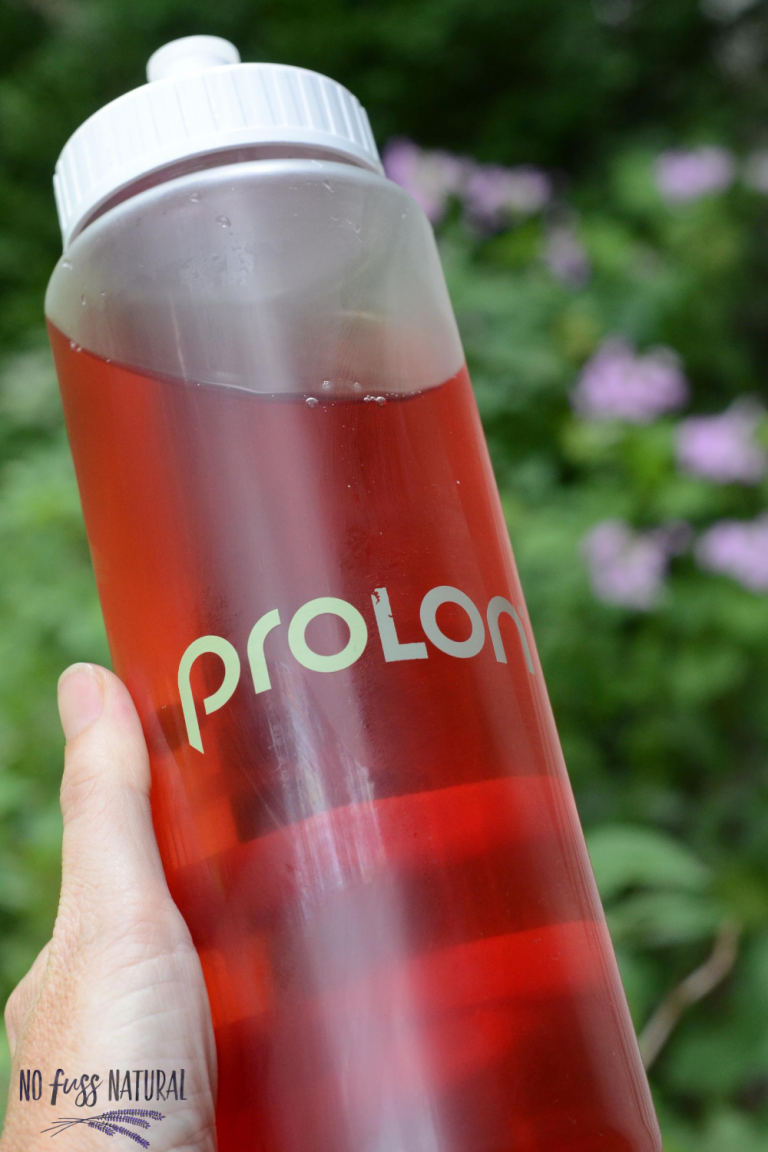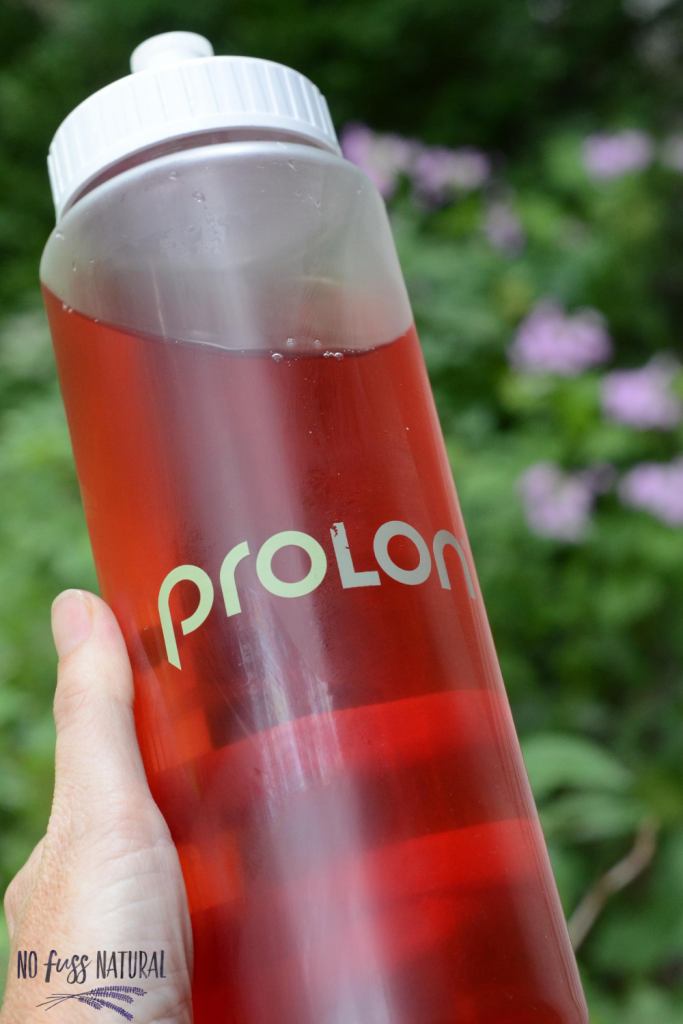 I was excited to see the kale crackers back on the menu as I really enjoyed them on day one! On a fast-mimicking diet, you get excited about your favorite snacks!
My health coach explained that even though this is not a keto diet, day three is often when many participants enter ketosis.
I had a late-night activity to attend on this day, which made it a little more difficult. But, it was still doable.
Day Four: Cellular Rejuvenation
Day four is an exciting day because it generally takes a prolonged fasting state, of three or more days, to trigger the body's natural processes of cellular clean-up and stem cell-based regeneration. This type of benefit is one of the main reasons I am doing this fast, so I am excited to have reached this milestone!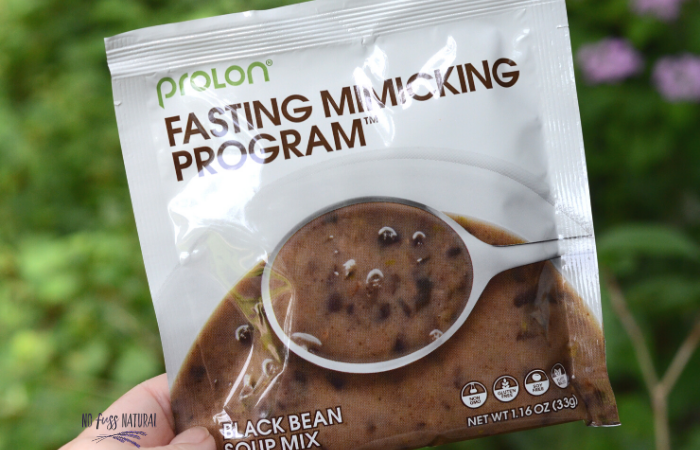 The olive packets make another appearance on day four, which I enjoyed. The choco-crisp bar is also on the menu. And although it is small and only provides a few bites, I found it to be a welcome treat at the end of the day.
Day Five: Cellular Clean Up Continues… (Last Day of Fast!)
By now I am looking forward to the end of the diet, but am also feeling a sense of accomplishment and renewed energy.
I am truly thankful for the convenience of the daily boxes as I simply set out the day's food on the counter and don't have to think much more about it!
Fasting done safely can play a crucial role in promoting overall health and longevity. Clinically studied to promote healthspan & longevity.
ProLon® nourishes your body while promoting regenerative and rejuvenating changes, including supporting healthy levels of a wide range of physiological markers that contribute to aging, such as cholesterol, inflammation, and fasting glucose.
ProLon® has been shown to help maintain healthy levels of biomarkers for aging such as glucose, cholesterol, blood pressure while reducing abdominal fat and waist circumference.
It takes a few days of fasting to reach these milestones and I am thankful for the ease of getting to this point. I say ease because even though it is somewhat challenging, this version of fasting is much more doable than another other I've tried. No shopping or cooking is needed. And, I did not experience any crazy headaches or the extreme exhaustion that I felt on other fasts.
Day 6 and Beyond
It is recommended that one keep meals light for the day following the FMD and that regular eating should be started gradually.
My ProLon health coach sent me a transition diet PDF which is helpful in navigating the days after the fast.
I feel that the fast was beneficial and would like to do it again in the future.
I found renewed energy, weight loss, and a general feeling of improved well being.
My favorite aspect of the program was the convenience of the daily boxes. I liked knowing exactly what to eat and that I wouldn't need to prepare anything complicated. This made eating around the meals my family enjoyed a little easier and also cut down on any feelings of overwhelm.
I highly recommend this program!
Click here to learn more about the ProLon Fast Mimicking Diet.