This post may contain affiliate links which won't change your price but will share some commission.
I want be generous. I want my kids to be generous too.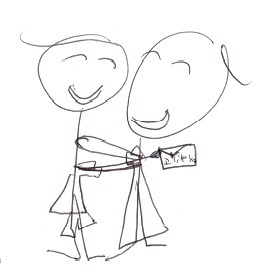 It doesn't always come naturally to give. Sure, giving out of the overflow is not too hard, but giving when it involves sacrifice, that is not so easy.
I figure the best way to become truly generous is to just keep on giving!
The 30 Day Giving Challenge is underway. Many are joining in to bless others every day during the month of November. My little family is going along for the ride too.
I'm not sure how or what I will blog about during this challenge. It seems a little awkward to tell you about our giving.  But I will share a few thoughts during the month. I am hoping this will make a big impact on my kids and help them to think of others more often.
We started a communal Giving Notebook which is holding all our ideas. The plan is to write about some of our experiences and thoughts throughout the month.
Yesterday I did a little interview with the kids and jotted down their answers in the book. It will be fun to look back on at the end of the challenge!
Here are a few of the questions and answers:
What gifts do you like to receive?
SugarBean(9 years old): Pencils or a notebook. Because I love to draw and keep a journal.
Little Mister (6 years old): Pencils and paper. So I can draw. I love to draw.
What gifts do you like to give?
SugarBean: Cards.
Little Mister: Dolls if they are girls. Scary toys for boys.
Why is it good to give?
SugarBean: Because they will probably think you are nice. And God will be pleased.
Little Mister: God will like you. He will be pleased about you. He will be thankful about you.
What has God given you?
SugarBean: Lots and lots of blessings. A really good Mom and Dad (smile). A nice warm home.
Little Mister: Love. Really good toys that does stuff for babies and kids.
Is Jesus a gift?
SugarBean: Yes!
Little Mister: Yes! Yes! Yes! (while jumping). He has powers and stuff. He's really nice to people. He is with us. You cannot be afraid to go places. He is there.
How do you feel when you are given a gift?
SugarBean: Happy and thankful.
Little Mister: I would say, "Thank you. I'm really happy you gave this. Did you not really want it or not?"
Ahh, my kids make me smile!
My friend, Andie, had the smart idea to teach her children 2 Corinthian 9:7, "…God loves a cheerful giver." I decided to copy her and we are doing that too. After I told them this verse we talked about how to give and I pretended to give them presents grudgingly. They thought that was pretty funny!
It's not too late to join in! Hop over to the 30 Day Giving Challenge to see what others are doing.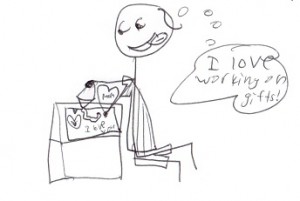 P.S. The pictures were drawn by my daughter.