This month Emily, from Live Renewed, challenged us to declutter 100 things!
As someone who hopes to have a clutter free home (one day soon), I was up for the challenge. So far I'm at 62 things. But there are still a few days left in the month and I'm shooting to surpass 100 items by then!
The hardest part for me, when it comes to decluttering, is getting rid of things that are still good, especially if I've spent decent money on them.
During  Project Simplify, Tsh shared a quote that is making letting go of my stuff much easier:
"Have nothing in your home that you do not know to be useful or believe to be beautiful."

-William Morris (19th century architect)
Asking myself the question, "Is this item useful or beautiful?" is helping me make decluttering decisions. I introduced the concept to my 9 year old, and it is helping her too.
Here are a two pictures of good, but no longer useful to me, items I am purging:
True Confession: I am a workout DVD junkie. My addiction is almost as bad as the addiction I have to books and making body care products, but not quite.
These DVDs came to me as part of a larger set, and I just don't care for them (especially not the burlesque style cardio!).  I do LOVE Turbo Jam, but I already own that DVD. So, I'm selling these. But I may giveaway Turbo Jam on Real Fit Moms (since it is still in the package).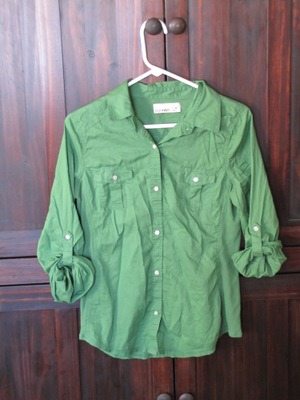 Green shirt, wrinkles and all (sorry, but I was not going to iron it just for a blog post picture! I considered it – but that would be crazy!). I purchased this shirt a few months ago, hoping to branch out from my usual style. But it is just not me and I never wear it! I want to like it and wear it, but I always choose something else. So, out it goes.
Last November I got rid of almost half my wardrobe. It was nice to have less stuff in there and easier to see what I actually have. I'm working on paring down even more. But it's a slow process.
Some of the other items that exited out home: books (silly ones), mugs I don't like the color of, and a pull-up bar that doesn't fit the door frame.
We are sending these things to the thrift store. In the past, I would have a garage sale, but our location is not the best for garage sales. I am am not willing to invest any more time and effort into this stuff. I just want it out of my house!
Thanks for the motivation Emily!
Emily is hosting a link-up for people to share their decluttering progress. She did an awesome job at her house!
Stacy is a DIY obsessed, healthy living advocate. A preacher's wife and mom of three, she loves to encourage others to live a natural lifestyle.
Latest posts by Stacy Karen (see all)