This post may contain affiliate links which won't change your price but will share some commission.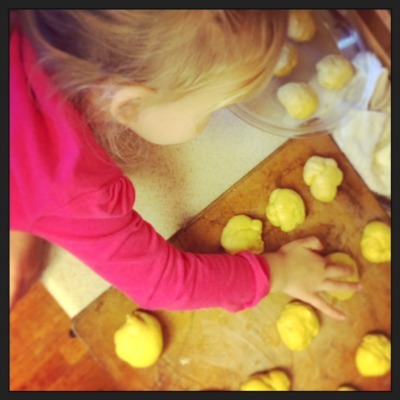 My daughter helping make rolls (this is my favorite picture from Instagram this week).
It's been a busy here; lots of baking and studying (my group fitness certification exam is coming up in a few days!).
I'm also trying to answer all of the questions about making 100 gifts in a jar, but that is taking some time.
Here are a few good reads for you:
Food for the mind
How to Give Extended Support to a Grieving Family @ Live Renewed
How we organize Child Sponsorship Letters (Plus win a copy of A Heart That Cares) – Ends TODAY! @ Gidget Goes Home
The Real Truth about 'Boring' Men – and the Women who Live with Them: Redefining Boring @ A Holy Experience
Food for the body
How to Cook an Amazingly Moist Turkey @ Simply Rebekah
Gingerbread Latte Syrup @ The Greenbacks Gal
Chia Seeds: How to Use Them (Plus 25 Recipe Links) @ Red and Honey
Progressive Facebook Party celebrating the launch of Nourishing Cookies @ My Humble Kitchen
Have a happy day!
Stacy