This post may contain affiliate links which won't change your price but will share some commission.
You've likely seen the wonderful offers from Grove Collaborative, but perhaps you're having a hard time deciding if it's right for you.
Today I'm going to share the pros and cons of joining Grove with the hope of helping you make the right choice for you and your family.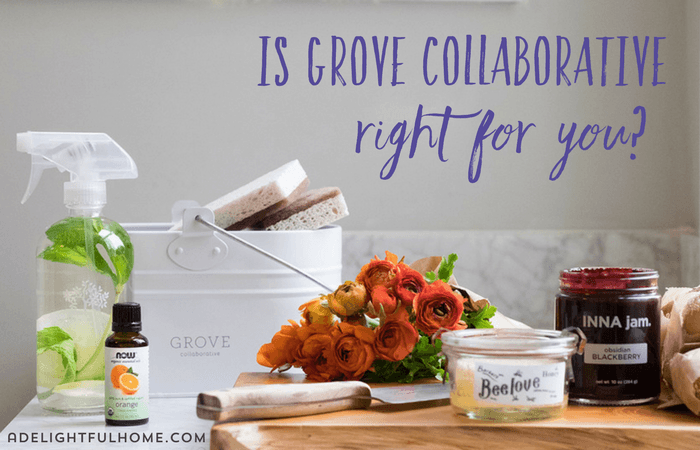 Not heard of Grove Collaborative? Let me give you a quick rundown of who they are and what they do:
What is Grove Collaborative?
Formerly known as ePantry, Grove Collaborative is an online service designed to make using healthy, natural products easier. They do this by offering a variety of non-toxic household items, including cleaning products, personal care items, beauty products, vitamins & supplements, and more.
Grove Collaborative is a subscription service, so once you get it going, Grove will ship your favorite natural products to your door on a schedule that suits you. (I'll give more details on this below under "How it works.")
My subscription to Grove Collaborative has made my life much more organized. Instead of running to the store several times a week for household supplies, I get a box of my favorite natural products delivered right to my doorstep on my schedule. Because Grove remembers my preferences and recommends products I might be running low on, I never run out of toilet paper or toothpaste. The shipments are totally customizable, so I only get what I need, when I need it. It's one less thing I have to think about!
Grove currently ships only to the Contiguous US.
Pros:
It's easy to delay or customize orders
Grove is very good about letting you know when your next order will ship, and it's easy to log in and click a button to skip or reschedule your order. It's also easy to add or delete products from your cart.
VIP Freebies
You don't have to join the VIP Program at Grove to order from them, but if you do, you get a few perks, including free shipping, and free products from time to time.
Some of the free products I've received from Grove include candles, free lip balms, natural hand sanitizer, body wash (and likely more that I can't remember).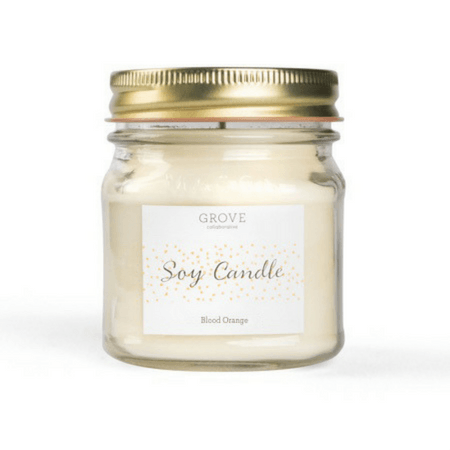 This Soy Candle is one of the freebies I've received as a VIP member to Grove Collaborative. It has a 70-hour burn time and doesn't contain the toxic chemicals found in conventional candles.
My favorite is the Blood Orange scent.
It's convenient
I don't know about you, but I'm busy, And if I wasn't, I have other things I'd rather do that go shopping for household items!
By using Grove I can cross a ton of things off my shopping list; it's wonderful!
Some of the times I can get from Grove and not worry about buying at the grocery store include:
toothpaste
toothbrushes (We love the kids Preserve toothbrushes)
essential oils used for DIY cleaning products
lip balms
soap
dish soap
laundry soap
Bon Ami Powder cleanser
face oils (They carry Acure Organics, which is great brand for natural skin care)
razors
sponges (I love the scrubber sponges!)
hand sanitizer
hand soap
menstrual care items (pads, menstrual cups)
The Packaging is great
I'm always impressed with how much care is taken to ensure my products arrive without leaks or breakage!
Here's a pic of one of my orders… (see the tape? it works!)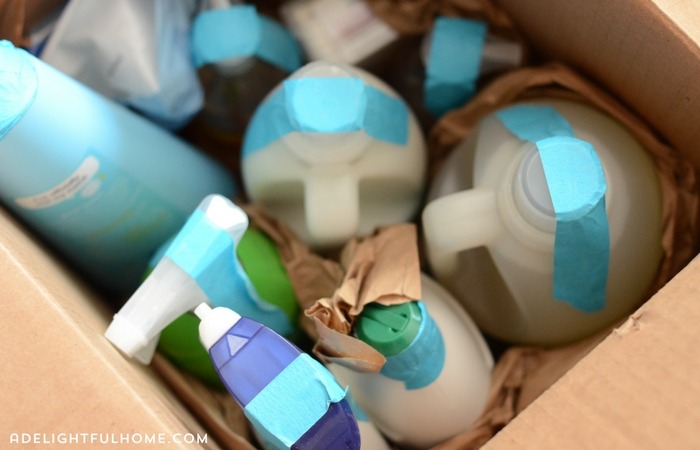 They have an excellent referral program
Grove has a great referral program. The best part is, you can GIVE $10 as well as GET $10!
Once you sign up for Grove you get a referral lin. Use that to share Grove with your friends. They can use the $10 towards a purchase, and once they sign up, you'll get a $10 credit too.
Grove Price Matches!
If you find a better price, send Grove an email and they will match it!
100% happiness guarantee = Easy returns & Refunds
Grove has a 100% happiness guarantee, which means they'll refund whatever you send back!
Pretty awesome.
Excellent customer service
Good customer service isn't as easy to find as it once was, but Grove nails it. They are easy to work with and attentive to your needs. No need to worry when ordering from Grove.
Grove carries excellent brands
Grove carries products from many natural brands you know and love, such as:
Seventh Generation
Acure Organics
Ecover
Method
Earth Mama Angel Baby
Diva Cup
Schmidt's (<– awesome deodorant)
If You Care (<– love their parchment paper)
Molly's Suds
. . . .and lots more!
Honestly, one of my favorite brands at Grove is their own brand! I use their walnut sponges, candles, and lip balm.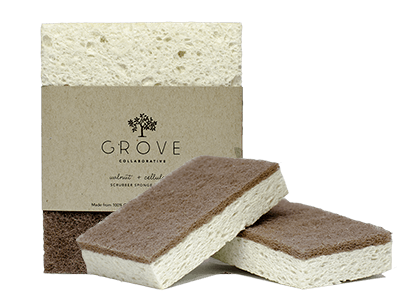 These Walnut Scrubber sponges are my favorite sponges. It's what I use to wash dishes these days!
Cons:
A few products I don't like…
Generally, I love almost everything Grove has to offer. Perhaps this is really a silly point, since when can you go to a store a LOVE each and every item?
I, personally, don't feel I can just add any item to my cart and it will meet my non-toxic standards. Everything is definitely safer than conventional products, but there are a few items that contain a couple of ingredients I don't enjoy. Everyone's standard (and tolerance for certain ingredients) is different, so you might want to check a few on ewg.org to see if they are in the safety range you desire.
It takes a few minutes to figure out how everything works
When I first signed up, I wasn't sure how it all worked. It took a few minutes to learn how to customize my cart, which frustrated me in the moment but has actually turned out to save me a lot of time in the long run. I love not having to go to the store for laundry soap, toothpaste, or dish soap anymore!
They Add Items to Your Cart Based on Your Preferences
This can be very helpful, and I have found it to be a good way to discover items I may not have noticed otherwise, but there are times I find items in my cart that I don't care for. It's easy to delete them, but I do feel worried about missing them!
I don't recall ever receiving anything I didn't intend to get, but if you weren't aware of this, it's important to know.
It's not always cheaper (but usually it is).
Grove is often less expensive than the store or other online options, but not always. But you know what I found out? GROVE PRICE MATCHES!!! So, I guess they will always be cheaper or the same price.
I find these cons to be very minimal, and they actually aren't cons for me anymore, since I got used to how it all works.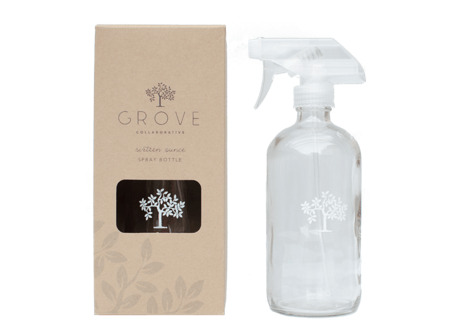 One of my favorite items from Grove. This glass spray bottle is useful for homemade cleaners. Plus, it's just so pretty.
My personal experience with Grove Collaborative
I've been using Grove Collaborative for about 2 years now.
I pay for the VIP because it's worth it to me to have the free shipping. The extra gifts I receive as a VIP offset the cost as well.
I receive a shipment from Grove almost every month. Occasionally I will delay it and have it come every other month instead.
For me, Grove saves time, money, and reduces stress! It's totally worthwhile.
Is Grove Collaborative Right For You?
After reading all the details above, you should have a decent idea of whether Grove is right for you or not.
If you want to save time and money on natural products, then I'd say it's right for you.
If you prefer to browse the store shelves and read labels in person, then it may not be the right fit.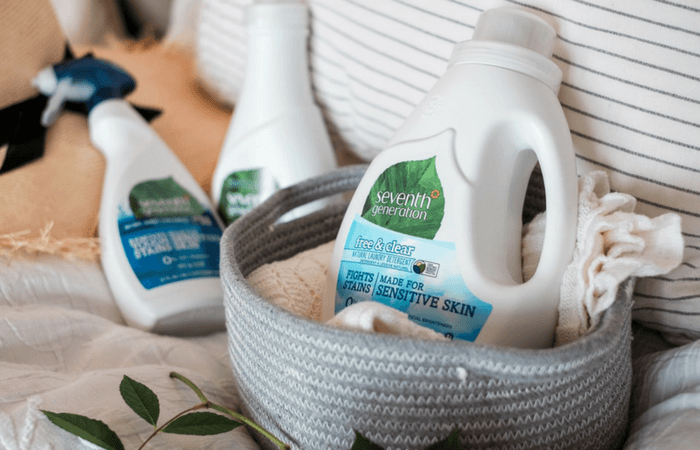 HOW TO GET A FREE SEVENTH GENERATION LAUNDRY SET FROM GROVE:
Answer 4 quick questions about your home that Grove Collaborative will then use to customize your first basket — this takes under 30 seconds!
Once you've answered the questions, you can finalize your basket of products to suit your household needs by adding or removing items.
To receive this offer, your order needs to be a minimum of $20. Choose the combination of products and scents you love and receive in your first box.
You made it! Click Finish & Pay and place your order.
If you are already a Grove customer, click here to get a free set of Walnut scrubber sponges.