This post may contain affiliate links which won't change your price but will share some commission.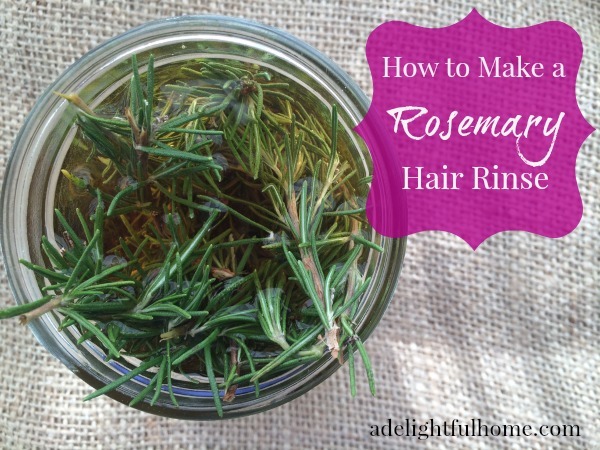 Combing the benefits of rosemary with the clarifying nature of apple cider vinegar creates an effective hair rinse.
Rosemary is an excellent herb to use on hair. It smells wonderful and has a a number of hair-friendly properties. It is known to promote hair growth, sooth itchy scalps, and add shine to hair.
To make your own rosemary hair rinse you will need:
apple cider vinegar
fresh rosemary
mason jar and non-metallic lid
To make your rosemary hair rinse, place enough rosemary in your jar to fill it. Not jam-packed, but nicely full.
Pour apple cider vinegar over the rosemary so it is completely covered.
Place lid on jar and leave rosemary to sit for about three weeks.
Strain out the rosemary and keep your rosemary-infused vinegar in a glass bottle.
To use:
Mix 1/4 cup of rosemary vinegar into one quart of warm water and pour over hair. This will remove soap residue and leave hair soft and shiny.
For ease of use, pour this mixture into a spray bottle and keep it in the shower. Spray hair all over and allow to sit for a few minutes before rinsing out.
Keep away from eyes.
Variations
Other herbs that can be used instead of rosemary include:
chamomile (especially great for blonde hair)
sage
fennel
parsley
nettle
Rosemary can also be brewed into a strong tea and used as a hair rinse if you want something quick.
Rosemary is also great in a hot oil hair treatment.
Have you tried a homemade hair rinse? If so, what is your favorite herb to use?