This post may contain affiliate links which won't change your price but will share some commission.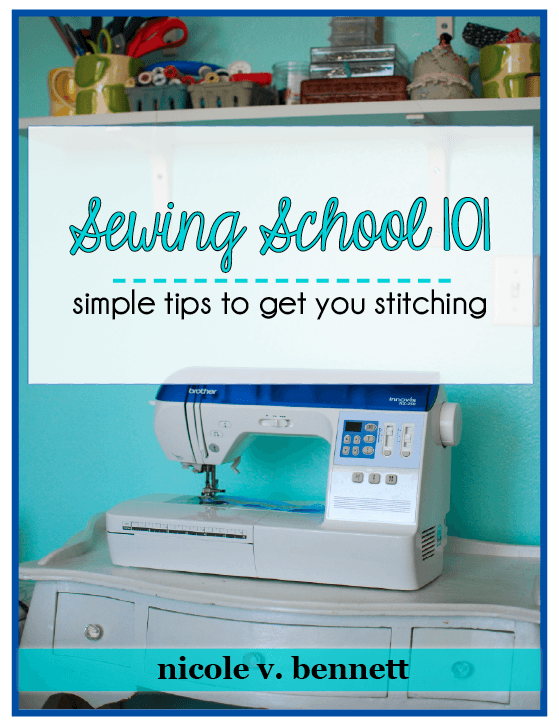 I want to be good at sewing.
A sewista.
A sewing ninja.
I dream about stitching clothing for my kids and creating personalized items to decorate my home.
Sewing is something I've dabbled in, but not pursed enough to actually be considered adept. Mostly because it seemed so daunting.
But now  I'm excited to learn again because my friend Nicole (of Gidget Goes Home) has written and excellent book that's perfect for aspiring sewistas like me: Sewing School 101: Simple Tips to Get Your Stitching
Sewing School 101 is full to the brim with straight-forward, easy-to-follow instructions.
Nicole has created wonderful tutorials that teach the basics of sewing, but also help you create real products you will want to use in your home, including a simple pennant banner and a refashioned tank top. 
I love how everything is broken down into simple steps and lots of color photos are included to help make everything easy to understand. 
I am excited to go through this book since I know very little about sewing! I plan to do so alongside my 13 year old daughter.
Check out the table of contents: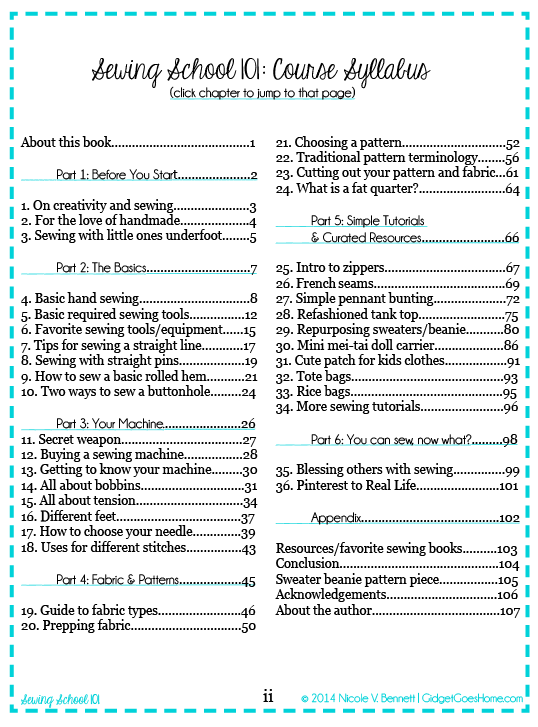 Talk about thorough!
Win a copy of Sewing School 101
Wouldn't you love a copy of this eBook?
It's available as a  PDF  (buy here) and also in Kindle format on Amazon. The PDF version costs slightly more, but comes with automatic updates for any future revisions or additions.
If you'd like to enter to win a copy, use the Rafflecopter widget below. (If you're reading via email, click through to fill out the widget.)
See what others are saying
Sewing School 101 is enjoying a blog tour. If you'd like to hear what others have to say about the book, check out the links below):
Sewing School 101: on tour
Tuesday, June 24 :: Jess @ If Only They Would Nap
Wednesday, June 25 :: Christen @ ChristenKrumm.com
Thursday, June 26 :: Megan @ SortaCrunchy
Friday, June 27 :: Me @ The Art of Simple
Thursday, July 3 :: Stacy @ A Delightful Home
Friday, July 4 :: Breanne @ This Vintage Moment
Tuesday, July 8 :: Haley (& Daniel) @ Carrots for Michaelmas
Thursday, July 10 :: Rachel @ Mason Jar Values
Friday, July 11 :: Marillyn @ Just Making Noise
This post contains affiliate links